NFL Power Rankings Week 17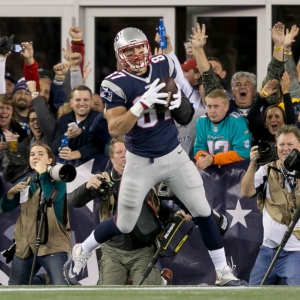 God, I hate Week 17 of the NFL season.
Momentum and motivation are the two buzzwords this week. But the problem is that it is nearly impossible to gauge how these men are going to respond to wildly divergent motivations this weekend. Some teams are playing for the postseason while others are playing out the string.
For four months we've been intently focused on things like trends, injuries, statistics, line movements and situational advantages each week. But this is the week that everything goes out the window and it becomes more about feel and inference then it does about hard numbers. Throw in the distractions that come with the holidays and family obligations, things that are difficult to quantify, and the list of variables leading up to this week's action continue to grow.
My best advice is advice that most gamblers will not heed: small if at all. This is a week to tread lightly. There are plenty of promising bowl matchups and a lot of college basketball action to tide us over until the NFL Playoffs start. Week 17 is an accident waiting to happen, and I've seen plenty of savvy gamblers brought to their knees by a week that is matched in uncertainty only by Week 4 of the preseason.
You've been warned.
Here is Doc's Sports NFL Power Rankings for Week 17:
1. New England Patriots (12-3) - The Patriots are the largest favorite on the board this week because they are still playing for home-field advantage. However, the Pats have only ever really buried the Jets once in the last four years, winning by 38 last Christmas Eve. Other than that, the average margin of victory in their eight meetings since 2013 is just 4.3 points.
2. Minnesota Vikings (12-3) - It is absolutely insane that Harrison Smith wasn't voted into the Pro Bowl. And I really feel like his snub is a rallying point of motivation for this team, which can still play the "no one believes in us" card. The Vikings are on a 9-1 ATS run.
3. Philadelphia Eagles (13-2) - The early line movements, with the Eagles shifting from a one-point favorite to a 2.5-point underdog, suggests that Doug Pederson is going to rest his starters this week. With the No. 1 seed locked up, this team has nothing to play for.
4. New Orleans Saints (11-4) - The Saints have actually played pretty well down in Tampa Bay, winning three of their last four trips down there. However, all four games have been decided by a touchdown or less, and the underdog is 3-1 ATS.
5. Pittsburgh Steelers (12-3) - Pittsburgh has the dual motivation of playing for home-field advantage and not wanting to be the lone team Cleveland beats. The Steelers actually beat the Browns with their backups last year in Week 17.
6. Carolina Panthers (11-4) - The public is all over Carolina, but there's a reverse line movement with the spread bumping up from 3.0 to 4.0 against the Panthers. Carolina is 7-2 ATS in its last nine road games, but they are just 3-8 ATS in their last 11 divisional games.
7. Los Angeles Rams (11-4) - If the season ended today the Rams offensive yards per point would be the fifth-best in the NFL over the last 15 years. The favorite in the 49ers series is 0-4 ATS in the last four, and the Rams are just 2-7 ATS in their last nine against San Francisco.
8. Atlanta Falcons (9-6) - Win and in. That's the path for the Falcons, who have beaten the Panthers three of the last four meetings. The home team in this series is 8-2 ATS, and the Falcons are 7-2 ATS in their last nine home games against the Panthers.
9. Jacksonville Jaguars (10-5) - The Jaguars can't earn a bye, so they have no incentive to play their starters this week against Tennessee. What's more, the odds are strong that the Jaguars and Titans will actually play again in the Wild Card Round, meaning they could square off twice in the span of six or seven days.
10. Kansas City Chiefs (9-6) - The Chiefs had gone 1-3 while averaging 16 points and 300 yards in the four games prior to Andy Reid surrendering play calling to offensive coordinator Matt Nagy. The Chiefs are 3-1 and have averaged 29 points and 421 yards a game in the four games since Reid gave up play calling.
11. Seattle Seahawks (9-6) - Let's not get too carried away about the Seahawks beating the loser Cowboys, who gift-wrapped that game with turnovers and questionable coaching. Last week Seattle became the first team in over 50 years to win with more penalty yards (142) than offensive yards (136).
12. Los Angeles Chargers (8-7) - I don't think that they are going to be able to pull it off, but this team would be dangerous in the postseason. They are still peaking at the right time.
13. Dallas Cowboys (8-7) - The Cowboys are 4-1 ATS in their last five games in Philadelphia, and the road team is 9-3 ATS in the last 12 meetings between these two teams.
15. Baltimore Ravens (9-6) - This team has very quietly put together a 5-1 SU run while going 6-2 ATS. However, they are just 3-8 ATS as a favorite of 6.0 or higher over the past four seasons.
14. Detroit Lions (8-7) - The favorite has gone 9-1 ATS in the last 10 meetings between the Lions and Packers. But the home team is just 1-4 SU, and it's tough to trust a team that's been outgained in five of its past seven.
16. Tennessee Titans (8-7) - Despite looking like trash while losing three straight games, the Titans simply have to win at home against a Jaguars team with nothing to play for to make the playoffs.
17. Buffalo Bills (8-7) - People can talk about how the Bills got screwed on that Kelvin Benjamin touchdown call (and they did). But Sean McDermott's decision not to go for it on fourth-and-1 early in the fourth quarter is the type of passive-aggressive, loser maneuver that Bills coaches have been making for 20 years.
19. Washington Redskins (7-8) - Effort hasn't been an issue for the Redskins all season long, and they should be ready to drive a stake through the heart of the Giants' season and Eli Manning's career.
18. Green Bay Packers (7-8) - Like I pointed out last year, as soon as Mike McCarthy made the (correct and totally justified) decision to shut down Aaron Rodgers, the feeling of quit and defeat spread to the rest of this roster. These guys are done.
20. Oakland Raiders (6-9) - I don't think the Raiders will roll over with a chance to snuff out the Chargers' already modest playoff hopes. Oakland is 7-1 ATS in its last eight road games against the Chargers, and the underdog is 15-2 ATS in this series.
21. Arizona Cardinals (7-8) - Don't sleep on the Cardinals this week. They should embrace the spoiler role against the rival Seahawks. The underdog has covered five straight in this series with three outright upsets (and one tie).
22. Miami Dolphins (6-9) - Here is another underachieving team that could embrace the spoiler role against a division rival. The home team is 6-2 ATS in their last eight meetings, and the Fins are 4-2 ATS in their last six home games.
23. Cincinnati Bengals (6-9) - The Bengals are 17-7 ATS in their last 24 games in December. But I wonder how much effort they are going to be willing to give this week after last week's upset.
24. Denver Broncos (5-10) - The home team is just 2-6 ATS in the Chiefs series, and Denver is 0-4 ATS in their last four games against Kansas City.
25. San Francisco 49ers (5-10) - Momentum usually doesn't carry over from season to season. But the type of momentum that this team is building at the moment is the type that can carry through an offseason.
26. New York Jets (5-10) - The Jets are just 2-8 SU in their last 10 games, but they haven't gone down without a fight, going 7-3 ATS. They are also 8-1 ATS in their last nine games against the Patriots, so this team could be a live dog this week.
27. Chicago Bears (5-10) - Last year the Bears rolled into Minnesota in Week 17 and left after a 38-10 beating. I wouldn't be surprised by a similar result this week.
28. Houston Texans (5-10) - This team has clearly mailed it in, and they haven't stayed within 10 points of any of their last four opponents. The road team has won four of the last five meetings in the Colts series, and the road team is 6-0-1 ATS in the last seven meetings.
29. Tampa Bay Buccaneers (4-11) - Jameis Winston has been slinging it the past two games. And he is going to end the season with a quarterback rating around 96.0 and some decent overall numbers. But, once again, the Bucs lost because he turned the ball over three times all by himself last week.
30. Indianapolis Colts (3-12) - That's twice in three weeks that the Colts were on the end of horrible calls in game-deciding moments. I thought the blown two-point conversion call in Buffalo was worse, but the missed pass interference call on their final drive was pretty egregious.
31. New York Giants (2-13) - Quitters.
32. Cleveland Browns (0-15) - There is a silver lining for the Browns. A loss on Sunday would leave them at 1-31 SU over the last two seasons and cement their place in history as one of the worst teams of all time. However, they wouldn't be the worst 0-16 team of all time. The 2008 Lions were outscored by 249 points whereas the 2017 Browns have, to this point, been outscored by 'just' 172 points. In fact, statistically the Browns were worse last year.
Robert Ferringo has posted nearly +$5,300 in overall football profit since the start of the regular season and is a solid 26-17 (60%) with his top football plays this year.
Robert has been the top football handicapper in the country the past five years, earning nearly $14,000 in total football profit. He has also posted five of seven winning seasons (including a winning 2016-17) and tallied over $20,000 in football profit between 2011 and 2016, including his amazing 2013 NFL season in which he hit 62.1 percent (95-58). Robert has produced 21 of 33 winning football months and an amazing 44 of 69 winning football months over the past decade. SIGN UP HERE TODAY AND TAKE ADVANTAGE OF OUR EARLY BIRD SPECIALS !
We are offering new clients $60 in free college football picks for Robert's picks or any Advisory Board handicapper of your choosing. Get your free college football picks now !
Read more articles by Robert Ferringo