NFL Power Rankings Week 3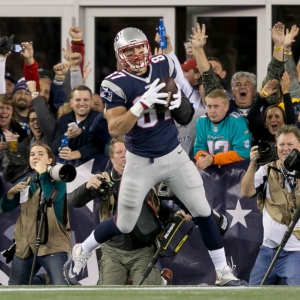 Late 2010's NFL football is starting to look an awful lot like late 1990's NBA basketball. And I don't mean that as a compliment.
NFL fans and bettors were forced to suffer through another round of uninspirting and unwatchable action in Week 2, with the Houston-Cincinnati, Buffalo-Carolina, Cleveland-Baltimore, San Francisco-Seattle, Arizona-Indianapolis and Detroit-New York games combining to average just 25.3 total points per game. And I'm not just cherry-picking some poor results. Those six games represent nearly half the league. And several other marquee games - Patriots-Saints, Cowboys-Broncos and Packers-Falcons - were blowouts that were essentially over before halftime.
Free $60 in Member NFL Picks No Obligation Click Here
Making matters worse is that the Texans-Bengals and Lions-Giants games were primetime games. So there were a lot of eyeballs on two of the sloppiest, ugliest, least entertaining games of the week. Stuff like that will only serve to exacerbate the self-fulfilling feeling of ennui clouding America's new national pastime at the moment.
I know a lot of ink has been spilled about the woes of the National Football League over the past 12 months. I have been banging this drum for the past three seasons, as a matter of fact, lamenting any semblance of stability in the gambling market because of the consistently low quality of play. But I have to feel like the NFL is approaching its bottom, from which there is nowhere to go but up. Or at least I hope so. There is no one clear solution. There is no magic wand that will make these games more interesting and entertaining. We simply have to strap in hope that things get better.
Here is Doc's Sports NFL Power Rankings for Week 3:
1. New England Patriots (1-1) - The Patriots blowout win absolutely crushed the books last week. The public was all over New England (along with Tennessee), and the Patriots' domination put the sportsbooks behind the eight-ball early on Sunday. That's a big part of the reason New England is a super-sized 13-point favorite this week. Well, that and New England's three straight wins over the Texans the past three seasons by an average of 22 points per.
2. Atlanta Falcons (2-0) - That was a clinic by the Falcons as they dismantled the Packers. That was the first spread they have covered this season (including preseason), and they are now road favorites in Detroit. Atlanta has owned the Lions, though, going 8-2 ATS against Detroit going all the way back to 1998.
3. Pittsburgh Steelers (2-0) - The Steelers luck against opposing quarterbacks continue. Last year they beat five backup quarterbacks. This year they've already faced one (Case Keenum) as well as a rookie making his debut.
4. Kansas City Chiefs (2-0) - The criticism against Andy Reid's offense has always been that it is too conservative. But he can afford to be conservative when he has guys like Kareem Hunt and Tyreek Hill that can take simple plays and turn them into 75-yard touchdowns by sheer force of talent alone.
5. Oakland Raiders (2-0) - In case you couldn't tell from my slobbering over him every week the past two seasons, I absolutely love watching Derek Carr play quarterback. This guy is unreal. The Raiders are on a 9-4 ATS run and they are 10-3 ATS in their last 13 road games.
6. Denver Broncos (2-0) - Lost in all the praise for Trevor Siemian is the fact that the Broncos have some damn good skill players. Demaryius Thomas and Emmanuel Sanders are as good of a receiving duo as anyone, and Denver's full stable of running backs can do work.
7. Green Bay Packers (1-1) - The Packers actually haven't beaten the Bengals in this century. They are 0-3 against Cincinnati, and their last win came in 1998.
8. Seattle Seahawks (1-1) - I know the offensive line is (deservedly) bearing the brunt of the criticism for Seattle's ugly offensive start. But, honestly, what exactly does Rusty Wilson have to work with in the backs and receivers categories? I like Doug Baldwin as much as the next guy, but c'mon. Their backs and receivers are mediocre at best.
9. Carolina Panthers (2-0) - Cam Newton's MVP is the equivalent of Rick Porcello's Cy Young. I have never been a big Newton fan. And I don't ever think he will get back to the level of that freakish 2015 season. Newton missed throw after throw last week and looks like trash. Kelvin Benjamin is about eight feet tall, and Newton was still airmailing him. He's just not accurate enough, and it is going to kill the Panthers offense all year.
10. Baltimore Ravens (2-0) - This is actually the fourth straight season the Ravens have had to play the Jaguars. All three games have been sloppy, have featured odd endings, have gone 'under' the total (by a lot) and have seen the Jaguars cover the spread.
11. Tennessee Titans (1-1) - Delanie Walker is an absolute animal. That guy just makes big catch after big catch for this team. Eric Decker, on the other hand, looks like football has become an afterthought compared to his reality TV career.
12. Tampa Bay Buccaneers (1-1) - I'm telling you right now: be wary about jumping on the Jameis Winston bandwagon. I have Winston penciled in for at least two turnovers this week up in Minnesota.
13. Minnesota Vikings (1-1) - Just because St. Louis no longer has an NFL franchise doesn't mean that they can't relive their seasons cheer on the loser Rams. Now they can do so vicariously through the Vikings; Rams fans should be used to watching Brittle Sam Bradford's injury give way to Case Keenum's overwhelming mediocrity.
14. Dallas Cowboys (1-1) - I said last week that we shouldn't overreact to Dallas' defensive effort against the pathetic Giants in their opener. Now you see why. Dallas is going to have trouble stopping anyone this year. Also, I know a lot of people are jumping on Dez Bryant for his lack of chemistry with Dak Prescott. But Prescott's throws Dez's way last week weren't even close. That 100 percent wasn't on Bryant. And the Cowboys need to think about moving Bryant into the slot or moving him around a bit so he can catch balls in Prescott's comfort zone (the underneath routes).
15. Philadelphia Eagles (1-1) - The "over/under" on the number of sacks for the Eagles defense this week is 9.5. And the Eagles better get that pressure. Because their makeshift secondary is a horrible matchup with New York's receiving corps.
16. Detroit Lions (2-0) - I have long been a Jim Caldwell critic. But I agree with Sean McDonough: the Lions need to lock Caldwell up immediately. He has done a fantastic job turning this Lions organization around. And he has brought the stable system and simple execution that he helped sustain in Indianapolis. This Lions team is still short on high-end talent and depth. But they don't beat themselves and have become a super-competent NFL franchise. That's a big step up compared to what they were the previous two decades.
17. Los Angeles Chargers (0-2) - It is absurd that the Chargers would stick with their loser kicker, Younghoe Koo, after the retread - who went to Georgia Southern, mind you; this is not some blueblood youngster or proven veteran in a funk - missed another damn kick. I've seen this before: it doesn't end well. If your book has a prop on Koo missing an extra point this week, take it. This Chargers team very easily could be 2-0 right now. But - just like last year - they keep finding new and inventive ways to piss away games in the final seconds.
18. Washington Redskins (1-1) - In a vintage Washington front office move, the Redskins shut Su'a Cravens down for the season out of spite even though they are desperate for secondary help right now. This joke of an organization is constantly kicking itself in the balls.
19. Arizona Cardinals (1-1) - If Carson Palmer gets benched for Blaine Gabbert, he should commit seppuku at half field. Bruce Arians may be "The Quarterback Whisperer," but no amount of sweet nothings is going to change the fact that Palmer is shot and is a huge anchor around this team right now. I was completely wrong about the Cards; this is just not a very good team.
20. Miami Dolphins (1-0) - What the hell was going on in the last 20 seconds of that Miami-San Diego game? Why did the Chargers run that bizarre quarterback sneak after they were already in field goal position? And why the hell did Adam Gase call timeout? Just bizarre all the way around. But it has been a bizarre month for this ramshackle Miami group.
21. New Orleans Saints (0-2) - I know this still may seem high for the Saints. But I still think this team will find its footing. They need to do better than 35 percent on third downs, though. And if you are the Saints, how are you not desperately trying to trade Adrian Peterson for some spare parts on defense?
22. Houston Texans (1-1) - News flash to anyone playing the Texans: if Deshaun Watson drops back to pass it is probably going to DeAndre Hopkins. I honestly felt like the back shoulder fade, the 10-yard out, and the eight-yard curl to Hopkins were the only three pass plays in the playbook in the second half against Cincinnati.
23. Buffalo Bills (1-1) - Once again: Tyrod Taylor did absolutely everything he could to keep the Bills in that game on Sunday. The Panthers defense is amazing. And yet Taylor still made a throw that should've won the game for Buffalo, had rookie Zay Jones not choked with that final drop.
24. New York Giants (0-2) - Look, I called it in my preseason report on the Giants . Brandon Marshall was one of the most overrated free agent signings of the offseason. And his horrid drop late in that game, which was 17-10 at the time, led directly to the punt return touchdown that sealed the loss for the G-Men. That could be a season-defining play for New York.
25. Cincinnati Bengals (0-2) - I have no idea why the Bengals insisted on rushing just four guys in the second half against the Texans. They had gotten pressure all game. But you could also see Deshaun Watson start to get comfortable and figure things out late in the third quarter and the Bengals never did anything to rattle the rookie. Stupid. And if the Bengals are planning on Pac-Man Jones as their No. 1 corner this whole year then they are in trouble.
26. Los Angeles Rams (1-1) - I'm not sure what should worry the Rams more: the fact that their offense couldn't execute against a defense that coach Sean McVay should've known how to beat, the fact that they had the ball run down their throats, or the fact that their secondary is wracked with injuries.
27. Jacksonville Jaguars (1-1) - The Jaguars have actually won back-to-back games in London, beating the Colts 30-27 last year and the Bills 34-31 in 2015.
28. Chicago Bears (0-2) - I can't say enough bad things about Mike Glennon. I mean, he wasn't even close on those interceptions. He also just looks like a gomer. Who is going to follow that guy's lead? The Bears are smart not to go to Mitch Trubisky yet. I predicted Chicago would go 1-7 or 2-6 to start the year and then after their Week 9 bye make the change. That should be the plan.
29. San Francisco 49ers (0-2) - Before we pile on Kyle Shanahan, let's remember: the Niners just faced two of the top five defenses in football. San Francisco is learning a new offense and the Panthers and Seahawks have Super Bowl-caliber stop units. Shanahan has gone 18-7 against the total in the first three games of the season in his career as an offensive coordinator.
30. Cleveland Browns (0-2) - The Browns are a road favorite this week for just the 10th time since 1999. That is by far the lowest number in the NFL, with Detroit (24), Houston (26), Oakland (26) and Buffalo (28) coming in behind them. However, the Browns have gone 7-2 ATS in those previous nine times as a road chalk.
31. New York Jets (0-2) - I will give the Jets credit for their effort level. These guys are trying hard. They just stink. And playing at home - especially in front of a merciless New York fan base - isn't going to give them any advantage this season.
32. Indianapolis Colts (0-2) - I honestly can't say enough bad things about how pathetic this team is. Penalties. Turnovers. Mistakes. Coaching stupidity. They literally gave that game to a Cardinals team that would've lost by three touchdowns to just about anyone else in the NFL last week. And that might be as close as Indianapolis comes to a win in awhile.
Robert Ferringo had a dominating Week 1 in the NFL, banking +$2,500 in profit, and came back to nail his 8-Unit NFL Game of the Year with Oakland in a blowout win. Robert has posted back-to-back winning NFL weeks and will have an 8-Unit NFL Total of the Year on the card this week. He is an amazing 11-1 (92%) on NFL totals so far this season and has hit 59.3 percent of his totals plays over the past 12 years! Don't miss out!
Robert has been the top football handicapper in the country the past five years, earning nearly $14,000 in total football profit. He has also posted five of seven winning seasons (including a winning 2016-17) and tallied over $20,000 in football profit between 2011 and 2016, including his amazing 2013 NFL season in which he hit 62.1 percent (95-58). Robert has produced 18 of 29 winning football months and an amazing 41 of 65 winning football months over the past decade. SIGN UP HERE TODAY AND TAKE ADVANTAGE OF OUR EARLY BIRD SPECIALS !
We are offering new clients $60 in free college football picks for Robert's picks or any Advisory Board handicapper of your choosing. Get your free college football picks now !
Read more articles by Robert Ferringo
---
Most Recent NFL power rankings Articles