NFL Power Rankings Week 6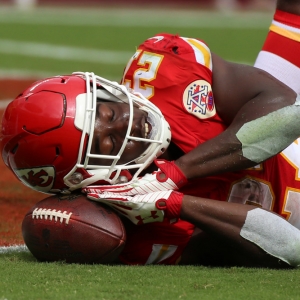 People are always hitting me up for general advice on betting a sport like the NFL. Well here is an easy suggestion: each week you need to forget everything that you think you know.
Last week was another example of the volatile nature of the NFL. After a month of the players pounding the sportsbooks, Las Vegas got its revenge thanks to a host of high-profile losses in games with one-sided action. The Steelers losing by 21 points at home to the lowly Jaguars was by far the most befuddling result of the weekend. But the Bills, the Giants, the Texans and the Cowboys all cost the players big by losing in gut-wrenching style.
It was the second straight week loaded with head-scratching results, with the Rams (over Cowboys), Bills (over Atlanta) and Panthers (over Patriots) each shredding expectations (and parlay cards) with huge upsets in Week 4.
The upcoming Week 6 will over a host of opportunities for more surprises, though, as six of the 12 games on the board feature spreads of a touchdown or more while five of the 12 games have numbers at 9.5 or higher. There are two other games (Chargers-Raiders and Colts-Titans) that don't even have spreads yet due to uncertainty surrounding one or more of the teams' quarterbacks.
Strap in, boys and girls, it should be another wild weekend.
Here is Doc's Sports NFL Power Rankings for Week 6:
1. Kansas City Chiefs (5-0) - This is a revenge spot for the Chiefs, who lost to the Steelers twice last year. The first meeting saw Kansas City get hammered by 30 in Pittsburgh and the second was a gut-wrenching home playoff loss. This is the fourth straight regular season they have matched up, and the home team - and the favorite - has taken the cash each time.
2. Denver Broncos (3-1) - Overconfidence will be Denver's biggest issue this week. They are coming off a bye week, and this is a fantastic matchup for the Broncos as their defense should suffocate a Giants offense that can't run or pass.
3. New England Patriots (3-2) - As I predicted last week, the Patriots were going to get some things figured out on defense. However, I still don't know if I trust this stop unit enough to lay out nearly 10 points on the road. The Patriots are 10-1 ATS in their last 11 road games and 19-7 ATS overall. But they always seem to struggle to put the Jets away.
4. Atlanta Falcons (3-1) - Julio Jones will be back this week for the Falcons. But more importantly they are getting back a slew of defensive players that had been injured. The Falcons are 7-1 SU in their last eight games after a bye week, with the seven wins coming by an average of 16.7 points per game.
5. Green Bay Packers (4-1) - I said just last week in this space that Aaron Jones looks really good and the Packers need to ride this young running back. He went out and rushed for more than 120 yards on just 19 carries, and the Packers need to scrap the Ty Montgomery experiment and feed Jones.
6. Philadelphia Eagles (4-1) - Since the start of last season the Eagles are 9-2 SU when Lane Johnson plays and just 2-11 when he doesn't. Johnson is likely out for the Eagles on Thursday, and Philadelphia will have to shuffle its line to handle a dominating Panthers defense on Thursday.
7. Seattle Seahawks (3-2) - That was a gutsy win for the Seahawks, who did just enough to pull the upset. But they lost two more guys (Luke Joeckel, Michael Bennett) to injury, and this team still has a lot to figure out during its bye week.
8. Carolina Panthers (4-1) - The Panthers are actually taking just 35 percent of the action in their game against the Eagles on Thursday night despite the home-field advantage on the short week. Carolina is just 1-5 ATS in its last six at home and 2-6 ATS in their last eight games on Thursday.
9. Pittsburgh Steelers (3-2) - It is disgusting how the Steelers play up and down to their level of competition. Big Ben snapped a streak (barely) of 10 consecutive games with fewer than 300 yards passing last week. Pittsburgh is 13-6 ATS after a loss and 5-2 ATS after a double-digit home loss.
10. Detroit Lions (3-2) - The Lions have absolutely owned the Saints over the past three years, beating them three straight times. That includes last season's 28-13 win in New Orleans as well as Detroit's 35-27 victory in the Bayou in 2015.
11. Washington Redskins (2-2) - The Redskins are just 2-7 ATS following a bye week. And even though they are 9-3 ATS in their last 12 games against a team with a losing record, they are just 10-27 ATS at home against teams below .500.
12. Los Angeles Rams (3-2) - The Rams are still in the Top 5 in the league in yards per point despite an ugly 37.5 OYPP outing against the Seahawks last week. Jared Goff is throwing darts. But he has to get better in the red zone for this offense to really hit full throttle.
13. New Orleans Saints (2-2) - We're going to find out everything we need to know about the Saints this week. They are coming off a week of rest, at home, against a team that is banged up and vulnerable. If New Orleans is going to make that one final run at the South title then this is a game they absolutely need to get.
14. Minnesota Vikings (3-2) - I can't believe Mike Zimmer went to Sam Bradford at all, much less left him in after it was obvious that the guy was shell-shocked and couldn't move. Bradford might have a part to play in the Vikes' season. But they have to ride with Keenum. And they need to be more aggressive taking shots down the field. This isn't Madden '97; you can only throw so many screen passes.
15. Buffalo Bills (3-2) - Buffalo's inability to cash in on turnovers is what cost them in Cincinnati last week. And now the loss of Charles Clay is a crippler for an offense that was already the second-worst in football. The Bills play three of their next four games at home after the bye week, with the lone road trip down to face the feeble Jets.
16. Baltimore Ravens (3-2) - The Ravens are 5-2 ATS in their last seven home games and they have the situational advantage of facing a Bears team coming off a grueling MNF loss. But if you go back to 2012 the Ravens are just 4-12 ATS as a favorite of 6.0 or higher.
17. Cincinnati Bengals (2-3) - The Bengals ran their best play - just throw it to A.J. Green - enough times on Sunday. But Green was lucky that the defense bailed him out after his two awful turnovers (the fumble and the INT that bounced off his hands). This is clearly a team on the upswing.
18. Oakland Raiders (2-3) - This is clearly a team on the downswing. Derek Carr is the straw that stirs that drink. But after three straight losses I still don't think the Raiders should rush Carr back. They play at home Sunday and Thursday. If they can just earn a split in those games without Carr then they could bring him back on Oct. 29 and give him time to truly heal. With five of their next seven at home, the Raiders aren't out of the race just yet.
19. Dallas Cowboys (2-3) - Never underestimate the predictability of stupidity. The choke against the Cowboys was just the latest in a long line of failures by Jason Garret, who is a rotten fruit from Wade Philips' loser coaching tree. Garret's wasted timeouts, horrible time management and questionable decision-making have all become second nature for this group.
20. Houston Texans (2-3) - Now that J.J. Watt and Whitney Mercilus are out for the year, and with Brian Cushing still serving his suspension, the Texans defense has come completely unglued. They've gone 'over' in three straight with an average of 72 points per game in those contests. I expect that trend to continue.
21. Tampa Bay Buccaneers (2-2) - Tampa Bay is taking 70 percent of the action this week, but I don't know how much I trust them as a road favorite. The Bucs are just 1-5 ATS in their last six games and they are just 4-9 ATS in their last 13 games after a loss. They are also just 2-5 ATS in their last seven games against the Cardinals.
22. Tennessee Titans (2-3) - Hahaha - Matt Cassel! Gimme a break. The Titans have lost 11 straight times to the Colts and they are just 1-16 SU in the last 17 in this series.
23. Jacksonville Jaguars (3-2) - Blake Bortles throwing the ball just 14 times is exactly what the Jaguars want, and need. Unfortunately I don't think they'll have that luxury. The Jaguars look like this year's Titans, though, getting it done with a commitment to the run and a solid defense. That's the Marrone-Coughlin philosophy, and it is already paying dividends.
24. Los Angeles Chargers (1-4) - The Chargers got the win last Sunday. And they deserved it. They were the better team. But that game was a debacle and was a clinic on why you can't ever trust bad football teams.
25. Arizona Cardinals (2-3) - The fact that the Cardinals were installed as home underdogs against a middling Tampa Bay team, was just the latest indicator that Arizona is no longer fooling anyone. This team isn't any good, and they won't be improving any time soon, even with Adrian Peterson.
26. New York Jets (3-2) - The Jets have played great in this series with New England over the past several years, going 8-2 ATS in the last 10 meetings and 7-1 ATS in the last eight. Last year's 41-3 Patriots rout was the first blowout in four years. Prior to that, the previous seven games had been decided by just 3.9 points per game.
27. Indianapolis Colts (2-3) - The books didn't post a MNF spread last week until late Friday because they were waiting on news about Minnesota's starting quarterback. I expect a similar delay this week as both the Colts and the Titans are unsure who will be under center when they meet up for what should be an ugly game next Monday.
28. Chicago Bears (1-4) - It is now obvious that Mitch Trubisky should've been Chicago's starting quarterback from Day 1. But I still think that this beat-up and worn down Bears team is running into a buzzsaw this weekend when their rookie quarterback makes his first road start against a rabid Ravens fanbase.
29. Miami Dolphins (2-2) - This team has fluked its way to a pair of wins despite their league-worst 22.6 offensive yards per point. The defense has been doing all the heavy lifting, but they've also had the benefit of facing some shaky quarterbacks the last three weeks, including Josh McCown and Matt Cassel.
30. New York Giants (0-5) - I have been steadfast for years in my claim that Eli Manning should never make it into the NFL Hall of Fame. He will, because the world is a cruel and unfair place. But when he's slipping on that undeserved yellow jacket I want people to remember that game-costing fumble last Sunday against San Diego. That play is emblematic of the hundreds of horrid turnovers that Manning bumbled his way through in his career. And now it should be hilarious watching Manning flop around without any receivers for the rest of the season.
31. San Francisco 49ers (0-5) - Close, but no cigar yet again. Kyle Shanahan is going up against one of his former teams this week when he returns to Washington. But more than revenge, Shanahan better be careful about losing his locker room. Carlos Hyde and Navarro Bowman have been chirping about playing time, and Shanahan can't keep this team together without keeping those guys happy.
32. Cleveland Browns (0-5) - It is tough to lose a game when you outgain your opponent by over 200 yards. But leave it to the Browns. They've actually outgained their opponents in three of their last four games. But Deshone Kizer's issues have clearly held this team back. There is absolutely no way Kizer should still be starting. He's completing less than 48 percent of his passes with nine turnovers in his last four games, two of which the Browns lost by just a field goal. Kevin Hogan isn't great. But he is head and shoulders better than Kizer right now.
Robert Ferringo posted a profit the first four weeks to start the NFL regular season and he is riding a run of four of five overall winning weeks. Robert has exploded for nearly +$4,000 in football profit over the last month alone and he has gone 12-7 for over +$2,600 with his top plays. Robert is an amazing 24-7 (77%) with his NFL totals plays and he has hit 59.3 percent of his totals plays over the past 12 years! Don't miss out on Sunday's 7-Unit NFL Play!
Robert has been the top football handicapper in the country the past five years, earning nearly $14,000 in total football profit. He has also posted five of seven winning seasons (including a winning 2016-17) and tallied over $20,000 in football profit between 2011 and 2016, including his amazing 2013 NFL season in which he hit 62.1 percent (95-58). Robert has produced 18 of 29 winning football months and an amazing 41 of 65 winning football months over the past decade. SIGN UP HERE TODAY AND TAKE ADVANTAGE OF OUR EARLY BIRD SPECIALS !
We are offering new clients $60 in free college football picks for Robert's picks or any Advisory Board handicapper of your choosing. Get your free college football picks now !
Read more articles by Robert Ferringo