NFL Power Rankings Week 8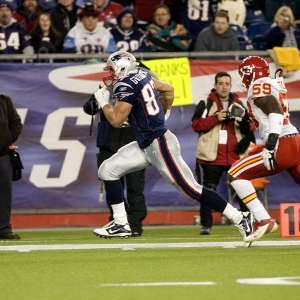 I have been doing Doc's Sports Power Rankings for 13 years. And during that time one of my goals each year is stability. I like to take the early-season chaos of wins and loses and, eventually, settle towards a period of stasis with my rankings.
There's nothing that drives me more nuts than people whose power rankings deviate wildly from week to week. As a bettor I know that one of the biggest obstacles to overcome is the wild swings in hype that accompany the week-to-week NFL schedule. Someone is terrible one week, resurgent the next. One team is the best in football one week and then barely in the Top 10 two weeks later. I never understood it and I could always tell the reliability of the writer based on the volatility of their rankings. After all, I've been handicapping long enough to know that, contrary to what Bill Parcells thinks, a team's record does not tell the whole story of who they are.
All that said, I can honestly say that in all of the years that I have been doing this weekly feature for Doc's Sports I have never seen a more volatile, more topsy-turvy, more head-scratching season than the one we are witnessing right now. There are a few teams that are rising to the top and a few other that are clearly the helpless dregs. But even I can't avoid wild swings in positioning for the remaining majority of teams in the NFL.
There is no hierarchy, just anarchy.
I have posted six of seven winning weeks in the NFL. So individual game handicapping has not been an issue. The issue is painting the bigger picture. The issue is the macro. That has been more elusive this season than any I recall.
But from chaos comes order. That is a certainty. As we approach the midpoint of this glorious season nothing is clear. But clarity will come. That I promise you.
Here is Doc's Sports NFL Power Rankings for Week 8:
1. New England Patriots (5-2) - I said that there was no way that Bill Belichick wasn't going to stabilize his defense, and that's exactly what's happened. The Patriots have allowed just 38 points in their past three games, going 'under' in all three.
2. Philadelphia Eagles (6-1) - I was a Carson Wentz skeptic heading into the season - I prefer production to hype - but there I no doubt this guy is balling out. He made all kinds of plays against the Redskins, from perfect deep passes, to timely scrambles, to that outstanding touchdown pass (and catch) to Corey Clement. Wentz is dominating.
3. Kansas City Chiefs (5-2) - Yes Chiefs, you got screwed. The NFL definitely has an officiating problem, with hapless crews like those run by Jerome Booger and Ed Hochuli consistently taking over games. The Chiefs were Booger's most recent victim. Kansas City has a chance to bounce back at home this week, though. They are 5-1 ATS after a loss, 6-1 ATS in divisional games and 5-2 ATS on Monday Night Football.
4. Pittsburgh Steelers (5-2) - What's old is new again for the Steelers. They are dominating defensively and committed to the running game first, allowing Big Ben to make plays to win games when he has to and not relying solely on his right arm. It's a good formula, and the Steelers will keep cashing tickets if they stick to it.
5. Seattle Seahawks (4-2) - it is surprising to see the Seahawks not taking the majority of the action in a home game. Seattle is garnering fewer than 40 percent of the total number of bets in their game against Houston. The books have had to adjust the line from 6.0 to 5.5 (and 5.0 at some books). The Seahawks are 6-2 ATS in their last eight home games but just 2-5 ATS following a win of 13 or more points.
6. Minnesota Vikings (5-2) - The Vikings will be playing in London this week. But as long as their defense clears customs they should be fine. Another win, and they are 9.5-point favorites over Cleveland, and the Vikings will have a stranglehold on the NFC North. The Vikings have been a 70 percent ATS machine over the past three years, going 35-16 ATS in their last 51 games.
7. Los Angeles Rams (5-2) - I will admit that I was wrong about this team and, apparently, about Jared Goff. I'm not going to anoint the guy. He's playing in the same offensive system that made Kirk Cousins a stud. But Goff looks comfortable and is making all the throws. These guys are rock solid on both sides of the ball, and I 100 percent see them making the playoffs.
8. New Orleans Saints (4-2) - I have been driving the Saints bandwagon all season long. I was the only one on that wagon for at least a month, but now it is starting to fill up. That said, even I, an optimist about this team, don't think they are the eighth-best team in football. But the problem is that I don't know who else to put here. The Saints have been unreasonably sloppy the past two weeks. And even though they won (and covered) both games, if they do that against Chicago this week the Bears defense is good enough to steal another one on the road.
9. Detroit Lions (3-3) - Wednesday is really the key day for the Lions. They have been dealing with a slew of injuries and we need to see who practices and who doesn't for these guys heading into the Pittsburgh game. One player who is out, though, is Golden Tate. His absence can't be overstated for this offense.
10. Buffalo Bills (4-2) - That was an emotional roller coaster for the Bills and their backers. Buffalo's best offensive play seems to be to have their receivers all run fly patterns and then have Tyrod Taylor just take off out of the pocket. The home team in this Raiders series is 6-0 SU, but Buffalo is just 1-5 ATS in their last six meetings, dating back to 2004.
11. Oakland Raiders (3-4) - That was a potentially season-saving final drive for Derek Carr and the Raiders last Thursday night. But if they travel across country and lose to the Bills this week it is somewhat for naught. The books were quick to move off the key 3.0 number this week as a load of money - public money and sharp money - has come pouring in on the Raiders again. However, the Raiders are just 1-4 ATS in their last five road games.
12. Carolina Panthers (4-3) - I've said all I care to say about Cam Newton. What you see is what you get with this erratic head case. And the same can be said about this team. There won't be any stabilizing for this group, and I expect them to continue to be erratic - both winning and losing games they shouldn't. The Panthers are 4-0 ATS in their last four trips to Tampa and 6-2 ATS in the last eight meetings. The road team is 5-1 ATS in the series but the underdog is a weak 6-13 ATS.
13. Denver Broncos (3-3) - Like so many other analysts, I have kind of vacillated on Trevor Siemian. Is he good? Is he not good? I'm going to call it: Siemian stinks. His ceiling is replacement level, in a Steve Beuerlein kind of way. The Broncos are 6-2 ATS in their last eight games at Arrowhead and the road team is 5-1 ATS in the Chiefs series.
14. Washington Redskins (3-3) - I'm not selling this team yet. I still think Washington is a very good football team that's been on the wrong end of a brutal schedule. But if they continue to lose guys from that offensive line then they are in trouble. Also, D.J. Swearinger does a lot right for this defense. But he was a disaster in coverage Monday against the Eagles. He better get it turned around quickly.
15. Dallas Cowboys (3-3) - Why does everyone just gush over Dallas' pass rush? They weren't in the Top 10 in sacks last year, are barely in the Top 10 this year, and are full of guys that never show up against top-tier competition. They might be the fourth-best pass rush in their own division, so enough with the "best in the NFL" talk I've heard this week.
16. Atlanta Falcons (3-3) - I understand that Steve Sarkisian was put in an impossible situation this year. Taking over an offense that had just enjoyed a record-breaking season the only direction was downward. But that said, things are not going well for the Falcons attack, and Sarkisian is not doing well at all. That jet sweep at the goal line is kind of the epitome of what this offense has become.
17. Cincinnati Bengals (2-4) - Despite their overall record, the Bengals find themselves as double-digit favorites this week against the hapless Colts. This is an absolutely must-win game for Cincinnati as they play their next three games on the road.
18. Houston Texans (3-3) - The Texans have a tough draw out of their bye week, having to travel to Seattle. However, Houston is 5-1 ATS in its last six games following a bye, and it will be interesting to see what new wrinkles they've come up with for Deshaun Watson.
19. Tennessee Titans (4-3) - I think it is a major red flag when you can't muster more than 270 total yards against Cleveland's pathetic defense. But this Titans offense has been feast or famine all year; they've scored 33 points or more three times (all wins) and scored 16 points or fewer four times (1-3).
20. Jacksonville Jaguars (4-3) - Jacksonville is on a bye this week and then opens up with two straight home games. Five of Jacksonville's next seven games are at home, and two of their final four road games this season are at Cleveland (0-7) and San Francisco (0-7). The Jags will be playing meaningful games in December for the first time in over a decade.
22. Chicago Bears (3-4) - John Fox is doing it again. The man who rode Tim Tebow to the playoffs with a dominating defense and punishing running game (a.k.a. solid football) looks poised to do it again. Chicago has thrown just 24 passes to 82 rushes over the last two weeks. The Bears defense is scoring touchdowns like it is the Urlacher days, and the Bears just picked up two victories to get themselves back into the NFC North race. Keep going to the well.
23. Los Angeles Chargers (3-4) - The Chargers will be playing their third road game in four weeks this Sunday. And their trip to Foxboro marks their second cross-country flight in four games. Philip Rivers is 0-6 SU and 1-5 ATS in his career against Tom Brady. The Chargers' one win over New England in the past 11 years came in 2008 with Matt Cassel at the helm.
23. Green Bay Packers (4-3) - The Packers bye week could not have come at a better time. Aaron Jones, who I have been talking up in this space for weeks, showed out on Sunday. Brett Hundley, on the other hand, didn't show up. Green Bay had a lot of things go their way on Sunday and they still lost and didn't cover. I have a feeling this is going to be an ugly couple months for this team.
24. Miami Dolphins (4-2) - I said back in the preseason that the Dolphins were making a mistake by not going with Matt Moore. Moore lacks natural talent. And I'm sure he doesn't show all that well in practice. But the guy is a gamer. He has moxie, the team responds to his leadership, and he's just a guy that can make plays. Basically, he has everything that Jay Cutler is completely lacking.
25. Arizona Cardinals (3-4) - Nevermind. I had a Cardinals resurgence on the brain heading into last week. But no. Their game against Tampa Bay was more about how bad the Bucs are. The Cardinals are cooked and, frankly, I'm OK if I never see Carson Palmer play quarterback in the NFL ever again.
26. Baltimore Ravens (3-4) - This week's Thursday night game, after back-to-back solid showings, is going to be atrocious. And somehow either the Dolphins are going to end up at 5-2 or the Ravens are going to be 4-4 despite a completely inept offense that is averaging fewer than 160 passing yards per game.
27. Tampa Bay Buccaneers (2-4) - Hey, remember when everyone and their sister had the Bucs picked as their "sleeper team" in the NFC South? Not me. This team's defense stinks. And I have absolutely, positively no idea how they are playing Chris Conte - literally one of the worst defensive players I've ever seen - over T.J. Ward right now. It makes absolutely no sense at all.
28. New York Jets (3-4) - The Jets are on the right side of the largest line move of the week, opening as seven-point underdogs only to see the line plummet to 4.0. And that movement comes despite over 70 percent of the action in this game coming down on the visiting Falcons.
29. New York Giants (1-6) - The Yankees have been eliminated from the playoffs. The Giants and Jets are two of the worst teams in football. The Knicks are one of the worst teams in all of sports. The Rangers are off to a terrible start. And Syracuse basketball is going to have one of its worst seasons in over 35 years. I can honestly say that this moment, right now, is probably the worst I can ever remember for New York sports fans.
30. San Francisco 49ers (0-7) - I think the worst thing about that blowout for Kyle Shanahan and the current 49ers is that it happened on a day when so many old school, championship-winning 49ers (from the Super Bowl XVI team) were in attendance. That's really embarrassing.
31. Indianapolis Colts (2-5) - T.Y. Hilton was not wrong for calling out his offensive line, which allowed 10 sacks on Sunday. T.Y. Hilton was wrong for apologizing for calling out his line. Has he learned nothing from our current president?
32. Cleveland Browns (0-7) - I have no idea what the hell Hue Jackson is doing. Just pick a quarterback and stink with him! If you are rebuilding - if that's your excuse for going 1-23 in two seasons - then just throw Deshone Kizer out there and let him turn it over 40 times. He will learn and, hopefully, improve. Or he won't and you'll know you are wasting your time and move on. But this quarterback musical chairs is embarrassing. And for that reason, even beyond the record, Jackson should get a pink slip.
Robert Ferringo posted a profit in six of the first seven weeks to start the NFL regular season and he is riding a run of six of seven overall winning football weeks. Robert has exploded for +$7,200 in football profit over the last five weeks and he is coming off a truly epic +$3,000 football weekend. Robert is an astounding 34-11 (76%) with his NFL totals plays and he has hit 59.6 percent of his totals plays over the past 12 years! Don't miss out on this week's Pac-12 Game of the Year on Saturday (7-Unit Play) and another strong Sunday NFL card.
Robert has been the top football handicapper in the country the past five years, earning nearly $14,000 in total football profit. He has also posted five of seven winning seasons (including a winning 2016-17) and tallied over $20,000 in football profit between 2011 and 2016, including his amazing 2013 NFL season in which he hit 62.1 percent (95-58). Robert has produced 18 of 29 winning football months and an amazing 41 of 65 winning football months over the past decade. SIGN UP HERE TODAY AND TAKE ADVANTAGE OF OUR EARLY BIRD SPECIALS !
We are offering new clients $60 in free college football picks for Robert's picks or any Advisory Board handicapper of your choosing. Get your free college football picks now !
Read more articles by Robert Ferringo