2017 Washington Redskins Road Schedule Odds with Expert Picks and Predictions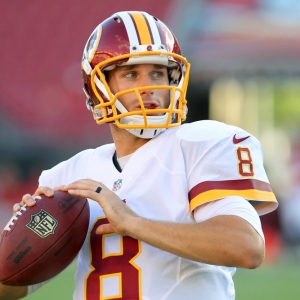 So the Oakland Raiders just gave quarterback Derek Carr a five-year, $125 million extension and $70 million in total guarantees. It jumps Carr past Andrew Luck as the NFL's highest-paid player in terms of average per year. Carr recently turned 26 and threw for 3,837 yards, 28 TDs and six picks in 15 games last year, a rating of 96.7.
What does this mean for the Washington Redskins and quarterback Kirk Cousins? He'll be 29 in August and threw for a career-high 4,917 yards to go with 25 TDs, 12 picks and a rating of 97.2 a year ago. Is Cousins as good as Carr? I doubt many would make that argument, but now the salary bar has been set.
The Redskins have slapped the franchise tag on Cousins the past two seasons; they didn't really try to negotiate a long-term deal after the 2015 campaign, as they wanted Cousins to prove it again. He did. It's almost financially impossible to hit Cousins with the franchise tag again next offseason, as that would be worth something in the ballpark of $35 million. So the Skins either have to sign Cousins to a long-term deal by July 17 (deadline for players on the franchise tag) or he's going to become a free agent after next season. It's widely known around the NFL that Cousins wants to go to the 49ers and play for his former offensive coordinator Kyle Shanahan.
I'm not sure what Cousins is, either. A good quarterback? Elite? I don't think so. That yardage total is impressive, but he still makes too many mistakes. The biggest of his career was in Week 17 last season with Washington a big favorite over a nothing-to-play for Giants team. With his team down 13-10 late in the fourth quarter, Cousins had the Redskins almost to midfield with 1:37 left and first down. He threw a horrible pass over the middle that was picked off and clinched the win for the Giants while eliminating Washington from wild-card contention. It finished 8-7-1.
It will be surprising if Cousins does agree to a deal as he has bet big on himself twice now and won big last year. He can simply play for $24 million this year and then go wherever he wants. And I'm not giving him $26 million a year and $80 million guaranteed if I'm the Redskins.
Washington was 4-3-1 on the road last season, 6-2 against the spread and 6-2 "over/under." The Redskins travel to four playoff teams in 2017: Kansas City, Seattle, Dallas and the New York Giants. They also have three trips to the West Coast and none of them are paired (teams request that). The road schedule is tougher than at home. I project a 2-6 record. Odds listed for the home team.
Sept. 17 at Rams (+2): Washington hosts Philadelphia in Week 1 and I see that going either way. Of course the Rams' new head coach is former Redskins offensive coordinator Sean McVay, who got the job largely because of his work turning Cousins into an above-average quarterback. A win here would give the Redskins victories in their initial road game of consecutive seasons for the first time since 1996-97. Key trend: Skins 4-6 ATS in past 10 as road favorite anywhere of 2.5 points or fewer.
Oct. 2 at Chiefs (-5): Monday night. Redskins off a Sunday night home game vs. Oakland and ahead of their bye. It's the first time ever that Kansas City and Washington have played on MNF. The Redskins have lost six straight in this series dating to 1992 and have never won in K.C. Key trend: Skins 3-7 ATS in past 10 before bye (any location).
Oct. 23 at Eagles (-2.5): Also Monday night. Washington should be off a home win over the 49ers in Week 6. In my mind, the toughest stretch of schedule begins here and runs through the end of November. The Redskins look to snap a three-game losing streak in Monday night games against the Eagles. Washington won in Philly 27-22 last year on a Sunday in Week 14 on Chris Thompson's 25-yard TD run with 1:54 left. Key trend: Redskins 6-4 ATS in past 10 as road dog in series.
Nov. 5 at Seahawks (-8): Skins off a huge one vs. Dallas in Week 8. Washington has won six of seven regular-season meeting vs. Seattle this century. Each of the last four have been decided by 10 or fewer points. Key trend: Skins 0-3 SU & ATS in past three as road dog anywhere of at least 7.5 points.
Nov. 19 at Saints (-2.5): Redskins host Minnesota the previous Sunday. Cousins finished third in passing yards last year, a little under 300 behind the Saints' Drew Brees. The Redskins have won their last four games in New Orleans dating to 1994. Key trend: Skins 6-4 ATS in past 10 at NFC South teams.
Nov. 30 at Dallas (-7): Washington's second straight Thursday game after hosting the Giants on Thanksgiving. It's the first time in franchise history the Skins play two Thursday games in one season. Washington is 4-5 at Dallas since AT&T Stadium opened. The Cowboys won last year on Thanksgiving, though, 31-26, despite Cousins' 449 yards passing and three scores. Key trend: Skins have covered five straight as at least a 7-point road dog in series.
Dec. 10 at Chargers (-1.5): Last time the Skins leave the Eastern Time Zone. If you ask me who Cousins reminds me of, it's the Chargers' Philip Rivers. The Redskins are 7-3 all-time against the Chargers, 2-2 in road games. Key trend: Skins 5-4-1 ATS in past 10 at AFC West teams.
Dec. 31 at Giants (TBA): Again, no Week 17 early lines are posted. Washington comes off a Christmas Eve game vs. Denver. Will this be Cousins' final game in a Redskins uniform? Jay Gruden's as coach? I say yes and yes. Washington won at the Giants 29-27 in Week 3 last year. Dustin Hopkins kicked a 37-yard field goal with 1:51 to play. The Redskins haven't won back-to-back road games in series since 1999-2000. Key trend: Skins 4-5-1 ATS in past 10 at Giants.
Read more articles by Alan Matthews