Monday Night Football Picks: Denver Broncos at Oakland Raiders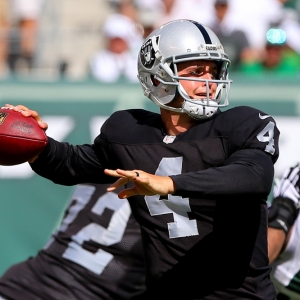 When is the last time you watched a sporting event on television simply to see how the fans reacted to something instead of caring much about the result on the field/court/ice/diamond/pitch, whatever?
Off the top of my head, I'd say when LeBron James returned to Cleveland for the first time as a member of the Miami Heat. Didn't care about either team or that game itself but wanted to see all the venom spewed at James.
That brings us to the last Monday night game of the 2018 season: Denver at Oakland. Thanks to the Broncos' home loss last weekend, it's now utterly meaningless other than potential draft position for both. I don't have a fantasy player on either team, but I'll watch because I'm curious how the Oakland fans behave. This could be the last-ever Raiders game in the city.
Of course, the team is moving to Las Vegas for 2020 and planned to stay in Oakland until then. However, the city recently sued the team (and NFL) for damages and, long story short, owner Mark Davis doesn't want to pay around $7.5 million in rent on the Oakland Coliseum for 2019 when it's effectively money that will go to a lawsuit against him. It's still possible the sides figure something out, and the NFL has to know by early February at the earliest where the Raiders will play for scheduling purposes.
MyBookie.ag actually has a prop on where the Raiders spend 2019: The Oakland Coliseum is a +150 favorite. San Diego is +200, and that makes some sense, but the Chargers will be adamantly opposed to that. Probably the Rams too. Levi's Stadium in Santa Clara is +350, but reports are that Davis hates the thought of sharing a field with the 49ers. Las Vegas' Sam Boyd Stadium, home of UNLV football, is +600 but it's apparently not up to NFL standards. I think my favorite option is Mexico City at +2000. One option not offered that has been rumored is AT&T Park, home of MLB's Giants. Raiders QB Derek Carr has suggested Fresno State, where he starred. Also not an option that has been bandied about is Reno to at least get to Nevada and start building a fan base.
Broncos at Raiders Betting Story Lines
This really is more important for the Raiders (3-11) as they chase the No. 1 overall pick in the 2019 draft. They are tied for the league's worst record with Arizona but (stupidly) beat the Cardinals. Oakland will lose Week 17 in Kansas City should the Chiefs have anything to play for - but they might not have reason to play any starters. Arizona surely will lose home to the Rams on Sunday and closes at Seattle. That looks like a sure loss, too, but the Seahawks could be locked into a playoff seed and rest their key guys. It wouldn't seem like either the Cardinals or Raiders would take a QB with the top pick, although Oakland could opt to move on from Carr this offseason.
This surely will be the penultimate game as Broncos coach for Vance Joseph. I'd bet just about my entire bank account that he's not back. That likely was assured last Saturday in a 17-16 home loss to Cleveland in which Joseph had fourth-and-1 at the Browns 6 down 17-13 with just over four minutes left. You HAVE to go for that, but he opted for the field goal and of course Denver never came close to scoring again.
The fan base in Denver is totally fed up with this regime amid reports that boss John Elway met with former Broncos Super Bowl-winning coach (when Elway was QB) Mike Shanahan this past offseason. Elway wanted to hire him in a package deal that would also have brought in free-agent QB Kirk Cousins, but team president Joe Ellis apparently shot that down. Shanahan is still on the short list to replace Joseph.
There's no doubt that Elway's seat is starting to get warm too; he's obviously a legend as a player but hasn't shown much as an executive in terms of finding a quarterback other than getting Peyton Manning to sign as a free agent. Denver absolutely will be in the market for a young QB this offseason whether it brings back Case Keenum as a bridge QB or not. He has $7 million of his $18 million base salary guaranteed next season. Currently, Denver would pick 12th in the 2019 draft and generally franchise QBs aren't available that deep into the first round.
Broncos at Raiders Betting Odds and Trends
At 5Dimes, Denver is a 2.5-point favorite (-120) with a total of 44.5. On the moneyline, the Broncos are -145 and Raiders +125. On the alternate lines, Denver is -2 (-125), -3 (+105) and -3.5 (+130). The Broncos are 6-7-1 against the spread (2-4-1 at home) and 3-10-1 "over/under" (1-6 at home). The Raiders are 5-9 ATS (3-4 at home) and 6-7-1 O/U (3-4 at home).
Denver is 2-6 ATS in its past eight vs. the AFC West and has covered only two of its past 12 Monday games. Oakland is 2-5 ATS in its past seven vs. the AFC and 1-4 ATS in its previous five against teams with a losing record. The under is 12-3 in Denver's past 15 vs. teams with a losing record. The under is 6-1 in Oakland's previous 17 vs. the AFC West. The home team is 4-1 ATS in the past five meetings. The under has hit in four straight.
Broncos at Raiders Betting Prediction
Denver beat Oakland 20-19 in Week 2, despite trailing by 12 late in the third quarter, on a last-second field goal.
I realize I didn't go much into actual on-field stuff/injuries here, but what's the point? The Broncos players will not give a crap, but I think the Oakland guys will in what could be their swansong in the city. Go Raiders +3.5 to be safe and under the total.
Read more articles by Alan Matthews