NFL Betting Advice: What to Make of Los Angeles Rams Offseason Moves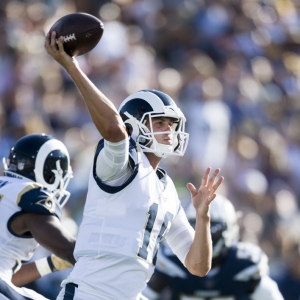 Trading has come to the NFL in a bigger way than ever before this offseason, and the L.A. Rams have been a driving force in the trend. Their surprisingly strong season last year didn't end like they wanted it to, and through trading and other moves they have taken aggressive steps to make sure they are better prepared for the postseason this time around. It's still early, and the draft will impact how almost every team in the league looks going into the season. We are in a bit of a calm before the storm, though, with the busiest part of free agency past and the draft still a little way off.
It's a good time, then, to look at what the Rams have done and how it impacts them. At just +1400 to win the Super Bowl at BetOnline , they are behind only six other teams, which means that expectations are very high. They need to improve to keep pace. Let's look at some of their bigger moves this offseason to see how they have done at doing just that.
Sammy Watkins gone: Losing your most productive scoring receiver isn't ideal, but the Rams get full credit for how they dealt with this. Watkins did lead the team in receiving touchdowns, but he had just 593 yards receiving and eight scores, so it's not like he was Calvin Johnson in his prime. And the Chiefs gave him $48 million over three years, with $30 million of that guaranteed. That is crazy money, and the Rams surely didn't think twice about matching that. Just insane. The real upside here is that a hated rival gets hung with a contract with all sorts of downside like that. They still have a hole to address, but Watkins wasn't worth the money, and he is far from irreplaceable.
Alec Ogletree traded to the Giants: On the field this is a rough move. Ogletree is a good player and a better leader on the defense, and the linebacker corps wasn't an area of real depth. They are going to have to pick linebackers in the draft and get lucky. But Ogletree wasn't cheap, and the team knows they need flexibility with contracts for crucial pieces like Aaron Donald and Todd Gurley looming. This was a business move pure and simple, and as long as they can find some competence in the middle of the defense then it will turn out just fine.
Robert Quinn traded to the Dolphins: This can be explained in large part as a business move as well - getting him off the books is nice, even if he is productive. There is another aspect here to this and the Ogletree moves, though. Wade Phillips took over the defense last year and made big changes - from a 4-3 to a 3-4 for starters. Neither Quinn nor Ogletree were prototypical for that kind of a system, so these changes have the added bonus beyond the financial of serving as an endorsement of what Phillips is doing and a commitment to making it work. It's not addition by subtraction, but the subtraction could set them up to put together personnel that are more effective in the system they are clearly all-in on.
Locking up John Sullivan: This is a quiet move but one that is easy to like. Sullivan came in from Washington last year to play center, a position that was a huge problem in Jared Goff's rookie year. Sullivan was quietly strong and added stability. The team locked him up for two years at a reasonable price in the offseason. Affordable stability in a position of need is never a bad thing. The offensive line was much improved last year after issues the year before, and this move keeps that line in place again. It's not a young line, but now they don't have to be rash in their attempts to keep it strong going forward.
Peters and Talib: We have to start with Trumaine Johnson here. The corner had been franchised the last two years, and the team wasn't interested in paying market price for him. The Jets wound up giving him a big, largely guaranteed contract, and the Rams were wise not to match it. Instead of pouting, though, the team grabbed two of the better players out there for the system they play - hard-hitting corners Marcus Peters and Aqib Talib. Taking one from the rival Chiefs had to feel good. Neither guy is without concerns, so there is some potential downside, but they are guys who, at their best, are very strong, and the costs were reasonable. These are nice moves and the types of gambles that you can get behind a team making - especially when combined with the cost consciousness the team has shown.
Get free picks from any of Doc's Sports expert handicappers - and with no obligation or credit card. You can use these free picks for any sport, and you will never deal with a salesman. Get $60 worth of premium members' picks free .
Read more articles by Trevor Whenham