Odds to Win NFL Divisions with Expert Betting Predictions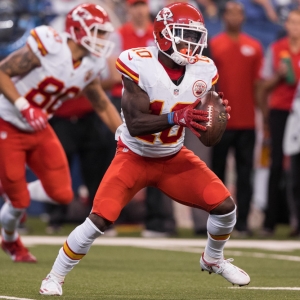 NFL division winner futures odds have been posted at Bovada , so we should obviously take a good look at them. I love looking at these numbers when they come out each year. It's a dead zone for football, so this gives us a way to see how teams are perceived, to test our feelings about how teams stack up, and to see if there are any teams that stand out as real value squads for you this year. And it's interesting as I looked at the numbers this year that things mostly feel pretty chalky. For several divisions it's easy to figure out the best team, and easy to see the best team winning. I get nervous when things feel relatively black and white this time of year, because they basically never wind up that way.
AFC
East: This is just as boring as it has been for years now. The Patriots are a ridiculously strong -650 favorite. There has been some drama and uncertainty around the team this year, and it's hard to argue that they have gotten better. But the Bills (+1100) and Jets (+1500) have both drafted guys they hope will be their next franchise quarterbacks, and you almost never contend the year you do that. And the Dolphins (+1000) are still the flawed team that they have been. I don't see any value at all in the Patriots at this price, but I'm sure not going to suggest you bet on anyone else, either.
North: All you need to know here is that the Ravens (+400) are the second choice to win the division. If they are the second-best team in the division then it doesn't set up to be much of a competitive division. I just don't love them. I really don't like the Bengals (+1000), and while Cleveland (+1200) is easier to like than they have been in a long while they still are only at the start of a long climb. Pittsburgh is understandably a strong favorite at -280, and that price feels almost fair.
South: Finally, we have a race that is interesting. Indianapolis (+500) is the only team that isn't interesting, because between a consolation-prize coach and a quarterback who can't be trusted due to his health there is a lot of uncertainty. Jacksonville comes in favored at +180 after their very surprising year last year. I don't think that that was a fluke of a season, so I am fine with this. Houston is right behind at +185, and it all comes down to what they get at quarterback this year. Again, a reasonable price. If I was making one bet in the group, though, I would take Tennessee at +333. I like the roster moves they have made, really like that offensive line, and they aren't as far behind as the price suggests. There is value here.
West: The Chargers are favored at +175, and they should be. I can't be the only one, though, who gets very uneasy trusting this franchise. Oakland and Kansas City are both at +275. I just don't know what to think of Oakland. They could do great and return to the form of two years ago, or the Gruden experiment could devolve into the worst kind of circus. I like a lot of what Kansas City offers, but the QB situation makes me jumpy. And Denver (+400) is a very tough team to judge, though I tend to be optimistic about Case Keenum. I just don't see how you bet on this group with any confidence.
NFC
East: The Eagles are favored at -175, and the only thing I worry about with them is if the Super Bowl hangover affects them too much. They have far superior talent to any other team in the group, and their backup QB is as good as any other starter in the group. Dallas (+350) is a team that could really bottom out this year given how they are built, and I don't see how the Giants (+700) can be trusted with Eli Manning at the helm. The Redskins at +750 are mildly interesting because I like the calm stability of Alex Smith, but they are very far behind Philly, so there is not a lot of attraction in betting them.
North: Detroit (+600) and Chicago (+900) are teams working to get back to relevance, but it won't happen yet. That leaves Minnesota (+125) and Green Bay (+140). I am all about the Vikings here. I don't trust the health of Aaron Rodgers, and don't trust Green Bay's roster construction. I like the Kirk Cousins fit in Minnesota, and I don't see a lot of weaknesses on the roster. There is value here.
South: Tampa Bay (+600) is easy to rule out because of their newly-exposed issues and distractions at QB. That leaves New Orleans (+180) and Atlanta (+185) with Carolina not far behind at (+290). I like where the Saints are at, and respect Drew Brees immensely, but he is still ancient -- that makes me nervous. And I just will never trust the Falcons mentally as they are constructed. If Cam Newton could be even a shadow of what he was in his MVP year then there is a lot to like about this Carolina team, and I'd be okay with taking a chance on them.
West: Arizona (+1200) is a mess, and Seattle (+400) seems like a team marching towards a coaching change and a more significant roster overhaul than they already have gone through. The Rams are favored at -130, and given what they did last year, the talent throughout, their willingness to make key offseason changes, and the strength of their coaching, they are easy to like and are clearly the most likely winner. San Francisco is interesting, though, at +275. If St. Jimmy can do about what he did late last year then this team has the talent and the coaching to keep things interesting. I don't think they will win it, but I wouldn't argue with you if you wanted to bet this price.
Get free picks from any of Doc's Sports expert handicappers - and with no obligation or credit card. You can use these free picks for any sport, and you will never deal with a salesman. Get $60 worth of premium members' picks free .
Read more articles by Trevor Whenham