Bet on Where the Oakland Raiders will Play Next Season: Odds and Predictions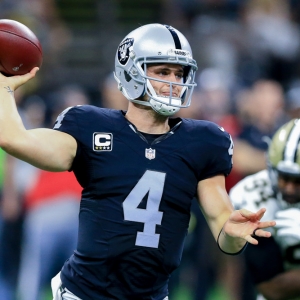 If you have been in a coma then you will want to sit down because this will come as a shock - the Oakland Raiders have made a mess of a situation. I know, it seems impossible that a franchise run forever by the Davis family -- the organization that gave Jon Gruden full ability to do whatever he wants to do to the team -- could possibly do anything that was less than perfect. But such is the case. They are moving to Las Vegas, but not until the 2020 season. So, it was obviously impossible to see that they would need to have a place to play in 2019. Their lease with Oakland Alameda County Coliseum ends on Feb. 13, and it has ended with hostility and bitterness. So, the team is homeless. It's frankly a hilarious situation. Beyond the comedy, though, this presents a betting opportunity. Bovada has a prop bet about where the team will be playing next year. Breaking it down will be fun.
Oakland Alameda County Coliseum (-140): The team was originally trying to negotiate with the Giants to play in San Francisco at Oracle Park. That was a horrible idea because the Giants didn't want the Raiders to play there until their season was over. That meant a season-killing road marathon to start the year. Gruden can kill this coming season all by himself - he doesn't need the help of a long trip. That deal was ultimately doomed when the Niners refused to waive their territorial rights to San Francisco - which is hilarious because they play in practically a different timezone from downtown San Francisco. So, reports are coming out that the Raiders have gone groveling back to the Coliseum. This makes the most sense of anything, of course, but it is far from a sure thing. The stadium filed an anti-trust lawsuit against the team and the league, so there are some raw emotions involved. Given how suave and generally effective Mark Davis is, it would be easy to see him blowing this. This should be the favorite, but the price is too low to make it attractive.
Levi's Stadium (+140): Wait a second. The Niners didn't want the Raiders to play in San Francisco because it would impact their bottom line. But they would be happy to act as landlord, leasing their dog of a stadium to the Raiders for nine days? That wouldn't have a negative impact on the Niners? It's almost as if the 49ers haven't been acting in good faith all along. But that wouldn't be possible in the NFL. This makes sense and would be easy. And the league seems to be in favor of it.
Alamodome (+900): This isn't as likely a destination now that San Antonio is an AAF market. The NFL wouldn't want to take on the AAF juggernaut. I'm kidding, of course. San Antonio was a temporary home for the Saints post-Katrina. It would work, and attendance would probably be fine. But I can't imagine the league being too excited about heading to a temporary market for the short term. It certainly hasn't gone well for the Chargers.
SDCCU Stadium (+900): This would just be the height of comedy. The Chargers and the Raiders had one of the great rivalries in the sport. The hatred was pure and ran deep. Then the Chargers left San Diego for no good reason to go to a market that no one wants to watch them in, leaving SDCCU Stadium open. So, now the Raiders could move into the home of the Chargers because they are making a dumb move of their own. I hope against all hope that this happens, just because of the insanity that would be the Raiders' home game against the Chargers. Either all fans in San Diego would skip the game as a protest - which they should do - or they would come and cheer for the Raiders against the Chargers. The game would be like very high-level performance art about the silly state of greed and its impact on sport. It's not going to happen, but man it would be great if it did.
Sam Boyd Stadium (+3300): That this solution has never gotten any serious play is a sign of just how stupid the whole situation is. The home of the UNLV Rebels can seat 40,000 people. And it's in the market that the team is moving to anyway. So, instead of being some sort of pathetic squatter wasting time in a place that no one wants them, the team could move to Vegas, start settling in, and build excitement ahead of the opening of their new facility. Sure, it's not an NFL-caliber stadium. But neither is that joke of a spot that the Chargers are in in Carson, and that hasn't stopped them. As a short-term solution this makes too much sense. Which is why it could never happen - it is the Raiders we are talking about, after all.
Anywhere in the UK (+3300): This has come up as a solution. The league wants to expand to London at some point anyway, so why not send Oakland there for a year to test things out. There is merit to the decision - at least if we accept that expanding to London is a good idea, which I really don't. But do we really want Gruden and Davis to be the face of the league in this venture? Seems like a sure way to end London's desire for a team in a hurry.
Read more articles by Trevor Whenham