Expert NFL Handicapping: Are New England Patriots Vulnerable?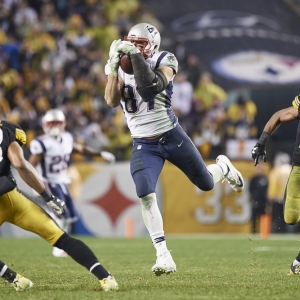 Of all the eight teams remaining in the NFL Playoffs, the New England Patriots are the ones that probably make my head hurt most. They are like one of those paintings that looks entirely different depending on which direction you look at it from. Sometimes the painting is beautiful, and other times it is hideous, and you never know quite which. I feel the same way with this Patriots team. Sometimes I look at them, and at the wide-open AFC, and I see them returning to the Super Bowl yet again. But other times I look at them and see them losing to L.A. in not particularly flattering fashion. It has been a long while since there has been a team that has been this hard to nail down heading into a playoff game. Here's why:
They still won 11 games: The Patriots really don't feel like they usually do. They seem more fragile, far less deep, and vulnerable in a way that we aren't at all used to. But it's important to remember that they still won 11 games, ran away with their division, and finished second in their conference. This is a team with plenty of issues, but many of those issues are relative and only come to mind for us because we have long been used to a whole different level of reality from this team. It's okay to think they aren't what they have been, but it is easy enough but dangerous to make the leap from that to thinking that they aren't that good. Bad teams don't win 11 games.
Home field still matters: This team was a lousy 3-5 on the road this season, so if and when they have to play a road game that will be a real concern. But it only takes simple math to figure out that 3-5 on the road means 8-0 at home. Foxboro has long provided one of the best home-field advantages in all of sports, and despite all the concerns that hasn't changed.
Experience, experience, experience: This is a team that has played in the AFC Championship Game in each of the last seven years. Four times over that stretch they have made the Super Bowl, winning twice. This is the 10th straight year they have won their division and the 15th time in 16 years. This amount of experience is unprecedented in the modern football era. That's a whole lot to draw on in a situation like this. They are up against a Chargers team that has missed the playoffs the last four years and seven of the last eight. There has obviously been plenty of turnover through the years, but the core of Brady, Belichick and McDaniels is what matters. Experience alone won't win games, but it sure doesn't hurt.
Brady: I'm sensitive about talking about Tom Brady's age, because he's the closest non-kicker in the league to my age. I'm sure not going to call him old. And he is still, by most measures, a very positive influence on this team. But he just hasn't been as sharp this year as he was last year, and that has especially been noticeable at clutch times and when he is throwing to tight targets. And his play in the red zone just hasn't been at the level we are used to from him. He has played better for the most part down the stretch, but games against Pittsburgh and Buffalo weren't great. It's hard to know how much of it is some type of aging and how much is that he just hasn't had an ideal receiver situation this year - Rob Gronkowski has been a shadow of himself, Brady's favorite recent targets are gone, and the team has gone through a remarkable 26 roster changes at receiver alone this year. I would still be hard pressed to pick a quarterback remaining in the playoff that I would rather have in charge of my team right now in this situation, but I've also never felt more uneasy about hi heading into the playoffs than I do now. He's just one of the many factors that makes team so hard - both to judge and to write off.
Betting performance: Despite the seeming shakiness, we don't really have much to complain about as bettors when it comes to this team. They have been profitable on the season at 9-7 ATS and are particularly good at home where they have gone 6-2 ATS. They have also gone "under" the total in 11 of 16 games to produce a nice profit there and have been profitable both at home and on the road on this front. This is the third straight year that they have been among the better teams in the league to bet on, which is notable for a team that has been to the Super Bowl in each of the last two years.
Want free NFL picks? Doc's has you covered. New clients can take advantage of this great offer of $60 in free Doc's Sports members' picks for any handicapper on Doc's Expert Handicapper list. Just check out these guys' pages and see what great work they have done making money for themselves and their clients over the years. Get $60 worth of premium members' picks free . Get free NFL picks weekly on Doc's Sports free football picks page.
Read more articles by Trevor Whenham