NFL Betting and Handicapping: Can LA Rams Bounce Back?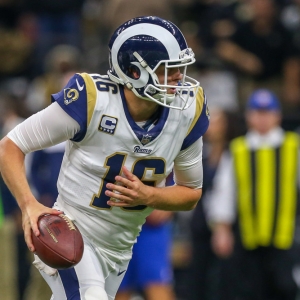 I hope that the Los Angeles Rams have a giant mirror somewhere in their facility, because there is not a single person on that roster or that staff that doesn't need to look deep into their own eyes and figure out what they are made of after that game. It was a close Super Bowl on the scoreboard, but if there was a moment in which it felt like the Rams were going to win the game, I sure didn't see it. The team is still as talented and dangerous as they were before the playoffs began, but that kind of loss can infect the heads of a team and cause real issues. Ask the Falcons. Or the Seahawks. Or the Panthers.
Oddsmakers remain optimistic about this team going forward. They are the second choice to win the Super Bowl next year at Bovada at +700, not far behind the team that just beat them at +650. They could easily be NFC Champions again. Or they could be a historically ugly futures bet. To avoid the latter, they have some big questions they have to answer. Here are three of the most pressing:
Jared Goff: It's not fair to put it all on one guy, but I will do it anyway. The Rams lost the Super Bowl because of Jared Goff. He was awful. The Patriots just kept waiting until the microphone that connected him to his coach was shut down with 15 seconds left on the play clock, and then they changed their defensive play call. It was incredibly simple and brutally effective. Goff just couldn't cope. He's still very young, so we don't have to write him off entirely, but it really wasn't a great effort. And it's the kind of effort that can both brand a guy in the minds of everyone and get into the mind of the player. That kind of game can mean nothing in the long term, or it can mean everything.
Goff is entering his fourth season with the Rams and will be working with his fourth different quarterback coach. Zac Taylor, the latest, is now head coach of the Bengals. That much change for a guy who obviously has a lot to work on is a long way from ideal. And this is a season that is going to see even more pressure placed on the shoulders of the youngster as this is a contract year. He makes well under $10 million now. With a big year in which he threatens for the MVP crown he could make $30 million. Or he could wind up making a whole lot less - or even going somewhere else. Goff playing like he did up to the Kansas City game would become very rich. Goff after that point creates some real headaches for his team. And there is a decent chance that the team will deal with the contract this summer, which means that Goff will have to deal with the pressure of the new deal - maybe better than playing for a contract, but not by much.
Add it all up and it is very tough to know what to think of Goff and where he is at. And that makes it tough to assess this team.
Todd Gurley: Gurley says that he was healthy in the Super Bowl. I really hope that he was lying. The guy has been the most valuable running back in the league for a couple of years. An unstoppable force. And he was strong against the Cowboys in the first playoff game. But he didn't show up at all in the last two games - the most important that he or his team had ever played. There are two possibilities, and neither is good. Either he isn't right - and once a running back runs into health issues they don't always come back. Or he is indeed fine but just isn't mentally strong enough when it matters. Both situations are a real problem for this team. They will know better than we can what is the case. And they need to do a very good job of understanding and dealing with the situation.
Veterans: The team has a lot of older, key guys they have to sort out. Left tackle Andrew Whitworth may choose to retire this year, or he may come back for what would likely be a last year. Either way, they need to figure out a plan there. Ndamukong Suh needs a new deal, though he could probably be convinced to come back at a reasonable price - he's getting too old to keep bouncing around. Dante Fowler needs a new deal, too, and there is no chance he'll be a bargain. He will more likely wind up cashing in elsewhere. Gurley and Aaron Donald already make big money, and Goff will likely join them, so the flexibility this team has enjoyed is disappearing, and tough choices are ahead. Guys like free agent Lamarcus Joyner, and well-paid vets like Michael Brockers, Mark Barron and Marcus Peters, are all questions that need to be answered, too.
Read more articles by Trevor Whenham