NFL Confidence Pool Picks Week 8: Expert Pick'em Predictions No Point Spread
by Chris Vasile - 10/23/2019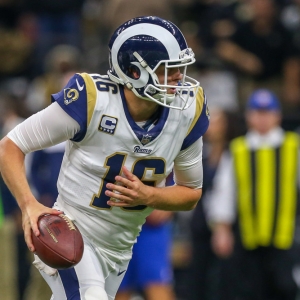 In an industry that's dominated by point spread betting, bettors are looking for new and exciting ways to get their bets down. Confidence Pools offer bettors an alternative that completely ignores the point spread and allows you to choose which teams you believe will win straight up instead of against the spread. This eliminates the stress and frustration of watching the team you bet on win the game but not cover the spread by a single point. Whether you're just starting out or have been betting for a while, losing bets by half-point is one of the most frustrating things that could happen. With Confidence Pools, you'll never have to worry about that. For the entire season, I'll be breaking down the game list and ranking each game from most confident to least confident for NFL Confidence Pool picks Week 8.
Week 8 Confidence List (my selection listed first)
Minnesota Vikings vs Washington Redskins: Do I really need to go into depth on why backing the Washington Redskins at any point this season to win another football game is a bad idea? This team got shutout at home by the 49ers, who managed to put up just nine points. Now the Redskins go on the road on a short week to take on a Vikings squad who has won three straight and has put up at least 28 points in each of those games. Minnesota wins this game easily, with or without Adam Thielen.
LA Rams vs Cincinnati Bengals: This game won't be pretty to watch as it'll likely be one-sided, but I do believe there is tremendous value in backing the Rams on the point spread as well as straight up. The Rams had a confidence-boosting win over a struggling Atlanta squad and now head to London to take on the winless Bengals . The Bengals (read: Andy Dalton) showed absolutely nothing in their loss to the Jags to think they can put up points and win their first game of the season on the other side of the pond. Rams win this by 21+.
New Orleans Saints vs Arizona Cardinals: I love what Arizona has done over the last month or so. They've won three straight, and the offense is starting to show signs of life, while the defense (who got Patrick Peterson back last week) has played well. However, it's time to start showing Teddy B some love. Bridgewater has gone 5-0 as a starter for the injured Drew Brees and essentially picked apart the "vaunted" Bears defense to the tune of 36 points. Now the Saints return home and will likely have Alvin Kamara in the backfield for this game. The Cardinals are ones to watch, but they won't go into the Superdome and come out with a win.
Seattle Seahawks at Atlanta Falcons: This game is rather simple to break down. One team - the Falcons - have completely given up on the season. They no-showed at home last week against the Rams and now have to deal with an injury to Matt Ryan and the fact they traded away a well-liked guy in Sanu. How Dan Quinn still has a job is beyond me. Seattle got beat by a good team in Baltimore last week, but the Seahawks have made a point in beating terrible teams. They are still alive in the division, so this win will go a long way in keeping that chase alive.
New England Patriots vs Cleveland Browns: I'm going to keep this rather short and sweet. New England is good at football even when they don't try. Cleveland is bad at football despite trying really hard. Patriots win this game because they have Tom Brady, they are at home, and the Cleveland Browns are not a good football team.
Houston Texans vs Oakland Raiders: This is pretty straight forward. Oakland has been on the road for the last five weeks. They'll be gassed, and Houston will be pissed off not to have won last week against Indy. Texans will follow the Packers lead and drop 40 on a bad Oakland defense. Houston wins by double digits.

Tampa Bay Buccaneers at Tennessee Titans: Let's be realistic for a second with this game. The Titans should be coming into this game with a loss but benefited from some ineptness by the Chargers offense. The Bucs couldn't play any worse than they did before to their bye, and Jameis Winston looked like he never played quarterback before that game. The reality of the matter is that what has Tennessee done to warrant being a 2.5-point favorite in this game ? The Bucs are coming in off a bye, and that extra prep time should benefit them in this matchup. Ryan Tannehill is still a terrible quarterback - don't let anyone else tell you otherwise. Bucs win this game in a mild upset.
Green Bay Packers at Kansas City Chiefs: This game would have been the best game of the week if Patrick Mahomes was starting under center for the Chiefs. Instead, Aaron Rodgers will likely march his team into Arrowhead and with the aid of the refs come away with another win. Sometimes betting is simple, while sometimes it's more complex. I remember a time when I bet Mike Glennon and the Bears to beat a hobbled Rodgers and the Packers on a Thursday night. That didn't go so well, and neither will betting on Matt Moore. Packers win.
Indianapolis Colts vs Denver Broncos: I feel like we watched the Broncos hit rock bottom last Thursday at home versus the Chiefs. So, logic tells us there's only one way to go from there, and that's up. Unfortunately for Broncos' fans, the team just traded away their best receiver and now have to deal with a sneaky good Colts defense. The Colts are a good team, and they have the ability to beat poor teams. Denver is a poor team, and the Colts will win this game outright on their home field to get to 5-2 on the season. Andrew Luck who?
New York Giants at Detroit Lions: The Lions were dealt a major blow when they not only lost to Minnesota on their home field but when they had to put Kerryon Johnson on the IR. The Lions now become one dimensional (as it seems they've always been) and have an uphill battle the rest of the way. We know the Giants are a bad team. However, they are just starting to get healthy, and we'll give Daniel Jones one more shot at this whole trusting him thing. Giants pull off the upset because the Lions won't be motivated for this game.
Jacksonville Jaguars vs New York Jets: Would you rather a quarterback who sees ghosts on the field or one that has a mustache and has thrown 10 touchdowns to just two interceptions, which is good enough for a 95.7 rating. Give me the Jaguars in this game as the Jets simply don't look like a team I want any part of this week. They can't possibly play any worse than they did on Monday Night, but there's no evidence to prove they can play better. Jacksonville wins this game and gets back to .500.
Buffalo Bills vs Philadelphia Eagles: What's wrong with the Philadelphia Eagles? That was one of the worst displays I've seen this season, and that's saying something because I've watched a few Miami games. The Eagles have no offensive rhythm and simply can't stop anyone on defense. The Bills finally got the offense rolling last week, putting up 31 points on the Dolphins. The defensive is legitimate, so we'll take the Bills in this spot at home vs a poor Eagles team.

Chicago Bears vs LA Chargers: The Chargers blew the game last week against the Titans and are all but dead in the fight for a playoff spot. The Bears simply didn't show up at home after their bye week and now find themselves chasing a wild-card spot. I believe defense wins this game for the Bears. And with the Chargers playing their second straight road game (third if you count the "home game" vs Pittsburgh), we don't see the Chargers doing anything productive on offense.
Carolina Panthers at San Francisco 49ers: This is a game that screams trap to me. The Niners are the better team as they are 6-0, but they've been riding high for so long that it seems a letdown is coming. Carolina is fresh off their bye week and has had extra time to prep for this one. Kyle Allen has shown no signs of being in over his head, so we'll bank on a Niners let down and enjoy cashing a Panthers underdog ticket.

Pittsburgh Steelers vs Miami Dolphins: Why can't the NFL step in and flex one of the Sunday games to Monday night? I have about 15 other things I'd rather do than watch Ryan Fitzpatrick throw interceptions and Mike Tomlin look dazed and confused about what's going on. Steelers have more talent at the skill positions, and they are coming off a bye and are at home. Steelers win this one, but I refuse to watch.