NFL Training Camps: Trying to Answer the Biggest Question Surrounding Each AFC Team
by Chris Vasile - 7/30/2019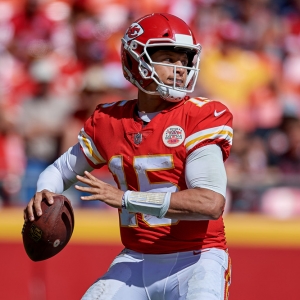 With the start of training camp upon us and the Hall of Fame Game approaching in less than a week on August 1, I thought now would be a great time to ask some of the key questions that each AFC team has to try to answer heading into camp. Don't get me wrong, every team has a laundry list of tasks to cover over the five weeks leading up to Week 1, but some teams are still in a better position than others, as you'll see throughout the list.
If you are serious about boosting your bankroll and having a winning NFL season, nobody does it better than Doc's Sports NFL handicappers . We have an excellent roster of handicappers and you can get signed up now to start winning as soon as preseason kicks off.
Related: 12 NFL handicapping tips from expert handicappers
Without further ado, let's get right into the burning questions.
Baltimore Ravens: Are We Sure Lamar Jackson is the Answer?
The Ravens decided to end the Joe Flacco era by shipping him off to Denver. Jackson now has the keys to the car. But are we sure he can efficiently run an NFL offense? I get the fact that he infused life into a lifeless offense last year when he came in midway through the season. However, with poor throwing mechanics and a whole year of tape on Jackson, defenses should be prepared for what Jackson can bring. It'll be up to Jackson to matriculate in the passing game and keep defenses honest.
Buffalo Bills: Offensive Weapons a Plenty.
The Bills made some solid moves this offseason by restacking their offense in hopes of giving Josh Allen weapons to work with. The offensive lines should be much improved and with the likes of Cole Beasley and John Brown joining Zay Jones and Robert Foster on the receiving corps and Frank Gore and Devin Singletary providing relief for LeSean McCoy, the offense is looking up. How will they all fit together? Well, that's a completely separate discussion.
Cincinnati Bengals: How Will the Offensive Line Hold Up?
The Bengals drafted the top offensive line prospect in this year's draft, but he is now going to miss the entire 2019-20 season after undergoing shoulder surgery. It'll be interesting to see how the reshuffled unit will fare and how the offense will look with Dalton back under center and an aging A.J. Green still serving as the team's focal point.
Cleveland Browns: Will the Browns Ever Stop Being the Browns?
This is a question as old as I can remember. The only one stopping the Browns from becoming a respectable NFL franchise is themselves. On paper, they have one of the best collection of offensive weapons and a great defense to boot. Can they get out of their own way, though, and play mistake free football and not blow fourth-quarter leads? That is the question.
Denver Broncos: The Joe Flacco Era
Denver is committed to letting the Flacco era begin this season despite him not taking a meaningful snap for the organization yet. Flacco is coming off a terrible season with the Ravens, and we aren't quite sure he's the man who can revive this offense. The receiving corps is low on talent, and the running game seems to have lost some of the luster it had early last season. I know many Broncos fans who aren't holding their breath for this to work.
Houston Texans: Protecting Deshaun Watson is Key
The key to success for the Texans is to keep Watson upright and injury-free. They addressed their needs of a revamped offensive line in the offseason by adding Matt Kalil via free agency and drafting Tytus Howard and Max Scharping with two of their first three picks. Both tackle spots are up for grabs, so it's going to be a battle to see which two guys are deserving of the first chance. At Watson goes, so do the Texans, so this battle is key for success.
Indianapolis Colts: Can the Defense Keep up with the Offense?
The return of Andrew Luck and the addition of some solid weapons on offense give Colts' fans reason to believe that they could challenge for the AFC crown this year. However, their defense leaves little to be desired, and they are going to feature a key battle out of camp for the MILB position. This position is the one which calls the shots on defense, and having the right player in this role gives them another coach on the field. It's imperative that the right guy wins this job.
Jacksonville Jaguars: Who Will Replace Telvin Smith?
The Jaguars linebacker decided to call it quits from football this offseason, and the decision came so abruptly that it left the Jaguars with no backup plan to replace him. If the Jags decision to draft Quincy Williams in the third round doesn't pay dividends early, the Jags will be a mess in that role and teams like likely be able to exploit that spot.
Kansas City Chiefs: Encore Performance from Mahomes?
We already know that Patrick Mahomes is a quarterback that can sling the rock around with the best of them. What's yet to be seen is if he can elevate his game to the next level and limit the mistakes, while also producing at a high level when everyone is going to give you their best shot. Defenses know how lethal the Chiefs offense can be, and it all starts and stops with the QB. A year worth of tape can expose some flaw, and it'll be up to Mahomes and Co. to adjust and be ready to give their best effort every night.
Los Angeles Chargers: Can the Defense Live up to the Hype?
The LA Chargers ranked ninth last season in total defense, yet they still felt the need to upgrade some key positions. The addition of Thomas Davis just bolsters the defense to a new level, and the growth of Derwin James can't be understated. It'll be on the players, though, to perform as Gus Bradley has a wealth of options to deploy on the defensive side of the ball.
Miami Dolphins: Second-Year Pivot or Journeyman Quarterback?
The Dolphins are in desperate need of some good quarterback play. They traded for Josh Rosen from the Cardinals and still signed Ryan Fitzpatrick from the Bucs. So, who do they go with? Well, that's a good question. Rosen was set up for failure in Arizona as he was surrounded by absolutely no talent. Fitzpatrick had a blistering start to last season but fell flat on his face toward the end. Everyone surrounding this organization says this is a key battle, and the starter's job will be won in camp. My money is on Rosen.
New England Patriots: Will Tom Brady Ever Regress?
The 42-year-old pivot is coming off his sixth Super Bowl win and is looking to add another to his collection. Gone is his trusted security blanket and possibly the best TE to ever play the game, Rob Gronkowski. He does have a great running game to rely on, and the receiving corps seems to reload every year. It'll be interesting to see if Brady can make hay playing behind a reshuffled offensive line with the departure of left tackle Trent Brown. It'll be up to Joe Thuney to slide over to guard and protect Brady's blindside.
New York Jets: Le'Veon Bell?
We already know the drama that unfolded with Bell and the Steelers, but he's still running his mouth on social media about the "haters". This is a running back who can be extremely productive when he's on top of his game. Howeverm after sitting out a year, a fresh Bell may not be a sharp Bell, and getting on the same page with QB Sam Darnold may take longer than expected. Time the Jets simply can't afford to waste.
Oakland Raiders: The Case of the Misunderstood
Oakland has a lot of questions to be answered this season, but none more than the case of how everyone will get along. There are so many outcasts on this team, like Vontaze Burfict, Richie Incognito and Antonio Brown. Jon Gruden is going to have his hands full keeping everyone in check while pushing the right buttons to get them to produce on the field and not do anything stupid off of it. The Raiders were meant for "Hard Knocks" and it's a blessing we are going to see what goes on behind the scenes.
Pittsburgh Steelers: Who Replaces Antonio Browns Production?
Let's get one thing straight -- on his day, Brown is the best WR in the game. He's consistent, effective and just his presence alone allows other guys to see single coverage. So, who replaces the 104 catches, 1,297 yards, and 15 touchdowns? JuJu Smith-Schuster is the obvious answer. However, with defenses shading coverage his way now, what other players are going to step up and give Roethlisberger another outlet?
Tennessee Titans: Health and the Effectiveness of Mariota
Mariota remains the focal point of the Titans offense. And with a few additions on the offensive side of the ball, Mariota should benefit from having those added weapons. However, Mariota's health is fragile, and he takes a lot of punishment behind a very up-and-down offensive line. Can we trust Mariota to stay healthy? In fact, can we trust the entire team to stay healthy, as they have several guys starting out training camp that ended mini-camp with a designated injury tag?