Potential NFL No. 1 Draft Pick: Props Odds and Expert Betting Predictions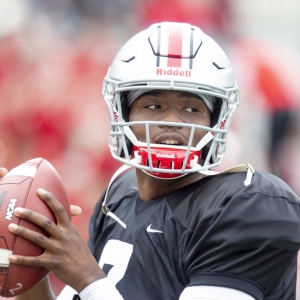 The NFL Combine has begun, which means that this is a good time to look ahead to the NFL Draft. Barring a major shock, at this point you can narrow down the list of potential first overall picks to about six guys. And whenever something is as high profile as the first overall pick, and the field can be easily identified, there is a betting opportunity. BetOnline has set odds for the first overall pick, and our job here today is to look at them to see if there is any value.
Nick Bosa, DE, Ohio State (-200): It should surprise no one that Bosa is the strong favorite here. He is the best player on the board in the eyes of many. He's a freakish pass rusher, and his pedigree is proven because older brother Joey was a menace in college and has remained one at the next level. The Cardinals have the top pick. And as they are shifting to a 3-4 defense under their new coaching staff, they could absolutely use a guy who can terrorize quarterbacks in multiple ways. Bosa's season last year was derailed by an abdominal injury, so he will have to prove at the Combine and in other workouts that he is fully recovered from that. That shouldn't be a problem, though. You would have to work hard to find a mock draft anywhere right now that doesn't have Bosa on top, and it would take a lot for that to change. This is both the safe pick and a sexy one, and that is a good combination for a coaching staff looking to make an impact early on. If the top player was an offensive lineman - someone who doesn't leap off the page and make big plays - I might be more hesitant. But Bosa seems right. I can't justify tying my money up for a long time for this potential return, and the risk still outweighs the reward, so this doesn't seem at all bettable to me. But he would be my top pick in a mock draft if I cared enough to do one.
Kyler Murray, QB, Oklahoma (+300): This became a big story because Kliff Kingsbury gushed about Murray when he was still a college coach, saying he would absolutely pick him first overall. Now he has that opportunity. But I don't see it happening. Kingsbury and Murray would be a good fit and could potentially make magic happen together. But the team already has a highly-rated college quarterback they acquired in the first round in Josh Rosen. And while he has not taken the league by storm, he showed some good things as a rookie last year. They wouldn't get full trade value for Rosen if they picked Murray, and that would mean that they would have used Top 10 picks two years in a row on a QB. That's hardly a smart approach when a team has as many needs as this one does. Plus, taking a risk with the top pick with a guy who is smaller than most NFL QBs would add to the gamble. Kingsbury would probably love to take Murray, but I don't see how he can justify it.
Quinnen Williams, DT, Alabama (+500): Williams is a freak in the middle and will pressure quarterbacks while shoring up a run defense, too. He's a fairly safe pick and is the second-best player on many draft boards. He finished eighth in Heisman voting as a DT - that's tough to do. To move to the top spot, he would probably need Bosa to falter somewhere along the way, and he would have to test very well. I don't hate this price, though.
Dwayne Haskins, QB, Ohio State (+1000): I just don't see how this could happen. I can see why Murray could be in play, because he is such a dynamic dual-threat guy. Haskins, though, is a big pocket passer with a strong arm and high football IQ. The Cardinals already have one of those. Unless Rosen got run over by a bus, and Murray flopped his workouts, I don't see a scenario is which Arizona takes Haskins. And while Haskins is very good, I don't see a team valuing him enough to trade up for the top pick, either. In other years I could easily see him as the top pick, but things just don't fall the right way for that to happen this year.
Ed Oliver, DT, Houston (+1400): At this point, it is no certainty that Oliver will be a Top 15 pick. He will struggle badly to get past Williams, and even Williams is an outsider to be the top pick. Oliver had tremendous hype out of high school and had strong seasons at Houston. But this past season wasn't his best, and attitude concerns arose as well. Too many red flags to take him seriously as a potential top pick - though I expect him to work out well and move back up boards a little.
Josh Allen, LB, Kentucky (+1400): There is long shot value here. It's deceptive to have him listed as a linebacker here. It is what he plays, but he is every bit as much a rush end as Bosa is and is basically in head-to-head competition with him at the position. He put up huge numbers last year and will test very well. If Bosa falters, Allen could step up. San Francisco at No. 2 gets talked about a lot with Allen. So, if they maintain their love affair with him, a team could look to grab him with the top pick if they like him as much. He's a long shot, but the price seems fair.
Read more articles by Trevor Whenham