NFL Divisional Round Betting Tips: Keys and Distractions Each Team
by Trevor Whenham - 1/9/2020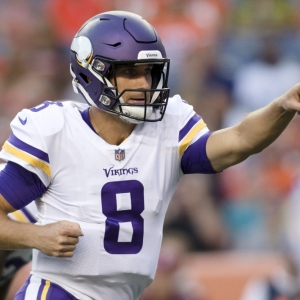 The interesting thing about these four NFL divisional round playoff games this weekend - and about every football game ever played - is that they can be boiled down to a few things that are going to be key to how the game turns out. There are also always a few things that are not nearly as important as they seem to be, or that don't warrant the attention they are getting. Handicappers who can spot the keys and avoid the distractions are the ones who wind up ahead. Here's a look at a key and a distraction for each of the four games on the slate:
Minnesota (+7) at San Francisco
Key: San Francisco's ability to control the run game with their defense. The Vikings have a solid rushing attack , ranking sixth in the league in the regular season. They like to have a reasonably balanced attack. San Francisco's run defense was mid-pack overall but very capable at times when they commit to it. The more they are able to limit Minnesota's comfort on the run, the more of the responsibility for Minnesota's success will rest on Kirk Cousins getting things done. If you are San Francisco and you have to bet against him in the clutch, you are in a pretty happy place.
Distraction: Jimmy G's passing. I have heard a lot about how Cousins is the more productive passer in this game and that Garoppolo is a concern. I'm just not buying it. Passing production is just a measure, and not a big one - Lamar Jackson is the least productive passer remaining in the playoffs by a wide margin and is going to run away with the MVP. He's playing well, he completed 18 of 22 passes last time out, and he clearly does enough to help this team succeed. If you are giving Minnesota an edge in the game because of an edge at QB, you just aren't right. At least not a significant one.
Tennessee (+10) at Baltimore
Key: Derrick Henry. Tennessee needs to get their horse established early and ride him - as they have been doing since he found this new level in the second half of this season. Baltimore, which has a pretty solid rush defense, needs to find ways to limit Henry as much as that is possible. The more they can do that, the more it rests on Ryan Tannehill. And if forced to choose between Tannehill and Henry, it's not a tough choice for the Baltimore defense to pick their poison. It doesn't just fall on the defense to slow down Henry, though. The offense can, too. As well as Tennessee has operated with Henry, they don't turn it into a ton of points. If the Ravens' offense gets rolling early, it could take the ball out of the hands of Henry as much, too, and that could define the game. The less Henry has the ball, the less the Titans can dictate the pace, and the better off the Ravens are - not that they are badly off, anyway.
Distraction: The Titans beating New England. If the Titans have beat one giant, some have argued, they are poised to do it again. If you think that beating that New England team was anything like beating the best New England teams, though, then I wonder what you were doing instead of watching the game. This is a very different, and much bigger, test.
Houston (+9.5) at Kansas City
Key: Houston's pass defense. On December 8, the Houston defense made young Drew Lock look like Drew Brees. They are a vulnerable group against a pass defense that has some tools, and Kansas City is certainly that. They don't always get blown up, and often they don't even give up a ton of points despite giving up ground. But they are going to have to dig in and get creative against an offense led by the best QB in the league - a unit that is much more balanced than it was last year when it was doing more gaudy things.
Distraction: The last matchup. In Week 6, Houston won 31-24 in Kansas City. They did it once, some would say, so they can do it again. And maybe they can - but not like that. Through a variety of circumstances, Kansas City had the ball for less than 20 minutes in that game and ran just 47 plays compared to 87 for Houston. It was a nearly perfectly executed game for Houston, and they were still lucky to get out with the win. It isn't going to go nearly that well again, so what happened last time means even less than a game played three months ago might typically.
Seattle (+4) at Green Bay
Key: Aaron Rodgers. He's great at selling insurance and has been one of the best in the game for the last decade. But the Rodgers we have seen this year is just not the Rodgers we are used to. Not even close. He doesn't feel dangerous in the same way. And he is far removed from his most explosive games even this season. He has another gear. Three, really. We need to see it here, and the more of it we do, the better. And it's particularly pressing in this game because despite some concerns in other areas, and a weak close to the regular season by the Seahawks, Russell Wilson has played circles around Rodgers this year, and in the second half in particular.
Distraction: Lambeau Field. This is a given any time the Packers play a home playoff game because the betting public overvalues this place immensely. I get it - hallowed field, oozing history, Vince Lombardi, blah, blah, blah. But it is just a field, and not one that gives this version of the Packers any huge edge. Seattle was 7-1 on the road in the regular season, and they have already won a road playoff game. They may very well lose, but it won't be because of the ghost of Curly Lambeau.
Want free NFL picks? Doc's has you covered. New clients can take advantage of this great offer of $60 in free Doc's Sports members' picks for any handicapper on Doc's Expert Handicapper list. Just check out these guys' pages and see what great work they have done making money for themselves and their clients over the years. Get $60 worth of premium members' picks free . Get free NFL picks weekly on Doc's Sports free football picks page.