NFL Power Rankings Week 15
by Robert Ferringo - 12/15/2020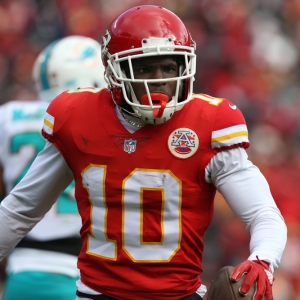 It's time to tank.
I know that players and coaches in the NFL all say the right things about tanking. They talk about how people are fighting for jobs and for money so it is impossible to tank. They talk about how physically it doesn't make sense for teams to sit back and get rolled over. They talk about pride and professionalism.
I'm not here to doubt them. What I am here to do is question the logic of NOT tanking at this point in the season. Sports analytics have exploded over the past decade, with raw data and science replacing gut instincts and long-held traditions. One of the things that sports analytics has done is exposed an obvious fact: sports are a zero sum game. And by not doing the things that will give you an obvious statistical advantage, you are self-sabotaging potential for future victories.
Enter tanking.
There are a number of teams – the Panthers, Chargers, Falcons, Broncos and Lions all come to mind – that would benefit significantly by losing the rest of their games. Other teams, like the Texans and Cowboys, would also benefit from resting and protecting certain star players, essentially saving their bodies for next year. Any argument to the contrary is an ethical or emotional one. No one can really deny that those teams have nothing to play for and hence would be better off mailing it in for the rest of the year.
Sure, there are some confounding factors; Raheem Morris and Darrell Bevell are trying to coach their way into full-time positions. But those are short-term, single-person motivations. There is absolutely no doubt that both Atlanta and Detroit would benefit from more losses and enhanced draft position.
Look, I don't WANT these teams to tank. I'm just saying that handicapping football games is part math/science/analytics and part psychology. You have to have an understanding of the numbers and mechanics behind spreads and betting numbers. But you also have to understand people and group psychology. And being able to interpret motivation is a crucial skill for any bettor.
By Week 17, half the league will be going through the motions. Some playoff teams will be resting starters. Some bottom feeders will have their players looking ahead to an offseason trip to the Bahamas. But in these next two weeks, we are kind of in that limbo where interest, focus and motivation for certain teams may start to wane. And for other teams, the reality of the situation – that they are better off losing – may start to factor into decision-making.
It's another handicapping challenge in what has been a challenging year. And signs of teams throwing in the towel will be one of the things that I am most on the lookout for in this week's games.
Here is Doc's Sports NFL Power Rankings:
1. Kansas City Chiefs (12-1) – That is about as poorly as Patrick Mahomes can play – and the Chiefs still won easily on the road against a playoff-caliber opponent. Injuries are the only thing that will keep this team from winning another title this year. But it would be nice if this team could cover a spread (0-5 ATS slide).
2. Pittsburgh Steelers (11-2) – I'm not going to crush the Steelers for losing up in Buffalo. The reality is that the team was exhausted, physically and mentally, after playing three games in 12 days. I actually thought Pittsburgh dominated that first half; they just ran out of steam. Fortunately, they have a "get right" game this week against the lowly Bengals, a team that Steelers have beaten to the tune of 22-7 ATS over the last 15 years.
3. New Orleans Saints (10-3) – I think that the Saints are making the right call by being patient with Drew Brees. They can't win a title with Taysom Hill at quarterback. They can with Brees. I don't think that home field advantage means as much this year, so the Saints should be content trading the No. 1 seed for a healthy Brees.
4. Los Angeles Rams (9-4) – That sound you heard last Thursday was Cam Akers shooting up 2021 fantasy football draft boards. The Rams look like one of the few complete teams in the NFL right now. They can beat teams running or passing. They can do it on offense or defense. And they are playing their best ball as the season wears on. The Rams are 8-2 ATS as a home favorite and 18-8 ATS as a favorite overall. After watching Seattle hammer the Jets 40-3, I think the Rams will want to make a similar statement.
5. Tennessee Titans (9-4) – Despite an overall positive all-around effort on Sunday, there was one negative that came out of Tennessee's dominating win over Jacksonville. Starting left tackle Ty Sambrailo is out for the year. The Titans slid David Quessenberry into his slot, but he was not good at all against a below average Jaguars pass rush. That is going to be a spot to watch over these next few weeks.
6. Indianapolis Colts (9-4) – This week will be the second time in three weeks the Colts take on the Texans. Their last meeting, a 26-20 Colts win, was one of the more bizarre games of the season, featuring penalties, turnovers, safeties, missed field goals, and 44 points in the first half to just two in the second. The Colts have covered five straight against the Texans and are 13-4 ATS in the last 17 meetings.
7. Green Bay Packers (10-3) – I know that at this point I just seem like a Packers hater by not having them ranked higher in this poll. However, much like the Browns, Green Bay has just one win this year against teams that are currently above .500. And they've lost to the only other two winning teams they've faced. I give the Packers credit for how clean and dominating they have been – they were one kickoff return away from a third straight win by 14 or more – but they have not proven to me that they are a powerhouse team.
8. Buffalo Bills (10-3) – This is the hottest team in football right now. They have won six of seven – and are the Hail Murray away from a seven-game winning streak – and they have covered five straight. Buffalo's defense looks like it has turned the corner, and they have allowed 17 or fewer points in two of their last three games. The Bills are 11-5 ATS in their last 16 road games but have to avoid a letdown this week after their big win over the Steelers on SNF.
9. Tampa Bay Buccaneers (8-5) – It is so easy for bettors to get seduced by the talent of this team each week, even as Tampa Bay's actual play on the field doesn't ever seem to meet up with the expectations. Tom Brady is still missing a shocking amount of throws, and this offense just cannot seem to get ramped up. They still really look like fool's gold to me.
10. Seattle Seahawks (9-4) – Meh. It is so hard for me to get excited about the Seahawks anymore because they are such a clearly flawed team. In the developing NFC story, they are just an obvious sidekick; a subplot. Seattle is just 2-5 ATS against teams from the NFC. They are 0-4 ATS on the road and just 1-4 ATS as a road favorite.
11. Baltimore Ravens (7-5) – Justin Tucker is an absolute stud. There's really nothing more to say. That Monday Night Football game with the Browns was as good of a football game as I have seen on MNF in the past decade. It doesn't change the fact that the Ravens have real issues on defense (for the first time in a long time) or that Lamar Jackson can't throw. But Baltimore still has life in the AFC wild card race and won't go down without a fight.
12. Miami Dolphins (8-5) – I still can't say that I've been impressed with what I've seen out of Tua. I get that he's mobile and can make throws outside of the pocket. But to this point I just don't see it with this guy. It doesn't help that Miami's offense has become a MASH unit. As of Tuesday, their top three running backs, top three receivers, top tight end and starting left guard are all questionable for this week.
13. Cleveland Browns (9-4) – Yes, I was as impressed as everyone else at how the Browns played on Monday against the Ravens. But they still have exactly two wins over teams with winning records this year and they are just 2-6 ATS in their last eight games. They will have to avoid a letdown this week in their primetime game against the Giants, a team that is going to be playing with the same level of desperation that the Ravens had.
14. Las Vegas Raiders (7-6) – Both the Raiders and the Chargers are dealing with multiple injury issues on both sides of the ball heading into their Thursday night game. I wouldn't bet this one more than an hour before kickoff until we know who is playing and who is not. The Raiders secondary could be shredded. Vegas is on a 3-0 SU and ATS run against the Chargers, with their last victory coming in Week 9 when the Chargers had an apparent touchdown on the final play of the game overturned on replay. This week will be a battle of attrition.
15. Arizona Cardinals (7-6) – Kyler Murray still isn't right. This guy looks like his battery is at about 18% and he is limping to the finish of this season. I'm not entirely sure about the Cards as a heavy favorite this week, either. Arizona is just 3-8 ATS when they are laying points and a dreadful 6-18 ATS in their last 24 games as a home favorite.
16. Chicago Bears (6-7) – That is now back-to-back games scoring 30 or more points for Chicago, and they are averaging 30.3 in their last three games. It's really not that surprising, though. As I pointed out, the Bears have played one of the most difficult schedules in the NFL, including a ton of games against teams with Top 5 and Top 10 defenses (Colts, Bucs, Saints, Rams, etc.). When they've faced weak defenses, they have scored points. Chicago is 5-2 ATS in its last seven against Minnesota.
17. New England Patriots (6-7) – I think it is funny that Josh McDaniels has spent most of this season being lauded for his work. But the Patriots are No. 24 in total offense and No. 26 in scoring. Where, exactly, has McDaniels' "genius" shone through?
18. San Francisco 49ers (5-8) – I know that Dallas is complete trash, but I'm not sure how I feel about San Francisco and Nick Mullens laying out points on the road. The 49ers are actually an outstanding 16-7 ATS as road chalk over the last several years. But they are a feeble 9-24 ATS overall when laying out points.
19. Minnesota Vikings (6-7) – I know that Minnesota backers want to string him up, but Dan Bailey earned a spot on my Christmas card list for that effort last weekend in Tampa. Thank you kind sir, I needed that one. Minnesota is now 0-4 ATS in their last four games. The home team in the Bears series is 7-3 ATS. But the favorite is just 2-5 ATS, and the Vikings have lost four of the last five meetings.
20. Los Angeles Chargers (4-9) – Anthony Lynn has done a good job of throwing his offensive coordinator under the bus for that debacle at the end of the first half against Atlanta. However, that's still on Lynn. Where was the communication? That play was run after a timeout! Don't you think during that timeout Lynn would've talked to his OC to coordinate how they were going to play it? And even if they wanted to run the ball, Lynn could've had his field goal unit ready to run onto the field. That's execution. That's good coaching. Lynn isn't a good coach, and that's why he needs to go.
21. Atlanta Falcons (4-9) – I 100 percent think that the Falcons should retain Raheem Morris as their head coach. He has done a sensational job of stabilizing this team. Further, The Falcons are teetering on the edge of being competitive and needing a complete rebuild. But they won't be able to do anything while they are under the yoke of Matt Ryan's and Julio Jones' contracts. I think Morris would be an excellent bridge coach for this franchise.
22. Denver Broncos (5-8) – The Broncos are catching the Bills at a really good time. Buffalo is in a letdown/look ahead spot this week after their big prime time victory over the Steelers and with a Monday Night Football trip to Foxboro on deck. The Broncos are taking just 33 percent of the early action in this Saturday night affair, but I would keep a close eye on that number to see if there is a late reverse line movement.
23. Carolina Panthers (4-9) – With games against Green Bay, Washington and New Orleans in the next three weeks, the Panthers are going to be in the thick of the NFC playoff race and they are going to have something to say about how things line up for the conference in January. Tampa Bay trucked Carolina on Nov. 15. But other than that blowout, their last three losses have come by a combined eight point. Also, I have absolutely no idea why Matt Rhule kicked a field goal down 25-17 with four minutes left. Do better, coach.
24. Washington Football Team (6-7) – "Nobody saw this coming with Washington this year!" Oh wait, that's not true at all; I saw this coming. I am not surprised by anything that this team has been able to accomplish and as long as Alex Smith is under center this team is going to be a solid underdog play. Washington is 4-0 ATS in its last four games and they are 5-1 ATS in their last six as an underdog.
25. Houston Texans (4-9) – The Texans really need to come up with a reason to sit Deshaun Watson the rest of the year. The guy is going to get killed. He is too competitive to dial things back, and Watson already has a history of serious injuries. Houston's season is over. They earn nothing by keeping their franchise guy out there to get beat to hell. The road team is 11-3 ATS in the last 14 games in the Colts series.
26. New York Giants (5-8) – There is no way in hell that the Giants should've started Daniel Jones last week. No way. Colt McCoy is a veteran. He's healthy. And he played well in that massive upset of Seattle. They needed to ride that wave and let Jones heal up. Jones is a loser. He is not the type of guy that can go out there at 80 percent health and be effective. He's barely effective at 100 percent! I know Joe Judge is trying to let Jones make some kind of leadership statement for this team, but he is sabotaging the Giants' playoff hopes by trotting out the shaky Jones.
27. Philadelphia Eagles (4-8-1) – Attrition across the Eagles offensive line continues. Tackle Jack Driscoll, who started the last two games in the place of injured Lane Johnson, is hurt and out for the year. He is now the sixth – SIXTH! – Eagles lineman to suffer a season-ending injury.
28. Detroit Lions (5-8) – I don't think there is any way that Matt Stafford plays this week. I've had that rib cartilage injury before, and it sucks. It hurts to breath. If he does play, there is no way he will be effective. The Lions have nothing to play for, so I don't see what they would have to gain by trotting him out there this week.
29. Dallas Cowboys (4-8) – "America's Team" came up with a rare ATS win last week against the lowly Bengals. Dallas is still just 3-10 ATS this year, and they are 0-4 ATS in their last four games after an outright win. Dallas is 2-9 ATS in their last 11 games after a win by 14 or more points, and they are just 1-6 ATS in their last seven home games.
30. Cincinnati Bengals (2-10-1) – There is absolutely no doubt that Joe Burrow was the best offensive rookie this year. No question. The difference between what the Bengals offense was able to do with Burrow and the putrid filth that they are without him is amazing.
31. Jacksonville Jaguars (1-12) – I think I would rather have the No. 2 pick in the upcoming NFL Draft. I wouldn't want the pressure of having to decide between Justin Fields and Trevor Lawrence. I would rather let the team with the No. 1 pick have to deal with it.
32. New York Jets (0-13) – The Jets are an incredible 20-40 ATS in their last 60 games as a road underdog. Think about that. Sixty games, with eight road games a year, means that over the last eight seasons, no matter how bad you thought the Jets were away from home, they were actually staggeringly worse.
Robert Ferringo has been the top football handicapper in the country the past 10 years, earning nearly $40,000 in total football profit (average profit: +$3,800). He has also posted 8 of 10 winning seasons (including four straight winning years) and produced an amazing 54 of 83 winning football months over the past 13 years. Robert has hit at nearly 60 percent winners over his last 1,000 totals picks and has posted 12 of 14 winning Super Bowls. Robert is looking for a fifth straight winning football year and wants more profit this fall. SIGN UP HERE TODAY AND TAKE ADVANTAGE OF OUR 3-FOR-1 FOOTBALL SPECIALS!
We are offering new clients $60 in free college football picks for Robert's picks or any Advisory Board handicapper of your choosing. Get your free college football picks now!