NFL Power Rankings Week 3
by Robert Ferringo - 9/24/2020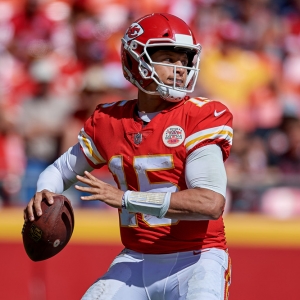 I'm going to keep this short and sweet this week. I have taken my family on vacation for the first time in 2020, and I'm going to keep my focus where it needs to be: on producing a third straight winning football week and extending my +3,170 football run. I'm full steam ahead with my research and handicapping, but that leaves me a little less time to explain the birds and the bees of Week 2 and Week 3 in the NFL to you.
Last week we successfully navigated Overreaction Week. Now people are over the novelty and excitement of the start of the NFL season, and we are strapping in and mentally preparing ourselves for the fact that we have an 18-week death march remaining in front of us. The Purge has already starting claiming victims, with the NFL landscape shifting last week due to a flurry of injuries.
Stay frosty. And keep your eyes looking forward.
Here is Doc's Sports NFL Power Rankings:
1. Kansas City Chiefs (2-0) – I had the Chiefs-Ravens line pegged around 1.0 with either team favored. I was surprised to see Kansas City getting a field goal and then even more surprised that the books got enough sharp action to have to move the line off the 3.0.
2. Baltimore Ravens (2-0) – The Ravens are 6-2 ATS in their last eight Monday Night Football games. Baltimore also has revenge for back-to-back losses in Kansas City over the past two years.
3. Pittsburgh Steelers (2-0) – This Houston-Pittsburgh spread had one of the most surprising moves of the week, dropping a full two points from its open of 4.0.
4. Seattle Seahawks (2-0) – Anyone that has been reading this space over the last few years – especially last year – knows that I've been saying that Russell Wilson is absolutely the most valuable player to his team. I'm glad the rest of the bobblehead media has caught up.
5. New Orleans Saints (1-1) – This week marks the sixth career meeting between Drew Brees and Aaron Rodgers. Brees holds the slight 3-2 SU and 4-1 ATS advantages, and there have been an average of 64 points per game scored in those five matchups.
6. Buffalo Bills (2-0) – Josh Allen deserves all the plaudits that he is getting right now. The wins came against the lowly Jets and Dolphins, but still. However, I don't see this guy surviving 16 games if he continues to take the shots that he's taking every week. There's just no way.
7. Tennessee Titans (2-0) – Tennessee is experiencing the most lopsided action of any game this week, garnering 80 percent of the betting action against the Vikings.
8. Tampa Bay Buccaneers (1-1) – Chemistry and cohesion is the biggest issue for this team. And I don't see it clicking for them this year. There is talent all over the place. But guys still don't know their roles, and this team just doesn't play as one unit.
9. Green Bay Packers (2-0) – There is a lot of sharp action coming in on the Saints this week. I can tell you that I'm not in a hurry to bet against Aaron Rodgers right now.
10. New England Patriots (1-1) – The Patriots are 49-23 against the spread following a loss, and they are 44-23 ATS in their last 67 home games.
11. San Francisco 49ers (1-1) – There is no way that I would bet on the Giants in this circumstance. But there is also absolutely no way I'm looking to lay points on the road – with a quirky quarantine week in West Virginia in between road games – with this absolute MASH unit of a roster.
12. Arizona Cardinals (2-0) – DeAndre Hopkins had a surprising drop last week and also took responsibility for a bad route leading to a Kyler Murray interception. Look for Hopkins to be focused and motivated this week and for him to decimate a pathetic Detroit secondary.
13. Indianapolis Colts (1-1) – Philip Rivers still didn't look very good last week. He had some big third down incompletions, another interception, and he is not driving the ball down the field at all.
14. Los Angeles Chargers (1-1) – Rookie Justin Herbert is expected to get his second start this week against the Panthers. If last week was any indication, he should be primed to tear up a flimsy Panthers secondary.
15. Los Angeles Rams (2-0) – While the 49ers decided to stay on the East Coast this week (in West Virginia) ahead of back-to-back games in New Jersey, the Rams actually flew back home after their win over the Eagles last week. Back-to-back cross-country road trips (to Buffalo this week) is brutal.
16. Chicago Bears (2-0) – I'm still not buying into The Resurgence of Mitch Trubisky even a little bit. The Bears have played two terrible teams. That's why they are 2-0. Not because of Trubisky's motivation level.
17. Dallas Cowboys (1-1) – Watching Mike McCarthy embrace analytics is a bit like watching a circus bear trying to use a soda vending machine.
18. Las Vegas Raiders (2-0) – I never understood all the hate directed toward Derek Carr. The guy is a top-half-of-the-league starter that's been surrounded by pathetic talent in a clown car organization. This team isn't as good as they played Monday, but they will be feisty.
19. Atlanta Falcons (0-2) – So long, Dan Quinn.
20. Cleveland Browns (1-1) – I will admit that Cleveland's offense looked much, much better on Thursday night against the Bengals. But they still have major problems – and a lack of playmakers – on defense. Any stop they have gotten in the first two weeks was purely by accident.
21. Detroit Lions (0-2) – Matt Patricia, "defensive guru", is leading a defense that has allowed 63 points over its last five quarters. I have no idea how this man still has a job.
22. Minnesota Vikings (0-2) – Beware betting against a home underdog that is as desperate as the Vikings right now. They are 18-7 ATS in their last 25 as an underdog and 5-1 ATS as a home dog.
23. Denver Broncos (0-2) – Mark my words: this will be Everyone's Sleeper Team heading into next year. And for good reason. The rest of 2020 is going to be a struggle for this skeleton roster. But I'm already counting the cash I'm going to make betting on them next year.
24. Houston Texans (0-2) – Everyone is giving Houston a pass on their 0-2 start because they had to face in the two best teams in the league. Gimme a break. They weren't even competitive in either of those games, and they are 5-12 ATS in their last 17 games against a team with a winning record.
25. Miami Dolphins (0-2) – Going back to what I said about Houston, Miami has faced Buffalo and New England, two of the Top 10 teams in the league. No one is making excuses for the Fins being 0-2, and they have at least been competitive in both of those games.
26. Philadelphia Eagles (0-2) – Since the start of the 2018 season, Carson Wentz has a 59.9 QBR. That is exactly the same as Jameis Winston over that time period.
27. Washington Football Team (1-1) – Losing Brandon Scherff is a huge blow to this offense. Washington really doesn't have that many Pro Bowlers lying around, and Dwayne Haskins needs all the help he can get.
28. Cincinnati Bengals (0-2) – I'm on board with the Joe Burrow hype. His accuracy and decision making are excellent. However, he's still a rookie quarterback and he is going to be very erratic from week to week.
29. Jacksonville Jaguars (1-1) – Losing D.J. Chark and Brandon Linden (check status on both) would definitely slow down this surprisingly potent offense. And they need the attack to be at full throttle because the Jaguars defense – at all levels – might be the worst in football.
30. New York Giants (0-2) – It doesn't matter who is running the ball for this offense. The Giants offensive line is one of the worst in football and is going to be an anchor around this offense all season long.
31. Carolina Panthers (0-2) – When Teddy Bridgewater has time in the pocket, he is legit. He didn't miss a single throw Sunday and was picking apart the Bucs when they were only rushing four guys. However, whenever Tampa Bay blitzed, something bad happened for Carolina, be it a sack, a turnover or an incompletion. He is night-and-day a different quarterback when he has time versus when he's being pressured.
32. New York Jets (0-2) – This team has reached the point with its injury report where higher-ups are going to blame the pathetic start on bad luck. That has nothing to do with what a joke this team is.
Robert Ferringo has been the top football handicapper in the country the past 10 years, earning nearly $40,000 in total football profit (average profit: +$3,800). He has also posted 8 of 10 winning seasons (including four straight winning years) and produced an amazing 53 of 82 winning football months over the past 13 years. Robert has hit at nearly 60 percent winners over his last 1,000 totals picks and has posted 12 of 14 winning Super Bowls. Robert is looking for a fifth straight winning football year and wants more profit this fall. SIGN UP HERE TODAY AND TAKE ADVANTAGE OF OUR 3-FOR-1 FOOTBALL SPECIALS!
We are offering new clients $60 in free college football picks for Robert's picks or any Advisory Board handicapper of your choosing. Get your free college football picks now!