Tampa Bay Bucs Super Bowl, Conference Odds Updated as Gronk and Brady Reunite
by Doug Upstone - 4/21/2020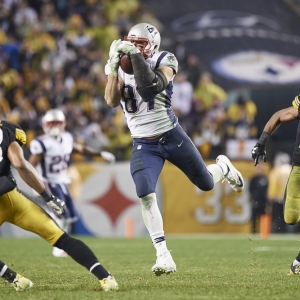 On another dull day for sports bettors, other than more NFL Draft talk and horse racing bets to place, we were jolted out of seats. Rob Gronkowski decided not only to come back to football but asked or maybe even demanded (we will learn more on that later) to be traded to Tampa Bay to rekindle his relationship with Tom Brady.
Gronk coming back to football is not a shocker. However, having him and Brady now wearing pewter, red and black… this becomes all part of the "new normal".
The reaction on social media was explosive, and people stopped talking about politics and watching Tik Tok and were talking football.
As expected, the initial response was overwhelming in favor of the Buccaneers, as it should have been.
While it's true Tampa Bay has won a Super Bowl, this is not a franchise that would be considered for "America's Team". For goodness sake, they wouldn't even be thought of as Florida's team. Let's not forget, if the Buccaneers went 19-0 for eight straight years, picking up eight Super Bowl trophies, their all-time record would still be below .500.
The NFL odds on Tampa Bay will undoubtedly fall. And if they have a Top 5 draft, they could go down even further, but is that based on reality or public perception. (Update: as this article went to publish, at Caesars Sportsbook, Tampa Bay's odds of winning the Super Bowl improved from 17-1 to 14-1. The Bucs' odds of winning the NFC also slightly improved from 8-1 to 7-1.)
Public Perception of Tampa Bay
Tampa Bay and Clearwater have beaches, and both are good cities. However, even in Florida, their perceptions are not world-renowned. However, this football news is like the overweight guy strolling down the beach in a pink thong with not a care in the world; it grabs your attention.
Brady with coach Bruce Arians is thought of as a good mix. Arians, for the most part, has always worked well with quarterbacks, especially those who don't turn the ball over, which is a Tampa Tom's strength.
Once Brady signed, those of us making NFL picks for a living were not drinking the West Florida Kool-Aid and wondered how he would fit into a different offense with all new players. Adding Gronkowski takes away much of that worry, because that is the added security Brady can depend on when plays break down. This also makes receivers Mike Evans and Chris Goodwin that much more potentially dangerous.
The Buccaneers won four of their last six games to finish 7-9, and their projected win total for the upcoming season was 9 before the Gronkowski trade. Is Arians' team ready to be this good?
Possible Realities About the Bucs
As was discussed when Brady came south from New England, whenever the season starts, he will be 43 years old. He's been a marvel to still play at this level this long. However, when Father Time's calls, even Brady will have to accept the message.
Gronkowski is 31. And while a year off will help him to start the season, he'd become more injury-prone a few years before retirement. If Tampa Bay's front office is thinking about having just one really good tight end, they might want to reconsider.
Arians has never been known for using tight ends as deep threats and will have to adjust. Also, his team was 24th in rushing in 2019, and his new players are used to being part of a complete offense, not one that is pass-yardage dependent. There are ample questions about the offensive line and running back Ronald Jones III, leaving one to wonder about the Bucs drafting a Jonathan Taylor or J.K. Dobbins in the second round.
Tampa Bay's defense was 15th in yards allowed, ahead of the Super Bowl champion Chiefs (16th) and NFC finalist Green Bay (15th), but they permitted less than 20 points a game while Buccaneers were at 28.1 PPG. Some of that can be attributed to Jameis Winston's interceptions for Pick 6's or putting his defense in no-win situations. Nonetheless, anything more than 22 PPG means Brady and Gronk will have to lead a very high-powered offense.
First Read on Tampa Bay
Trading for Gronkowski is a good move. It excites the players, coaches and the fanbase, and the locker room has two immediate leaders that are proven champions with exceptional work ethic.
Let's just not plan the parade yet, take a step back and hopefully learn more whenever the preseason starts and make a more rational decision at that time. Still, this is fun!
---------------------------------------------------------
Doug Upstone of Doc's Sports has 21 documented No. 1 titles and finished in the Top Ten 80+ other times in a distinguished career. Doug as a professional handicapper/writer has written for various well-known sports betting websites and several of the football newsletters you have read before.
----------------------------------------------------------------
New Customers, use $60 Free Money to get my Hot Picks daily.
$$ Horse Racing picks are making for all sorts of bettor's cash, with five of seven winning days and six of nine most recently.
$$ All 4 and 5-Unit NBA Plays this season, up $5,180!
$$ Doug's a 3-time NHL monitored handicapping champion (2014-2016) and 61.5% on my latest hockey plays.
Check out Doug's Winning Plays! Click Here and start collecting cash!