NFL Confidence Pool Picks Week 3
by Devon Rymarchuk - 9/23/2021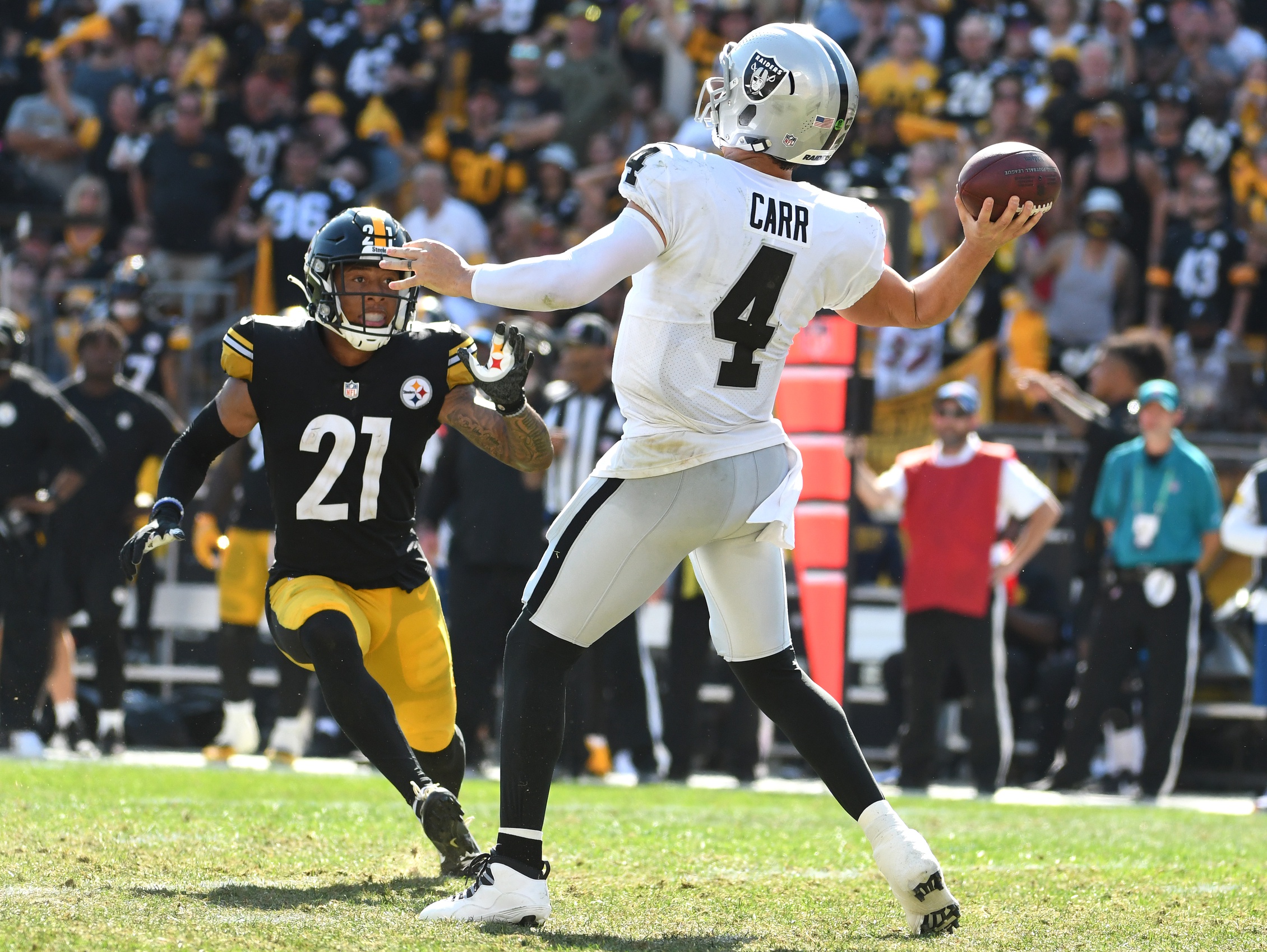 Week 2 is always a great indication of how teams might trend the rest of the season. With a two-game sample size, fans and gamblers alike are able to see more tendencies and storylines amongst players and teams in the league. Teams like the Indianapolis Colts, who were in Super Bowl discussions prior to the season, have their backs against the wall; an 0-2 start with a tough stretch ahead does not look good for the Colts. If they are unable to win next week, the odds of not the Super Bowl but even making the playoffs become extremely difficult.
Doc's Sports offers NFL picks for every game on our NFL predictions page.
Many thought Urban Meyer would come to Jacksonville like a prophet from another land. As it stands, Meyer seems to be over his head in Jacksonville, and the Jags have looked all but embarrassing in their first two games.
The two teams people are talking about the most are the Carolina Panthers and Las Vegas Raiders, both teams have gotten off to 2-0 starts, and with impressive wins at that. The Panthers easily handled an explosive New Orleans Saints team that came off a massive win in week 1 against the Packers. On the other hand, the Raiders were able to beat two playoff teams in their first two games from arguably the best division in football, the AFC North.
Of other significance, Aaron Rodgers was able to bounce back from one of his worst performances in his career Monday night by having an extremely impressive performance against a lackluster Detroit Lions team. Green Bay Packers defense still looked extremely vulnerable in the win, and it is something to be concerned about moving forward.
Week 3 presents many clear-cut favorites according to the spreads and pick percentages, but let's take a closer look at where you might get the most value in your confidence pool this week.
Miami Dolphins @ Las Vegas Raiders
Spread +4.5
Pick Popularity 7%
Win Percentage 36%
This is purely an emotional pick from the public. The Raiders are coming off a very big road win in Pittsburgh, and the Dolphins just got shut out at home against the Bills. The Dolphins are not getting enough credit this week, and that is why I see it as a very big value play for people that need points in confidence pools. Be wary of the QB situation for Miami. The Dolphins performance last week should not be an indication of the talent this team has on both sides of the ball. As seen in the past, big loses can motivate teams heading into their next matchup. The Chicago Bears, Tennessee Titans and Green Bay Packers were able to show that in week 2. This is a pick that is not as risky as the consensus pick percentage indicates.
San Francisco vs Green Bay Packers
Spread +3.5
Pick Popularity 55%
Win percentage 61%
It's one of those games where the Green Bay Packers could be receiving too much love. With the Packers being one of the most popular teams in the NFL, their public backing never seems to waver. A shaky Packers defence gives me little confidence in them this week; it will take Aaron Rodgers to be on his A game for the Packers to stay in this one. Taking the 49ers at home could lead to much needed points in your league.
New Orleans Saints @ New England Patriots
Spread +3
Pick Popularity 33%
Win Percentage 42%
The Saints probably had the most contrast of any team between week 1 and week 2 performances in the NFL. I believe in week 3 they will find the happy medium between the last two weeks and produce a strong performance on the road. On the other side of the ball, it is difficult to trust rookie quarterback Mac Jones of the New England Patriots to come up big when the game is on the line, for this reason, I think the New Orleans Saints have the ability to upset the New England Patriots in Foxborough Sunday.
Week 1 performance from Devon: 68 points
Week 2 performance from Devon: 82 points
My Confidence Picks
| | |
| --- | --- |
| Win | Loss |
| 16. Baltimore Ravens | Detroit Lions |
| 15. Carolina Panthers | Houston Texans |
| 14. Denver Broncos | New York Jets |
| 13. Buffalo Bills | Washington Football Team |
| 12. Dallas Cowboys | Philadelphia Eagles |
| 11. Kansas City Chiefs | Los Angeles Chargers |
| 10.New Orleans Saints | New England Patriots |
| 9. New York Giants | Atlanta Falcons |
| 8. Cleveland Browns | Chicago Bears |
| 7. Tampa Bay Buccaneers | Los Angeles Rams |
| 6. San Francisco 49ers | Green Bay Packers |
| 5. Miami Dolphins | Las Vegas Raiders |
| 4. Arizona Cardinals | Jacksonville Jaguars |
| 3. Indianapolis Colts | Tennessee Titans |
| 2. Cincinnati Bengals | Pittsburgh Steelers |
| 1. Minnesota Vikings | Seattle Seahawks |
Get NFL picks on every single game, or if you want our very best bet premium picks by the experts, sign up for your free $60 account with a guarantee.