NFL Confidence Pool Picks Week 4
by Christopher Delgado - 9/27/2022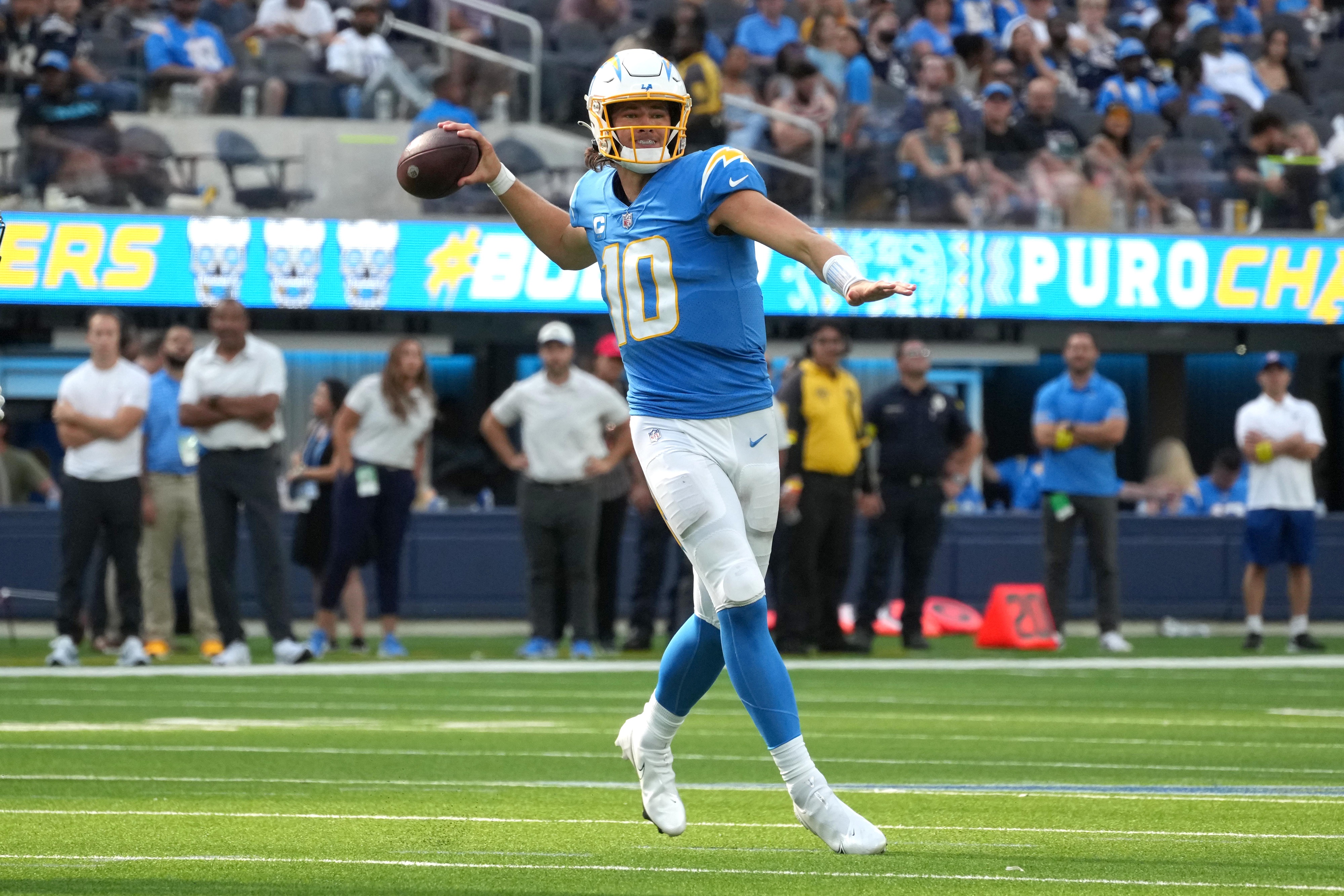 This past weekend was a headache for me as the Raiders and the Buccaneers both lost by a failed 2-point conversions. Then don't get me started on that 49ers game, which featured some of the worst football I have ever seen. Other than that, this week went as planned for the most part. We even cashed in on a Jaguars pick for an upset in Los Angeles. We had over a 70% success rate in last week's pool selections, so let's get back to it.
Doc's Sports offers NFL expert picks for every game on our NFL predictions page.
Down below we have confidence pool picks for week 4 of the NFL season. I love plenty of the matchups for this week as there are some teams rated higher on this week than last week. Divisional play is about to become more frequent after this week, so let's expect to see more intense football. We are heavily favoring favorites this week as I don't see much of a threat for an upset unless injuries are reported or a team just doesn't execute. We have two total underdog picks and a massive selection of favorites for this week,
Without further hesitation, here are our Week 4 NFL confidence pool picks. As a reminder, these will be ranked from strongest to weakest. All picks are straight up and don't involve the point spread, so these picks can be valuable for NFL survivor pools and moneyline betting.
1. Philadelphia Eagles (-295) over Jacksonville: 16 points
This is the most confident pick of the week. There's no need to over analyze this game. Let's take it for its face value as it should be. The Eagles should win this game as they are favored by a touchdown. They have a lockdown defense with an amazing secondary and great pass rush. The Eagles are loaded on offense with a ton of weapons and deep threat capabilities. Let's look for this Eagles team to stay undefeated and dominate this overachieving Jaguars team. I'm a strong fan of Jalen Hurts and what they have going on in Philadelphia.
2. Los Angeles Chargers (-280) over Houston Texans: 15 points
This is also another game that we don't need to look too deep into. The Chargers are a strong offensive team. Houston is a weak team, and they showed everything that we needed to see against the Bears. The Bears are one of the worst teams in the NFL, and losing to them says more than there is needed to. Justin Herbert will be a lot healthier this week than last week. Even with an injury to the midsection, he threw for almost 300 yards against the Jaguars. Houston couldn't hold the Bears down, don't expect them to hold down the Chargers. This pick is a no brainer.
3. Detroit Lions (-250) over Seattle Seahawks: 14 points
The Detroit Lions are an underrated team. They have a good offense and they can ball. Jared Goff is a good quarterback and he has been on a tear. He has six touchdowns through three games, and Jamaal Williams has two touchdowns. This offense has an 80% conversion rate in the red zone, making it one of the more efficient scoring offenses. Also in Week 3, they almost beat a pass heavy Vikings team. I expect them to dominate in this game as the Seahawks have been a shell of the team they used to be when Russel Wilson was there. These teams are on two opposite trajectories, so let's take our bet on the Lions now against this plummeting Seahawks franchise.
4. Pittsburgh Steelers (-178) over NY Jets: 13 points
This is a matchup of a good defense vs a bad offense. Say it with me: defense wins games. So, you can blindly choose the Steelers to win this game. The Jets had a solid Week 2 win, and they were flying high. Sunday the Bengals, we saw the Jets fall off the cloud they were riding as Joe Flacco was forced to attempt more than 50 passes to not even come close to covering an underdog spread. We also saw defensive star Quinnen Williams get into it with the coaching staff on the sidelines. The Jets looked like a mess, and look for a tough Steelers defense to force them to have an ugly game. Mitchell Trubisky isn't great. However, with enough time in the pocket and opportunities, any NFL quarterback can put up scores. We are betting on this Steelers defense.
5. Cleveland Browns (-144) over Atlanta Falcons: 12 points
The Browns are a good team. They have a very solid defense, and we saw how they had their way with the Steelers. That was probably one of the ugliest games I have ever seen in my life. I wish to move on mentally, but I can't. The Falcons have been okay, with Mariota making magic happen. This week will be a challenge for him as the Browns have an elite defense and an elite rushing attack. Jacoby Brissett is a decent passer as well, so this is an easy pick for me. That makes for a tough matchup as the Falcons don't move the ball that well down the field. The Browns out match the Falcons in every offensive category. Browns for the win!!!
6. New York Giants (-158) over Chicago Bears: 11 points
I'm not a big fan of the Giants, and I truly do not believe in Daniel Jones. However, I trust him to take care of this Bears team. This is a perfect spot to pick the Giants if you haven't used them in your pools yet. The Giants have doubled the total yards the Bears have put up through three games, in just two games. I'm making this pick Monday morning before the Giants have even played their Week 3 game. This should show the big difference in offensive capability. I'm backing Jones in this game, which is something I won't say often. I will gladly take this pick. This should cash in unless the Giants decide not to show up on Sunday.
7. Las Vegas Raiders (-116) over Denver Broncos: 10 points
If you're anything like me, you would hate the Raiders right now. The Raiders have too many weapons on offense and a good enough defense to be 0-3. I said this last week, and I still mean it. The Raiders could have easily still been undefeated. That meeting room in Vegas will be filled with a lot of yelling and finger pointing. They're lucky John Gruden isn't there; he would've cut and traded people after this week. This is pretty much a pick 'em game as both teams match up equally. Let's take advantage of the Raiders being at home here and them having the ability to play a faster pace of football than the Broncos Previous opponents. I'm still bullish on the Raiders, and I will back them this week again. However, they need to push the pace, if not with enough time possession the Broncos will dominate with their powerful backfield.
8. Green Bay Packers (-500) over New England Patriots: 9 points
Mac Jones is dealing with an Injury, so there's not much to analyze here. The Packers had a tough matchup in Tampa this past weekend where they barely made it out victorious. Aaron Rodgers should have his way with the Patriots. Yes! The Pats have a tough defense, but it's tough to get to Rodgers as he has one of the quickest release times in the pocket and the accuracy of a sniper. Rodgers and company will get the job done, but there's always a chance that Bill Belichick pulls some sorcery out that playbook of his and gets the win. The Packers have my pick on this game.
9. Minnesota Vikings (-142) over New Orleans Saints: 8 points
The Vikings are very successful when Justin Jefferson and Kirk Cousins are on the same page on the weekend. The public is bullish on the Vikings, as 85% of the bets, and 96% of the moneyline wagers have been placed on them. This game can be close if the Vikings self implode. They made it out of Detroit with a win, but barely. Dalvin Cook looks like he will miss this game, which gives me more peace with this decision. Cook is injury prone and takes a percentage of targets that can be distributed to this talented receiving group. This matchup is a pick 'em game on paper, as both offenses have similar numbers. So, I want to take a look at big play capability. The Vikings can drop 40+ bombs any giving play, as the Saints need to work down field possession per possession. This is not the Saints with Drew Brees. Jameis is still dealing with a lingering injury, and I just have too much trust in Cousins and Jefferson in this situation to go against them. Don't forget that this game is in London.
10. Los Angeles Rams (+110) over San Francisco 49ers : 7 points
This is a tough game to pick a winner in as the Rams are a shell of the team that won the Super Bowl last season. The 49ers are looking good with Jimmy Garoppolo under center. This past weekend he had a tough time with tipped passes intercepted and fumbles from the offense. The 49ers defense is solid, but Cooper Kupp is too much for the 49ers. I don't see how they stop him. I'm taking the Rams in this game as this is a key divisional matchup as they need to secure a lead here to gain some room in the divisional race. A win here for the 49ers will lead to a tie for first place between these two teams. Sean McVay is very Intense in these matchups, so let's look for his team to be up early as they use their weapons to work downfield quickly. The 49ers don't have that deep threat ability. However, if they do get a chance to throw downfield, expect the Rams pass rushers to be in Garoppolo's face while doing so. McVay's team has over a .900 win percentage when leading at halftime. Let's beat they get up early and stay up while the slow-paced 49ers struggle to keep up.
11. Carolina Panthers (-116) over Arizona Cardinals: 6 points
The Panthers are looking strong for this game. The Cardinals proved on Sunday that they stink. They put up 12 points and not a single point was a touchdown. Matt Prater, a kicker, had the most fantasy points on that team this week. Murray had 58 pass attempts for 37 completions and 314 yards. All that passing without a single touchdown is a red flag. Also, they lost by only eight, which means they couldn't move the ball in the opposing territory. Look for Baker Mayfield to beat his old teammate from Oklahoma in this matchup. Mayfield is the better QB and actually has receivers that are worthy of targeting. Kyle Murray is trying to make magic happen alone as his team is on the shelf. I will be rolling with the Panthers. I have this game slated low because you never know with Mayfield. He's great one week and he could be horrific the next. This battle comes down to "if you're the worst passer you're going to lose". Look for the Panthers to make progress as Mayfield continues to gain confidence in a new offense.
12. Dallas Cowboys (-154) over Washington Commanders: 5 points
Carson Wentz has proven time after time that he is an undisciplined passer when facing pressure in the pocket. We saw how he didn't record a touchdown or even come close to cracking 300 yards on 52 pass attempts against the Eagles. We also saw him fumble the ball twice. The Cowboys are still a team holding their own without a few key players on offense. Let's take the Cowboys here because they have the better defense. I don't trust the Commanders to not turn the ball over. Turnovers have been Wentz's Achilles heel in his career. I don't think people should be using pool pick on this game. However, if you have to back someone, the Cowboys are at home. The Commanders have a banged-up defense as well, so Cooper Rush will take advantage of that.
13. Indianapolis Colts (-174) over Tennessee Titans: 4 points
The Titans had a stellar game against the Raiders in which they came out victorious as Derrick Henry dominated. I did say last week if the Raiders allowed them to get up early that Henry was going to take over. The Colts shocked the NFL with a win against the Chiefs. Both of these teams are coming off Week 3 victories. I like Matt Ryan here as he has his top receiver back in the lineup, and they are able to use a talented back field to exploit defenses underneath and over the top. Matt Ryan is one of the most underrated QBs in history. I have him here over Ryan Tannehill. The Colts have a solid defense, so don't expect the Titans to do much. Let's look for the Colts to secure second place in this division rivalry as they have the better pocket passer.
14. Tampa Bay Buccaneers (+116) over Kansas City Chiefs: 3 points
Chiefs vs Buccaneers is another game to just sit back and enjoy. This is always an amazing showdown. Both teams took losses this weekend in which I felt that they should've won. This is a bounce back spot for both teams. Tom Brady, however, is who I'm siding with for this match up. He almost took down Aaron Rodgers and a hard nosed Packers defense with absolutely nobody. The offense for Tampa was the worst it's been since Winston was there. This is due to injury and a Mike Evans suspension. I accept Brady and the Bucs to win this game as the Chiefs will need to work hard to break down this Bucs defense. This is one of the more complete defenses that held the Packers scoreless for three quarters. I know the Chiefs have more offensive firepower than the Packers, but I'm not too high on the Chiefs defense. They lost a tough game to the Colts, but it was expected. I expect them to drop this game as well as Brady an above .700 record after coming off a loss. Brady is sharp after a loss. The Bucs have a better run game, and a better run defense. So, my math is done. Keep an eye out for a possible venue change for this game.
15. Buffalo Bills (-176) over Baltimore Ravens: 2 points
Bills and Ravens. This is a head scratcher. Both offenses are elite and both defenses are good. This is one of the best football matchups on Sunday. Lamar Jackson is on a "f**k you, pay me" tour, as he is due for a big payout in free agency. I expect both teams to make this game intense as both of them try and make a statement. Both teams should be undefeated as they lost the games they lost due to late game meltdowns and inefficiency. This is more than capable of being a sneak peek into an AFC playoff game. Let's ride with MVP favorite Josh Allen to get this win here. Allen is the better passer, while Jackson is the better runner. The Bills have a great pass rush with Von Miller leading the pack. I truly like them as they will make passing difficult for Jackson. They will force him to use his feet more. The Ravens don't have the speedy wideouts that the Dolphins had, so it should be easier for the secondary to tame the wideouts. This game is pretty much a pick 'em game. This will come down to who can pass the ball better. I'm my eyes, that's Allen. We can sit here and look at the numbers all we want, but it won't matter, as either team is capable of winning this game. I just believe the Ravens will need to work harder to win this game. So, if there are any mistakes, I will expect this Bills team to capitalize and cease the moment as they look to avenge their loss last week.
16. Miami Dolphins (+175) over Cincinnati Bengals: 1 point
This is an SEC showdown in the NFL; you have LSU's Joe Burrow and Ja'Marr Chase vs Alabama's Tua Tagovailoa and Jaylen Waddle. I hate picking a winner for this game., mainly because I struggle to believe In Tagovailoa. He squares off against Burrow in a battle of the offenses. The Dolphins went toe to toe with the Bills, who were the AFC East and Super Bowl favorites. I remember having a conversation with a stranger down in Miami, and I told him in 2-5 years the Dolphins will take that division by storm. Tagovailoa is very comfortable in this offense, and it's very similar to the offense he had while he was at Alabama. Mike Daniels is an offensive wizard, and his sorcery has been doing the Dolphins great real favor. This is the perfect scheme for the perfect team. Also imagine guarding two guys: Tyreek Hill and Waddle, who could probably medal in the Olympics, while running routes on NFL defenses. If the Bengals don't show up and put points up early, this could get ugly. Burrow and the Bengals can't afford to start slow, and they need to score quick and as many times as possible. However, my pick will side with Mike Daniels and Miami. You have to bet the hot hand as they just upset the Bills.
Get NFL picks on every single game, or if you want our very best bet premium picks by the experts, sign up for your free $60 account with a guarantee.