NFL Power Rankings Week 12
by Robert Ferringo - 11/22/2022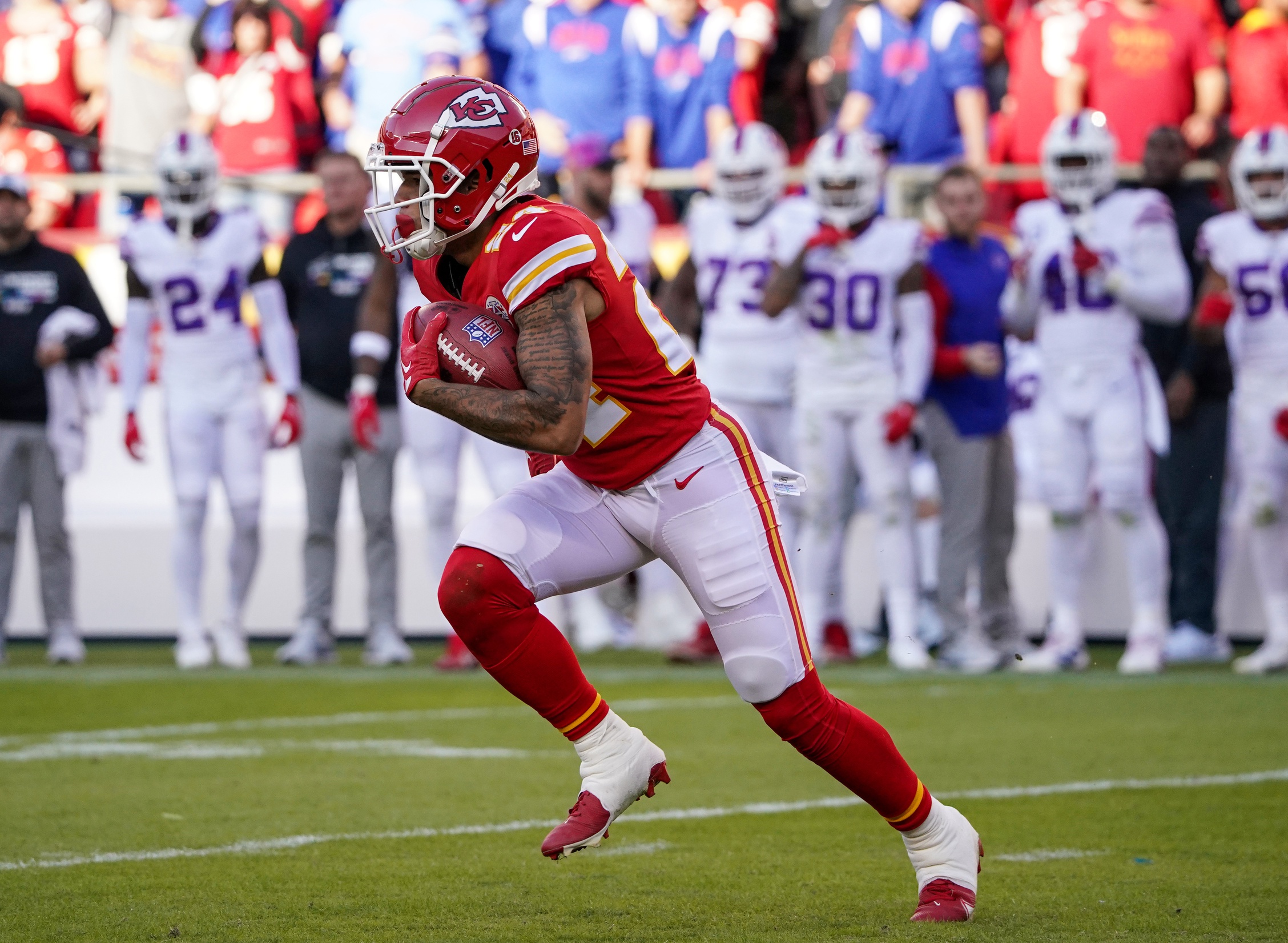 It is Thanksgiving week, so I am doing an abridged version of my NFL Power Rankings.
I do want to take this opportunity to again point out that I will be releasing my football selections on Wednesday this week to accommodate the Thanksgiving holiday. That goes for all of Doc's football handicappers, and we want to get our clients to be able to get their action in early and then sit back and enjoy an orgy of alcohol, eating and gambling that would make the Romans blush.
Happy Thanksgiving to all!
Doc's Sports offers NFL picks for every game on our NFL predictions page.
Here is Doc's Sports NFL Power Rankings:
1. Kansas City Chiefs (8-2) – So much for Kadarius Toney seeing an expanded role and making a significant impact with the Chiefs! The oft-injured wide receiver is, shockingly, out with a hamstring injury and Kansas City is dealing with some serious attrition at the wide receiver position.
2. Philadelphia Eagles (9-1) – In every sport, when a team finally loses to snap a large winning streak (let's say eight or more games), you always want to look to bet against that team in its following outing. It's a natural letdown spot and that is exactly what we saw out of the Eagles Sunday in Indy. Kudos to them for escaping with a win, but Philadelphia was never even close to covering the spread in that game.
3. Buffalo Bills (7-3) – I don't know about Buffalo as a nearly double-digit road favorite this week. They actually flew home after the win in Detroit on Sunday and have to fly back on Wednesday, which I found odd. The quick turnaround and a feisty Lions team should make for a competitive game.
4. Baltimore Ravens (7-3) – Baltimore is the latest big favorite to come out of the bye week flat. They also lost Ronnie Staley to an ankle injury and his status is something to monitor this week.
5. Dallas Cowboys (7-3) – The Cowboys are 31-22-1 SU all time on Thanksgiving. However, they have lost three straight on the holiday and have lost six of their last eight Thanksgiving games.
6. Minnesota Vikings (8-2) – It is going to be interesting how this team, with its rookie coach, bounces back mentally from that savage beating on Sunday. That's the type of loss that could definitely linger.
7. Miami Dolphins (7-3) – Double-digit favorites are 5-14 ATS in their last 19 opportunities in the NFL. That includes 0-2 ATS the last two weeks with Baltimore and Philadelphia failing to come close to beating the number.
8. Cincinnati Bengals (6-4) – Very quietly the Bengals have covered the spread in seven of eight games. They have had a lot of success against the Titans, not just beating them last year in the postseason but also taking out Tennessee in 2020 as a 7.5-point underdog. The Bengals are 4-1 SU and 5-0 ATS in this series since 2011.
9. San Francisco 49ers (6-4) – If you watch San Francisco's play calling, they are terrified of having Jimmy Garoppolo throw the ball more than five yards down the field. And with good reason! San Francisco's biggest plays in the passing game were simply slants and crosses, putting the ball in their playmakers' hands and letting them do their thing. Garoppolo is still obviously the weak link on this loaded roster.
10. Tennessee Titans (7-3) – That is now eight straight ATS wins for the Titans, who have been one of the best bets in football. Tennessee has a revenge game this week against Cincinnati, as the Bengals upset the Titans last January in the playoffs to end Tennessee's season.
11. New York Giants (7-3) – I think it is obvious that the Giants got caught looking ahead to Thursday's date with Dallas. The Lions rushing game pushed around New York's No. 25 ranked rush defense. If Detroit could hammer out 160 yards on the ground, I shudder to think what Dallas will be able to do.
12. Seattle Seahawks (6-4) – Pete Carroll started his career 7-3 straight up after a bye week. Seattle has lost after a week off each of the last two seasons, though, and Carroll is just 4-8 ATS after a week of rest.
13. Tampa Bay Buccaneers (5-5) – This aging squad should be rested and ready to go after a week off. Five of Tampa Bay's final seven opponents currently have a losing record. If this team can just sneak into the playoffs, then anything is possible.
14. Los Angeles Chargers (5-5) – If the Chargers played as hard against everyone else in the NFL as they do when they play the Chiefs, then this Los Angeles squad might actually be as good as everyone expects them to be.
15. New England Patriots (6-4) – Interesting reverse line movement in the Patriots-Vikings game on Thursday. This one opened with the Pats +3.0. Yet despite taking just over 20 percent of the action, the line has moved New England's way to 2.5. That is an indicator of sharp money on the Pats.
16. New York Jets (6-4) – It looks like the general public – and the Jets coaching staff – are finally catching on to what I have been saying about Zach Wilson for the past two months. The guy is trash and is obviously not a kid with strong leadership qualities. He is also just the latest example of a young quarterback who had no business starting before his third season in the league.
17. Cleveland Browns (3-7) – How does Browns defensive coordinator Joe Woods still have a job? Every week there are receivers running completely wide open throughout the Browns secondary. I mean, how the hell do you not cover Stefon Diggs inside the red zone? The Browns allowed the Bills to score on seven straight possessions, and that right there should've been the final nail in Woods' coffin.
18. Washington Commanders (6-5) – I was hesitant to back a team that was coming off a short week and a massive upset. I shouldn't have been. Washington is 6-1 ATS in its last seven games against teams that are below .500.
19. Atlanta Falcons (5-6) – Kyle Pitts' entire season has been the epitome of the sophomore slump. The Falcons are 4-10 ATS in their last 14 games after a win.
20. Detroit Lions (4-6) – Don't look now, but the Lions are 13-6 ATS in their last 19 games and they are 7-2 ATS in their last nine home games.
21. Indianapolis Colts (4-6-1) – It is kind of bizarre to see this team – which has been such a mess over the last month – favored over the Steelers. Indianapolis is still playing hard, that's for sure. They are still woefully undermanned on offense, though, and I just don't see how they are going to score consistently against this Steelers defense.
22. New Orleans Saints (4-7) – The Saints offensive line is a mess right now and will definitely be tested by San Francisco's front seven. The Saints are just 5-11 ATS against teams that have winning records, but they are 38-18 ATS in their last 56 road games.
23. Chicago Bears (3-8) – Reportedly Justin Fields dislocated his shoulder. Chicago should absolutely shut him down for the season and close out the year tanking for a better draft pick. And I'm not just saying that because my clients and I have significant money bet on them 'under' 6.5 wins!
24. Green Bay Packers (4-7) – The Packers are just 2-6 ATS in their last eight road games. They are 6-2 ATS in their last eight against the Eagles.
25. Arizona Cardinals (3-7) – There is no chance that Colt McCoy makes it through this week's game with the Chargers healthy. None! You could see it on his face against the 49ers. Every time the guy got touched, he desperately wanted to go down so that he wouldn't have to actually play football but could just go back to getting paid to be a backup.
26. Pittsburgh Steelers (3-7) – Kenny Pickett has a really bad habit of running backwards to avoid pressure. This is another example of why it is dangerous to start a rookie quarterback behind a bad offensive line before the QB is ready. Pickett is going to develop bad habits.
27. Los Angeles Rams (3-7) – This is the beauty of the NFL's unpredictability. At the start of the season, this Week 12 clash of the Rams and Chiefs looked like a matchup of two Super Bowl contenders. Now the Rams are 14.5-point underdogs and with virtually no playoff hopes.
28. Carolina Panthers (3-8) – Consistency has been a major issue with this defense, and you just never know what you're going to get from week to week. They have allowed 37 or more points in three of their last seven games but have also held four opponents to 15 or fewer points in their last nine. It's all or nothing with these guys.
29. Jacksonville Jaguars (3-7) – Shockingly, the Jaguars have played the Ravens pretty tough over the last decade. Prior to Jacksonville's 40-14 loss in December of 2020, they had actually covered the spread in five straight against the Ravens, winning three of those games outright.
30. Las Vegas Raiders (3-7) – That Raiders-Broncos game was exactly what you would expect from two poorly coached teams. It was a parade of penalties, mistakes, questionable decision making and blown assignments. Those were two bad football teams at work.
31. Denver Broncos (3-7) – These guys are really just delaying the inevitable with Nate Hackett. Between him and the corpse of Rusty Wilson, this is a team to just continue to fade every week.
32. Houston Texans (1-8-1) – The Texans are 1-4 ATS in their last five games and 1-6 ATS after a double-digit loss at home. The market doesn't have much faith in this squad either, with the line opening at -11 and instantly getting bet up to -12.5.
Robert Ferringo has been one of the best football handicappers in the country and for a full decade from 2010-2019 he banked over +$40,000 in football profit. Robert has produced five of six winning seasons (including last year) and 9 of 12 profitable years. Robert expects a MONSTER football season. Robert is looking for another winning football year and wants more profit this fall. SIGN UP HERE TODAY AND TAKE ADVANTAGE OF OUR 3-FOR-1 FOOTBALL SPECIALS!
Get NFL picks on every single game, or if you want our very best bet premium picks by the experts, sign up for your free $60 account with a guarantee.