NFL Power Rankings Week 17
by Robert Ferringo - 12/27/2022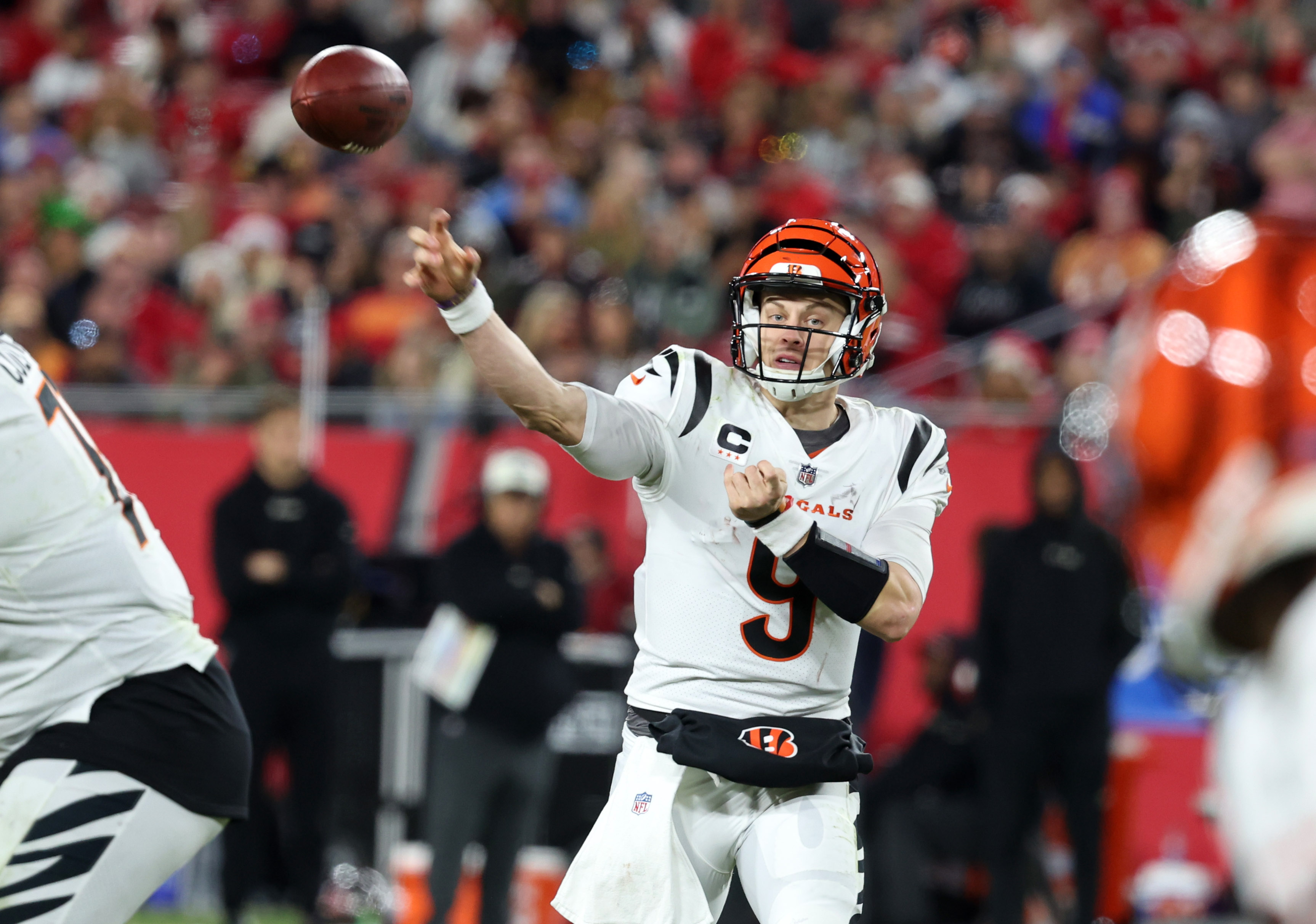 Welp, it is still the holiday season (for one more grueling, family-oriented week), so I am going to keep this intro short and sweet.
One of the themes that I've discussed in this space all season is that the NFL is a fundamentally different game now than it was as recently as five years ago. By extension, betting on the NFL has taken on a completely different form. There is a multitude of reasons for the changes, but the end result is that games are much closer and lower scoring than they have been in decades.
Take a look at some of these numbers:
58 games have been decided by a game-winning score in the final two minutes
74 games have been won by teams that were trailing in the fourth quarter
138 games have been decided by eight points or fewer
Blowouts have become a rarity in the NFL. As a result, underdogs are covering the spread at a 55 percent rate this season, and bettors laying the points in just about any game are working at a severe disadvantage.
Not only that, but the 'under' is hitting at a 56-percent clip this year, burning the general public and creating a windfall for the sportsbooks. The best betting angle of the NFL season? Primetime games going 'under'. The Thursday night, Sunday night and Monday Night Football games are 11-1 on the 'under' over the last four weeks. The 'under' is a ridiculous 32-16 in those primetime games so far this season.
Adapt or die. It's a new NFL, and bettors need to adjust their approach to betting or risk getting buried.
Doc's Sports offers NFL picks for every game on our NFL predictions page.
Here is Doc's Sports NFL Power Rankings:
1. Philadelphia Eagles (13-2) – I'm not going to crush the Eagles for failing to win (or, somehow, cover the spread) in Dallas with their backup quarterback at the helm. Were it not for three second-half turnovers, the Eagles absolutely would've beat Dallas on the road last week. I thought Gardner Minshew played very well (two interceptions were more Quez Watkins' fault than Minshew), and there is no need to rush Jalen Hurts back.
2. Buffalo Bills (12-3) – Josh Allen has eight turnovers in opponents' territory this year. He should've had two more against Chicago, making two what-the-hell-is-he-doing throws that luckily hit the ground. Right now, Allen looks just as likely to cost his team a chance at the Super Bowl as he is likely to lead them there.
3. Kansas City Chiefs (12-3) – It was a rare cover for the Chiefs last week, and they once again find themselves as massive favorites this Sunday hosting Denver. The Chiefs blew a 27-0 lead in Denver two weeks ago. And Kansas City should be motivated by the fact that a win, coupled with a Buffalo loss in Cincinnati on Monday night, would put Kansas City in the No. 1 seed in the AFC.
4. Cincinnati Bengals (11-4) – Just bet the Bengals every week and ask questions later. That is now seven straight and 10 of 11 for Cincinnati ATS. I think it is ridiculous that they are home underdogs to Buffalo this week, but the money, so far, is pretty evenly split between these two teams.
5. San Francisco 49ers (11-4) – A win this week, and this would be the first San Francisco team to win nine games in a row since 1997. San Francisco has already clinched the NFC West and a home playoff game, but they are still in the hunt for the No. 2 seed. San Francisco has covered seven of eight games during this current winning streak and have won three straight road games by an average of 18 points per game.
6. Dallas Cowboys (11-4) – The Cowboys still have a chance, albeit a slim one, to win the NFC East. And because they play before Philadelphia this weekend, Dallas should be going all out against a Titans team that has nothing to play for. Dallas was a six-point favorite over the Titans prior to last week's results. The number for their game at Tennessee has jumped all the way to 10.5 due to the motivational differences between the two teams, and I wouldn't be surprised if it went even higher by kickoff on Thursday.
7. Minnesota Vikings (12-3) – Another fluke one-score win for the Vikings! Minnesota has won three of four against Green Bay and they are 6-4 straight up in the last 10 meetings. They are just 4-9 ATS in their last 13 games in Lambeau, though, and the visiting team in this series is just 4-10 ATS.
8. Baltimore Ravens (10-5) – The Ravens defense is No. 2 in the NFL in opponents third down percentage, with teams converting just 32.6 percent of their third downs against Baltimore. That will be tested against a Pittsburgh offense that -- despite its scoring issues -- is No. 2 in the NFL the past three weeks in third down conversions (55.3 percent).
9. Los Angeles Chargers (9-6) – Ugh. These guys aren't as good as this ranking suggests. But I don't know who to put ahead of them! Don't trust the Chargers, man; it never works out well. It will be interesting to see which L.A. team – the Rams or the Chargers – has the home crowd advantage this week. I suppose it doesn't matter since both teams are used to having the road crowd outnumber the home faithful each week.
10. Miami Dolphins (8-7) – Raheem Mostert's fumble at midfield with Miami up 20-10 with just two minutes left in the half was one of the biggest game-changing plays of the weekend. Absolutely inexcusable. The Dolphins are back on the road this week, where they have been terrible while going 2-5 ATS, and they are just 2-8 ATS in their last 10 trips to Foxboro.
11. Detroit Lions (7-8) – The Bears actually outgained the Lions by 85 yards in their first meeting on Nov. 13 in Chicago. Detroit won that game, but they have been outgained by the Bears in eight of the last 11 meetings in this series. The Lions are 8-0 ATS in their last eight divisional games and 4-0 ATS in their last four home games. However, the favorite is just 1-5 ATS in the Chicago series.
12. Pittsburgh Steelers (7-8) – The underdog has covered the spread in the Pittsburgh-Baltimore series an incredible 10 straight times. The underdog is 20-6 ATS in the last 26 meetings, and only two of the last 10 meetings between these teams has been decided by more than one score.
13. Seattle Seahawks (7-8) – The Seahawks converted just 14 percent of their third-down opportunities last week in Kansas City, and they have been successful on just 30 percent on third down over the last three weeks. They need to find a way to sustain drives if they want to snap their three-game losing streak. Seattle is now 0-6 ATS in its last six games
14. Green Bay Packers (7-8) – Yes, it is a giant red flag that a team with a losing record is favored this week against a team that is 12-3 on the season. Green Bay's offense has been showing signs of life and should be able to tear up Minnesota's No. 31 ranked defense. That said, I think that this game will come down to how Minnesota's No. 28 rushing game (it should be better than that) fares against Green Bay's weak rush defense (No. 27).
15. Jacksonville Jaguars (7-8) – That is now three straight wins and a 6-1 ATS run from Jacksonville. This week's game at Houston is essentially meaningless in the divisional race. But rather than resting starters, I think that Doug Pederson will keep the pedal to the metal and try to keep Jacksonville's momentum going. The Jaguars have lost nine straight games to the Texans and are just 2-7 ATS against their AFC South rivals.
16. Tennessee Titans (7-8) – The Titans have a playoff game with the Jaguars in Week 18. The winner of that game will win the division. It doesn't matter what happens this week for either team, so I am looking for Mike Vrabel to rest Derrick Henry and some key defensive starters since the Titans are playing Dallas on a short week.
17. New York Giants (8-6-1) – Nick Sirianni will probably (and deservedly) win NFL Coach of the Year. But Brian Daboll should be No. 2 on the list. The Giants can clinch a shocking playoff berth with a win at home this week against the Colts. I really don't trust the G-Men in the favorite role, but they are 21-9 ATS in their last 30 games against a team with a losing record.
18. Washington Commanders (7-7-1) – Lost in the Washington quarterback controversy is the fact that the Commanders might have struck gold with rookie receiver Jahan Dotson. He has seven touchdowns this year (in just 10 games) and he made a sensational catch (that was wiped off the board by a penalty) on a deep throw by Taylor Heinicke early in the game.
19. New York Jets (7-8) – I have absolutely no idea why the Jets are road favorites this week in Seattle. New York has lost four games in a row and has scored 32 points over the last three games. Mike White, who is cleared to play this week but still isn't 100 percent, doesn't make THAT much of a difference to this offense.
20. New England Patriots (7-8) – The Patriots almost completed one of the most improbable ATS comebacks of the season last week against Cincinnati. But the Gambling Gods, once again proving that they have a sick, sadistic sense of humor, had the Pats fail in the cruelest of ways: a missed extra point. It will be in the 50's this weekend in Foxboro, but there is rain in the forecast.
21. Las Vegas Raiders (6-9) – Derek Carr hasn't completed more than 55 percent of his passes in any of the past four games and has just six touchdowns to seven interceptions in those games. The drop in his production from last year to this year is stark, but I'm putting that on Josh McDaniels and the new offense than I am on Carr. The Raiders are 6-0 ATS against a team with a winning record.
22. Tampa Bay Buccaneers (7-8) – The Bucs lost 21-3 to Carolina on Oct. 23 this year, getting outrushed 173-46 in that game. Tampa Bay has won four of the last five meetings in the series, though, and they are 6-2 ATS in the last eight against Carolina.
23. New Orleans Saints (6-9) – How much is that collapse against the Bucs three weeks ago killing this team right now? I will admit that I didn't think the Saints had a chance against the Browns after watching the Falcons bowl over the New Orleans run defense two weeks ago. I have to give the Saints front seven a lot of credit for the way they bowed their backs against Cleveland's potent running game, holding them to just 3.6 yards per attempt.
24. Cleveland Browns (6-9) – With all the turmoil this team has endured over the last several years, I think it is ridiculous for people to suggest that Kevin Stefanski should be fired. Why is he getting blamed for the fact that Deshaun Watson stinks? No, the Browns shouldn't have thrown the ball 31 times on Sunday against the Saints. But I can't really put that loss (or this lost season) on Stefanski.
25. Carolina Panthers (6-9) – Even though it came against a sinewy Detroit front seven, that was an amazing performance by the Panthers offensive line and running game. They notched 320 rushing yards and 570 total yards in Carolina's best scoring effort of the season. Carolina is just 3-7 ATS in its last 10 road games but is 5-0 ATS in its last five conference games.
26. Atlanta Falcons (5-10) – Arthur Smith had every right to go ballistic on the officials on Sunday in Baltimore, since the refs and replay legitimately cost the Falcons at least 17 points. They blew touchdown calls on Demarcus Robinson's catch and a phantom holding call on a Cordarrelle Patterson's run. But the most egregious mistake was on that Desmond Ridder intentional grounding right before halftime, costing Atlanta two shots at the goal line from the one-yard line. Just brutal for Smith and Falcons backers.
27. Indianapolis Colts (4-10-1) – This is still a very difficult team to get a read on. Yes, they have dropped five straight games and Jeff Saturday looks in over his head as a head coach. However, Saturday is 3-3 ATS in his tenure and this overmatched roster has been relatively competitive. I don't blame Saturday for turning to Nick Foles to see if he could jumpstart the offense. The reality is that it doesn't matter who is playing quarterback with this weak scheme and horrible skill position players. The Colts are 10-1 ATS off a double-digit home loss.
28. Chicago Bears (3-12) – Chicago beat Houston (on a last-second field goal) in Week 4 this season. Right now, that kick is the difference in the Bears having the No. 1 overall pick in the draft and the No. 2 pick. Regardless, it is time to put Justin Fields in bubble wrap and call it a season. There is literally nothing to gain by playing the team's franchise quarterback in the final two games of the year.
29. Los Angeles Rams (5-10) – You really have to give Sean McVay credit for winning two of his last three games with this roster. The Rams' recent 'success' (they are 4-1 ATS in their last five games) is a testament to just how strong the system and schemes that the Rams run are. It's not a coincidence that so many McVay assistants are head coaches in the NFL right now.
30. Arizona Cardinals (4-11) – What a dumpster fire. Arizona is now 5-16 in its last 21 games, and they are 1-12 in their last 13 home games. I also don't know what was more stunning on Sunday: that Arizona was able to build a 10-point lead against the Bucs, or the predictably farcical way in which they blew it.
31. Denver Broncos (4-11) – Good riddance, Nate Hackett.
32. Houston Texans (2-12-1) – Last week's win in Tennessee was less about what the Texans did and more about what Tennessee didn't do. Rex Burkhead's fumble recovery touchdown – after an idiotic play by Davis Mills – kind of summed up what a fluke that win was for the Texans.
Robert Ferringo has been one of the best football handicappers in the country and for a full decade from 2010-2019 he banked over +$40,000 in football profit. Robert has produced five of six winning seasons (including last year) and 9 of 12 profitable years. Robert expects a MONSTER football season. Robert is looking for another winning football year and wants more profit this fall. SIGN UP HERE TODAY AND TAKE ADVANTAGE OF OUR 3-FOR-1 FOOTBALL SPECIALS!
Get NFL picks on every single game, or if you want our very best bet premium picks by the experts, sign up for your free $60 account with a guarantee.