NFL Power Rankings Week 5
by Robert Ferringo - 10/4/2022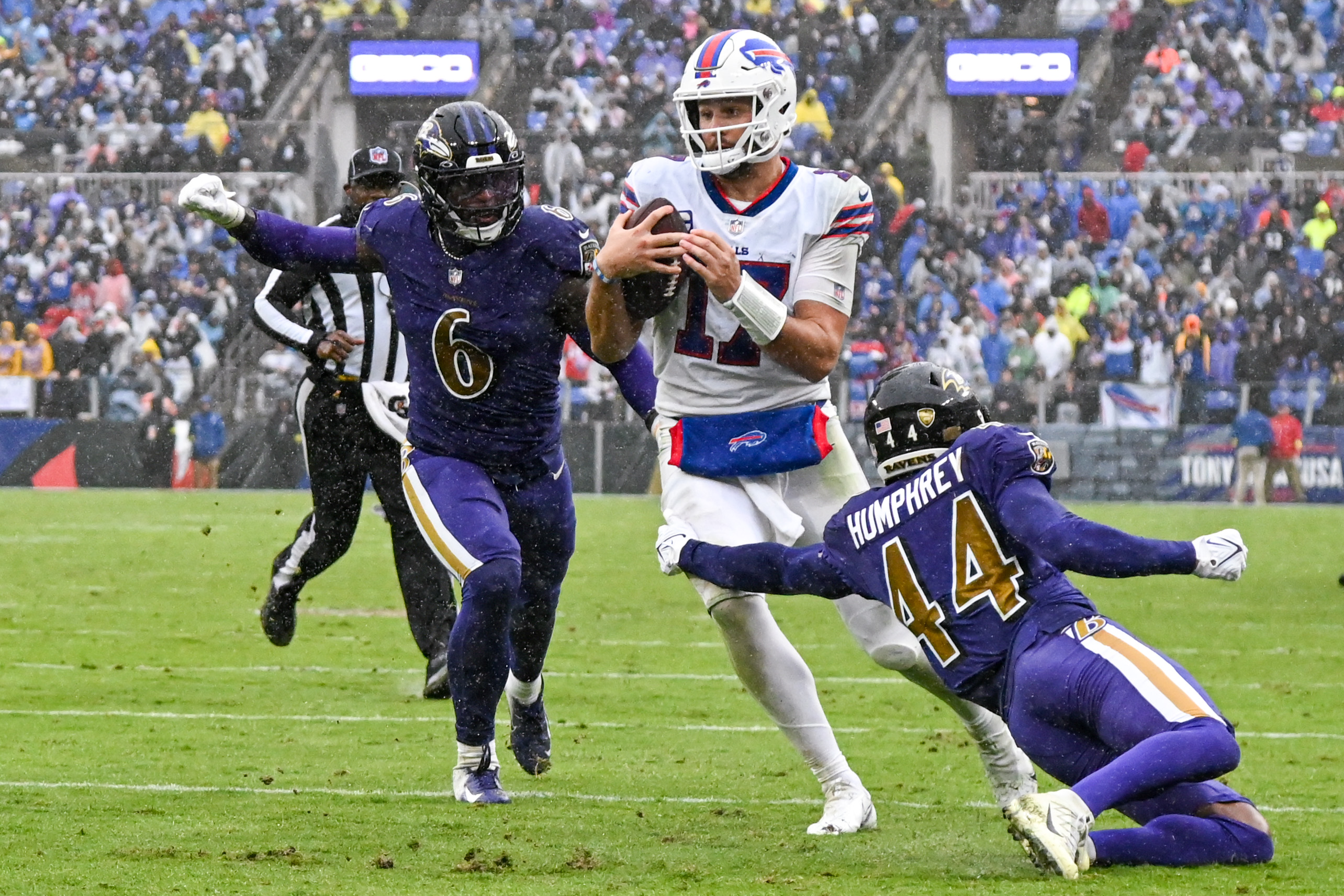 Betting on the NFL has never been for the faint of heart.
And now that parity – mediocrity? – has engulfed professional football, it is an even more nerve-rattling endeavor each week.
An NFL-record 15 of the 16 NFL games last week were within one score at some point during the fourth quarter. Through four weeks of the season, 50 of the 64 games played have been within eight points – one touchdown and a two-point conversion – at some point in the fourth, also an NFL record.
There is also just one undefeated team left in the league, and 15 of the 32 teams are even at 2-2. Scoring is down across the league. Games are closer. And the difference between team No. 8 and team No. 17 in my power rankings is one double-doinked field goal.
The NFL is no longer a game of inches. It's a game of millimeters and milliseconds. There's no shame in lacking the constitution to handle the weekly wagering whirlwind that overwhelms every Sunday. But as the man said, "buy the ticket, you take the ride."
Doc's Sports offers NFL expert picks for every game on our NFL predictions page.
Here is Doc's Sports NFL Power Rankings:
1. Buffalo Bills (3-1) – In Week 3, the Bills lost a game they obviously should've won. In Week 4, they won a game they obviously should've lost. The Gambling Gods have a twisted sense of humor. This week's game against the Steelers is a rematch of a Week 1 upset by Pittsburgh in Buffalo last year. The Bills blew a 10-point lead in that game and lost despite outgaining the Steelers by 120 yards.
2. Kansas City Chiefs (3-1) – I know Isiah Pacheco is a rookie, so he can't be trusted in pass protection or not to fumble. I still want to see him get more touches, though. I think Clyde Edwards-Helaire is a replacement-level back. But Pacheco has some game-breaking ability, and the Chiefs need to work him into the rotation even more as the season wears on.
3. Philadelphia Eagles (4-0) – Thanks in part to Trevor Lawrence's incompetence, the Eagles are No. 1 in the NFL with a plus-8 turnover differential. It isn't just the 10 takeaways that have got them there, though. Philly is dominating because they aren't turning the ball over. The Eagles have just two turnovers in four games this season, best in the NFL.
4. Miami Dolphins (3-1) – I am stunned that Teddy Bridgewater couldn't lead the Fins to the backdoor cover last Thursday in Cincinnati. The Dolphins are going to be fine with Bridgewater under center, and he was slinging it Thursday night. Bridgewater is also 23-4 ATS in his career on the road.
5. Green Bay Packers (3-1) – Aaron Rodgers is right: Green Bay's style is completely unsustainable. The Packers are at 20.1 offensive yards per point this year, third worst in the NFL. They have just a plus-6 point differential through their four games and look more like a .500 team than a team poised to win the division.
6. Baltimore Ravens (2-2) – I know this still seems high to rank a 2-2 team. However, if the Ravens had held onto those monster leads that they build against the Dolphins and Bills (two teams I have ranked in the Top 5), and they were 4-0, as they should be, then Baltimore would likely be ranked No. 1 in power rankings across the board. I'm not ready to bail on this team. But they obviously need to start finishing games a hell of a lot better.
7. Tampa Bay Buccaneers (2-2) – Much like the Packers, it is odd to have the Bucs ranked this highly knowing they have next to no shot at winning the Super Bowl this year. Tampa Bay's offensive line is a debacle, and Tom Brady is a statue. Brady hasn't lost to the Falcons since coming to Tampa, and the Bucs are 5-2 ATS in the last seven in this series. The home team is 7-3 ATS in the Atlanta series.
8. Minnesota Vikings (3-1) – If you are an optimist, you could look at Minnesota's 3-1 start and say, "They have won three of four and they haven't even played well yet." If you are a pessimist – or if you've just watched the Vikings over the last five years – I think you'd say, "If this is the best this team can play, they are in trouble and headed for a crash." Minnesota is just 1-3 ATS so far this year and they are just 2-5 ATS in their last seven games.
9. Los Angeles Rams (2-2) – So……..about Matt Stafford. He already has six interceptions and two fumbles lost this season. That's two turnovers per game in four games, and the Rams offense outside of Cooper Kupp looks anemic. This is who Stafford is; he's the guy that keeps both teams in the game at all times. And it won't get any easier this week against a fearsome Dallas pass rush.
10. Cincinnati Bengals (2-2) – Joe Burrow does not look like the same guy. Through most of last year, he didn't miss throws. This year his accuracy is not at the same level, and he is missing throws all over the place. Everything can't be blamed on the offensive line; he's just not playing that well. The Bengals are 6-1 ATS in their last seven road games and 4-1 ATS in their last five games in Baltimore.
11. Tennessee Titans (2-2) – The Titans have scored a touchdown on 90 percent of their red zone drives so far this season. For context, the No. 1 team in the NFL last year in the red zone was Buffalo at 66.3 percent. So, expect a regression from the Titans at some point. And when that happens, I don't know where the big plays are supposed to come from.
12. Los Angeles Chargers (2-2) – The Chargers are going to be a big-time square play this week in Cleveland against a short line. Around 75% of the early money has come in on Los Angeles in this one, and the line hasn't budged. This is the second trip east for the Chargers in two weeks and their second early start, with this one in the Eastern Time Zone rather than last week's more generous Central. The Chargers are 10-25 ATS after scoring 30 or more points.
13. San Francisco 49ers (2-2) – Outstanding game by Nick Bosa. He had two sacks and said afterwards that he feels the 49ers have the personnel to be the league's top defense. I expect Bosa to get hurt any day now, because that's what Bosa's do. The Niners are 1-4 ATS in their last five games in Carolina and just 2-6 ATS in their last eight games against the Panthers.
14. Las Vegas Raiders (1-3) – The Raiders got bombed in two games against Kansas City last year, losing 48-9 in Arrowhead and 41-14 in Vegas. If the Raider secondary plays like it did against Denver versus Patrick Mahomes and Co., then it should be another bloodbath. The Raiders have only five sacks on the season – and four of them are from Maxx Crosby. Where is Chandler Jones?
15. New England Patriots (1-3) – It doesn't matter who is under center this week for the Patriots. (It will be Bailey Zappe.) Bill Belichick needs to dust off the playbook he used last year in Buffalo, forsaking the forward pass and running the ball 50+ times against a Lions defense that is allowing 165.5 rushing yards per game.
16. Dallas Cowboys (3-1) – Anyone that believes that "you can't lose a starting job to injury" is an idiot. I don't care if Dak Prescott is healthy or not. The Cowboys have the most valuable commodity in sports with Cooper Rush under center: momentum. Rush isn't likely to be the long-term answer under center. However, there is no way you bench a guy on a winning streak. Of course, this is the Cowboys we are talking about, so we can be sure they will make the wrong decision. Dallas is now 19-7 ATS in its last 26 games.
17. New Orleans Saints (1-3) – It is not rocket science why this talented team is struggling. They have 11 giveaways in four games and a minus-7 turnover differential. Throw in a minus-9 penalty differential, and there are simply too many mistakes and too much stupidity from this group. They played well against a good Vikings team last week. They could've won that game. But if they don't stop tripping over their own dicks, they risk being the NFC version of the Broncos.
18. Cleveland Browns (2-2) – Another week, another blown coverage by the Browns secondary. Tied 20-20 with the Falcons facing second-and-10 from their own 9-yard-line, the Browns secondary completely melted down – again! Olamide Zaccheaus got behind everyone and was open with about a 15-yard cushion for an easy 42-yard gain. This has literally happened every single week, and the Cleveland secondary is a wreck.
19. Arizona Cardinals (2-2) – I have no idea why Kliff Kingsbury eschewed a chip shot field goal early in the first quarter from the Carolina 10-yard-line, instead going for it on 4th down (and failing). Arizona has started pathetically in its first three games and hadn't had a lead in regulation to that point. Why not just take the points as a positive first step?
20. Atlanta Falcons (2-2) – At one point on Sunday, the Falcons rushed the ball 15 straight times. Atlanta is one of six teams in the league that are averaging at least 30 rushes per game, and Arthur Smith is building a solid identity in this locker room. The Falcons are 5-1 ATS in their last six road games.
21. Jacksonville Jaguars (2-2) – LOL Trevor Lawrence! He is in the books for five turnovers – FIVE! – last week in Philadelphia, singlehandedly costing the Jaguars a win. The reality is that it was six turnovers, as Lawrence slipped and fell on a 4th-and-3 that also gave the ball back to the Eagles. Now we are supposed to trust this clown laying points this week?
22. Denver Broncos (2-2) – Rusty Wilson looked like his old self for stretches on Sunday, lopping rainbows down the field to his receivers like something straight out of his Seattle heyday. The team couldn't overcome seven more penalties (they have the most in the NFL) and a 10-minute deficit in time of possession, though, and they continue to be one of the worst coached teams in the league.
23. Detroit Lions (1-3) – I am absolutely killing myself for not betting the Lions 'over' every week. Anyone that has read this article each week knows that I was all over the fact that their defense is awful. I knew it. But I hesitated to take advantage and now the word is out. Detroit is on pace to allow the most points in NFL history, and they are on pace to score the second most.
24. Pittsburgh Steelers (1-3) – I still don't think it matters if it is Kenny Pickett or Mitch Trubisky is under center for the Steelers. The offensive line is awful, Matt Canada is clueless, and Pittsburgh's wide receivers are erratic. This defense is also no longer good enough to paper over the offensive issues, and this looks like it is going to be Mike Tomlin's first losing season ever.
25. New York Giants (3-1) – Your guess is as good as mine as to who will be the Giants' quarterback this week in England. Daniel Jones has a high ankle sprain, and the rumblings are he won't be near 100 percent. Tyrod Taylor is in the concussion protocol, and that can cut either way. Davis Webb is on the practice squad and will likely travel with the team. I'm betting on Jones starting and Webb finishing.
26. Seattle Seahawks (2-2) – Heavy reverse line movement against the Seahawks this week. Seattle is taking in nearly 70 percent of the early tickets on this game, but the spread has moved 1.5 points from 4.5 to 6.0. It is tough on Seattle that they must travel East for early kickoffs in back-to-back weeks. That is cancelled out by the fact that the host Saints are coming back from London this week.
27. New York Jets (2-2) – Zach Wilson was 18-for-36 and was spraying the ball all over the place on Sunday, so let's not pretend that he is some offensive savior for this group. Lamarcus Joyner was the best player on the field for the Jets, with two interceptions, a third that was created by him tipping the ball, and another outstanding deep ball breakup. Joyner carried that defense.
28. Washington Commanders (1-3) – Are Scott Turner and Carson Wentz kidding me? Why did they decide that on their two biggest plays of the game they were going to attack Trevon Diggs deep? They did it twice, with two corner fades, and neither one was even close. Throw in Diggs' interception, and I would say he pretty much owned the Commanders on Sunday. Washington is 11-24 ATS in its last 35 games after a loss.
29. Indianapolis Colts (1-2-1) – The Colts have a solid foundation. But their lack of top-end talent is being exposed week after week. They are just too mediocre at too many positions and have too few difference makers on the roster. Now they look like they will be without Shaq Leonard and Jonathan Taylor, two of the few Pro Bowlers on the roster, for Thursday's game.
30. Chicago Bears (2-2) – Last week the Bears had the advantage of playing a Giants team coming off an emotional Monday Night Football game. This week they get to play a Vikings team that is coming home from a draining trip to London and off an emotional game. This team should be 0-4. But they have found a way to take advantage of some of the breaks they have gotten early in the year, despite their glaring lack of talent. Chicago is 3-13 ATS in its last 16 divisional games.
31. Carolina Panthers (1-3) – Baker Mayfield is basically Chase Daniels with a bigger mouth. If Matt Rhule were smart, he would bench the little sprite and go with P.J. Walker. Frankie Luvu was a scrap heap guy, picked up from the Jets' discards two years ago. He's turned out to be quite a find. He is tied for No. 11 in the league in solo tackles and is on pace for 130 total stops.
32. Houston Texans (0-3-1) – Believe it or not, but the Texans actually swept the Jaguars last year, winning 37-21 as a four-point home underdog and 30-16 as a seven-point December road dog. The underdog has covered three straight in this series and is 6-2 ATS in the last eight. The Texans are 6-2 ATS in their last eight games in Jacksonville.
Robert Ferringo has been one of the best football handicappers in the country and for a full decade from 2010-2019 he banked over +$40,000 in football profit. Robert has produced five of six winning seasons (including last year) and 9 of 12 profitable years. Robert expects a MONSTER football season. Robert is looking for another winning football year and wants more profit this fall. SIGN UP HERE TODAY AND TAKE ADVANTAGE OF OUR 3-FOR-1 FOOTBALL SPECIALS!
Get NFL picks on every single game, or if you want our very best bet premium picks by the experts, sign up for your free $60 account with a guarantee.