NFL Power Rankings Week 7
by Robert Ferringo - 10/18/2022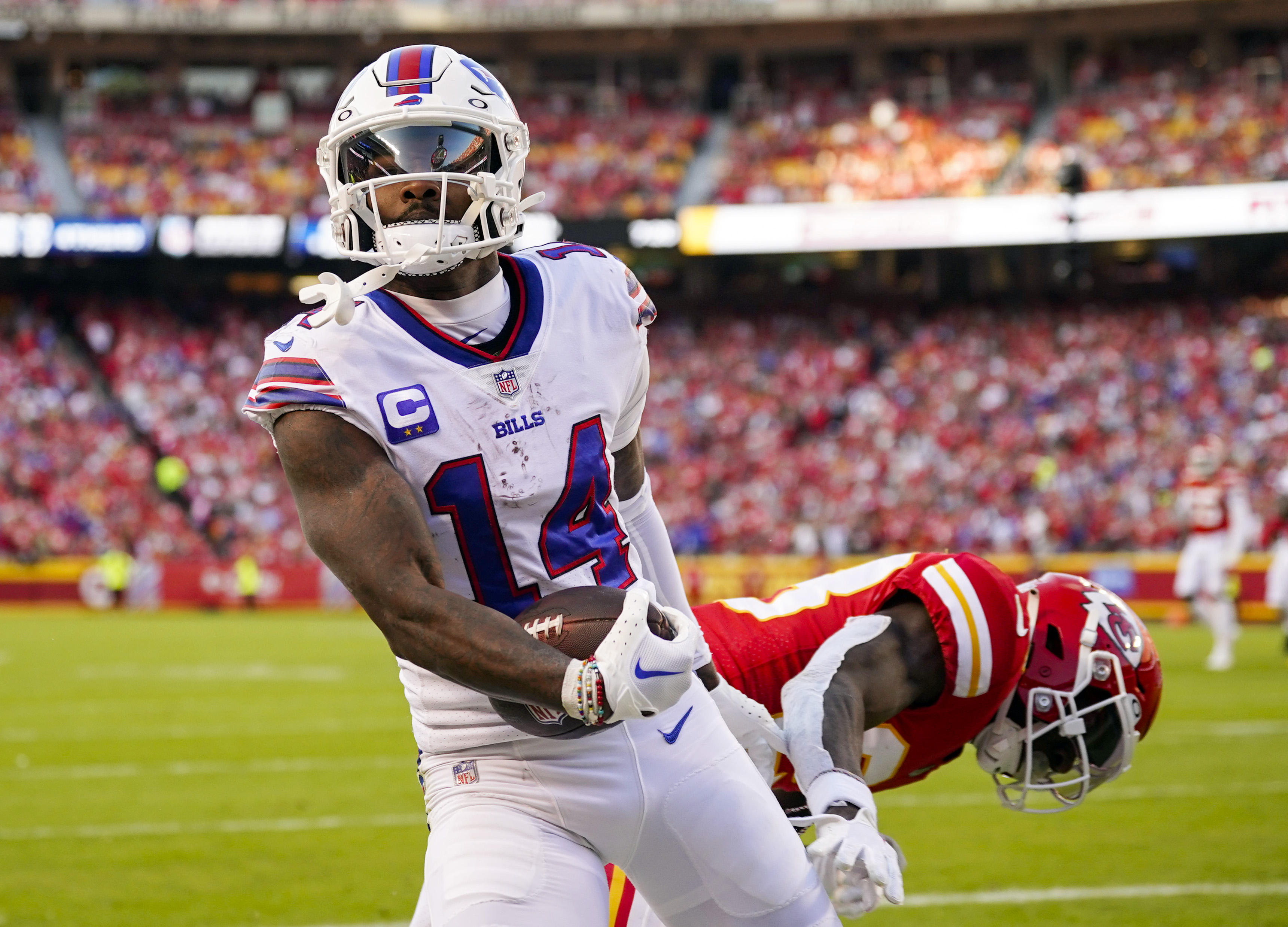 Do you remember, "The Lego Movie"? If you have kids between the ages of 6-16, then I'll almost guarantee you've watched that movie at some points since its 2014 release. And even if you don't have kids, I thoroughly recommend it because of its brilliant deconstruction (and affirmation) of film tropes as well as its biting critique of the opposing political views of authoritarianism and hyper-liberalism.
It also has Will Ferrell and Will Arnett, and they are worth the price of admission right there.
There's a song in "The Lego Movie" called, "Everything Is Awesome". It's an overt dig at both consumerism and conformity, and its usage throughout the film is a hilarious running joke. It's also damn catchy if I might say so.
Well, for 12 hours every Sunday I hear that song in my head while watching NFL football, with the words in the chorus replaced by "Everyone Is Awful."
The NFL is awful right now. Scoring is down. Primetime games are unwatchable. Because so much time, money and effort are tied into gambling and fantasy football, the league doesn't have to worry about viewership decline; we're all kind of pot-committed at this point. But I can honestly say that at no point in this century has pro football been worse than it is right now.
Last week in this space I pretty much broke down that you don't even need to handicap the NFL anymore; just take the points. Well, the underdogs had another successful week at 8-6 ATS last week. But now I've got a new one to go with the "just bet every underdog" approach: just take the 'under'.
The 'under' has gone 56-36 in all games so far this year. That's a 61-percent trend. The 'under' went 10-4 again last week and has had only one losing week so far this season.
It makes sense. Because everyone is awful.
Doc's Sports offers NFL picks for every game on our NFL predictions page.
Here is Doc's Sports NFL Power Rankings:
1. Buffalo Bills (5-1) – Josh Allen leaping over defenders at a full gallop is still one of the coolest highlights in sports. The Bills caught a nice scheduling break here this week. Because they have a bye week, they don't have to worry about having a letdown after that monster win over the Chiefs. Buffalo shouldn't have any problem focusing after its week off; they host Green Bay in a Sunday night primetime game.
2. Philadelphia Eagles (6-0) – Enjoy the week off, boys, you've earned it. And with the Phillies in the NLCS and the 76ers starting up their season, the Eagles won't even be front page news over these next two weeks in their hometown.
3. Kansas City Chiefs (4-2) – Without Tyreek Hill to worry about, teams are playing a lot of press man against the Chiefs this season. They lead the NFL in percentage of offensive plays facing man coverage. I don't know that the Chiefs would make a deadline deal to bolster their receiving corps (and there appears to be a lot more buyers than sellers on the market right now), but I think it is something that they should consider.
4. Minnesota Vikings (5-1) – There is no way that these guys are the fourth best team in the NFL. But who the hell else am I supposed to put up here? I just wish we could skip ahead to the Vikings losing outright as a six-point home favorite in the Divisional Round of the playoffs.
5. Baltimore Ravens (3-3) – If anyone else were actually winning games, I would stop giving the Ravens the benefit of the doubt. The Ravens have covered five straight against the Browns. Baltimore's home-field advantage is eroding, though, and they are 0-4 ATS in their last four home games.
6. Dallas Cowboys (4-2) – I will be much more impressed by the Cowboys – and will start to buy into them more – if they come out and thrash the Lions this week like they are supposed to. Upset wins over the Bengals and Rams are nice. These are the games that always seem to trip up the Cowboys, though. Dallas is 10-1 ATS in its last 11 against a team with a losing record and 7-1 ATS after a loss. If this team is a legit NFC contender, they will keep that going.
7. San Francisco 49ers (3-3) – I seriously don't even know what the hell to do with these guys. They scored 14 points last week against Atlanta. Why do I have a feeling they are going to hit the Chiefs for 30 this week? This is one of the most erratic teams in the league. San Francisco is 6-0 ATS in its last six home games and 8-3 ATS in its last 11 games overall.
8. Los Angeles Chargers (4-2) – Ho-hum. You beat Denver. Good for you. You still needed overtime to do it and didn't look impressive at all. The Justin Herbert Chargers seem destined to be an updated version of the Phil Rivers Chargers in that they will always be more about hype and potential than actual achievement.
9. Miami Dolphins (3-3) – Tyreek Hill has a league-leading 701 receiving yards through his first six games of the season. That puts him on pace to beat Calvin Johnson's 2012 record of 1,964 receiving yards in a single season. Hill has the benefit of an extra game. But if gets up near 2,000 receiving yards, that will be incredible. Miami is 7-2 ATS in its last nine home games, and they are 10-2 ATS at home against a team that is below .500.
10. Tampa Bay Buccaneers (3-3) – It's pretty tough to take Tom Brady seriously right now. The guy obviously should've walked away and is going to be a cautionary tale for future players about the perils of sticking around longer than you should. The Bucs have scored 21 or fewer points in five of six games, and I think it is clear that Brady has lost some of his clout in the locker room. A team rushing average of 3.1 yards per carry certainly isn't helping things, either.
11. Cincinnati Bengals (3-3) – The Bengals are now 12-2 ATS in their last 14 games. They are 5-1 ATS in their last six home games, and they should be able to feast on an Atlanta secondary that just lost its two starting cornerbacks to injury.
12. New York Giants (5-1) – I actually heard more than one TV moron and media bobblehead discussing last week how good the Giants were because…wait for it…how good could you really be if your best player is a running back? That was an actual thing that I actually heard people talking about last week! I mean, Derrick Henry is still playing! It's not like we have to go back into ancient history to find a team that has been carried by a star running back. Unreal.
13. Green Bay Packers (3-3) – Third and fourth downs have been killing the Packers all year. They are 19th in third down conversion rate and 30th on fourth downs. They combined to go just 5-for-20 on those two downs against the Jets. It is just astonishing to me how badly the front office dropped the ball this offseason by not addressing one of the worst wide receiver groups I've ever seen. Now they are paying for it.
14. Tennessee Titans (3-2) – The Titans have won four straight against the Colts, including a 24-17 win over them in Indianapolis on Oct. 2. The Titans have the benefit of two weeks to prepare for this week's game and the home-field advantage. So, with all of those things pointing in their direction, why is Tennessee only a 2.5-point favorite this week?
15. New England Patriots (4-2) – If the Patriots were able to bottle up the Cleveland running game and force Jacoby Brissett to beat them, then God help the Chicago offense. The Bears are No. 4 in the league in rushing attempts (one behind Cleveland), and the Patriots should enact the same game plan that they used in Cleveland this Monday against the Bears.
16. Los Angeles Rams (3-3) – Allen Robinson's block on Ben Skowronek's rushing touchdown was a thing of beauty. Robinson took out two Panthers corners at the same time, freeing Skowronek up to go untouched in the end zone. Add in a touchdown catch, and several other first down-converting grabs, and Robinson is starting to find his way in this offense. If only Matt Stafford could stop turning the ball over…
17. Atlanta Falcons (3-3) – I have been saying it all year, and I will continue to say it: people have severely undervalued Marcus Mariota. He is a veteran quarterback that can make plays with his arms and his legs. Everyone gets ga-ga over loser first- and second-year quarterbacks that don't know their ass from a hole in the wall. (And people wonder why the league sucks right now.) Give me guy that has experience, can make some plays, and doesn't turn the ball over. Mariota's 3rd-and-12 scramble for a first down in the second quarter – right after San Fran had scored to make it 14-14 and with the Niners gaining momentum – might have been the play of the game. Atlanta went on to score a touchdown on an 11-play drive to go up 21-14 and they never lost control of the game again.
18. Seattle Seahawks (3-3) – Everything I said about Marcus Mariota is applicable here. I don't know why it is strange to me that the Chargers and Seahawks have only played three times in the last 15 years, but it is.
19. New York Jets (4-2) – Let's not overvalue baseline competence. The Jets have outscored their last three opponents during this three-game winning streak by a total of 44 points. They have outgained those three opponents by only 78 points, and they have a 10.4 yards per point average during that span. That's my way of telling you this is all a statistical anomaly.
20. New Orleans Saints (2-4) – The whole reason I liked this team this season was because of its skill position players. Think about an offense that has Jarvis Landry, Michael Thomas, Chris Olave, Taysom Hill, Alvin Kamara, and Mark Ingram. I mean, c'mon. Even a full-blown loser should be able to ring up points with that group, right? Nope. Just about all those guys (save Hill and Kamara) are hurt, and the Saints are averaging just 23.5 points per game.
21. Cleveland Browns (2-4) – The Browns are 2-4 after facing Baker Mayfield, Joe Flacco, Mitch Trubisky, Marcus Mariota, and Bailey Zappe. Not great. In the next few weeks, they will square off with Lamar Jackson, Joe Burrow, whoever is quarterbacking Miami, Josh Allen and Tom Brady. If they don't get the secondary fixed in a hurry, this season is going down the toilet.
22. Las Vegas Raiders (1-4) – The Raiders dodged a bullet that Davante Adams is getting sued for pushing an employee after Vegas' loss to Kansas City. (Huge dick move by Adams, by the way.) Because he's getting sued, the NFL is choosing to wait for the legal system before meting out league punishment. So, the Raiders will have Adams for this week's must-win game against lowly Houston.
23. Pittsburgh Steelers (2-4) – God help me if I ever bet against Mike Tomlin as an underdog ever again. The Steelers are still overmatched on both sides of the ball. But Tomlin has been doing it too well for too long not to think that he's going to spring another upset or three along the way this season.
24. Indianapolis Colts (3-2-1) – Don't buy in. Do no buy into this team at all. They allowed 243 rushing yards and needed a last-second touchdown – which, admittedly, was a beautiful, vintage Matt Ryan throw for a 32-yard game-winning score – to get by a Jaguars team that they would've pounded were they any good. The Colts are still a bad, undertalented football team who very easily could've lost their last two games – to other bad football teams – and would be sitting at 1-4-1 right now.
25. Denver Broncos (2-4) – Too much ink has already been spilled about what a mess this team is. I am personally 1-4 ATS betting on or against this team this season, and at this point they are pretty much dead to me.
26. Arizona Cardinals (2-4) – I think it is hilarious that people are just now questioning Kliff Kingsbury's offensive acumen. Arizona's offense has stunk since he's been there, and the Cards have been a consistent 'under' bet. Kingsbury is also 61-68 in his head coaching career, going 35-40 in college and 26-28 in the pros. His teams have finished .500 or with a losing record in seven of the last nine years. I have no idea how this guy still has a job.
27. Jacksonville Jaguars (2-4) – If you're waiting for your daily dose of, "What did Trevor Lawrence screw up this week?" the answer was that he took an awful 15-yard sack on a third down to knock the Jags out of field goal range on the first drive of the game. Lawrence wasn't the worst Jag on Sunday, though. Shaq Griffin got torched for nine catches, 102 yards, two pass interference calls (one on third down) and burned for the game-winning touchdown. Ouch.
28. Detroit Lions (1-4) – Do you really think that Dan Campbell put the bye week to good use? Having the extra time off was critical for the Lions to heal up some of their key offensive players. But let's be honest: do you really think that Campbell spent the bye week concocting some new wrinkles and elaborate schemes to get this team on track (especially defensively)? Me neither.
29. Chicago Bears (2-4) – Darnell Mooney likes to carry himself like he is a big-time receiver. He talks the talk. And I think that he is immensely talented and that he has been saddled with weak quarterback play and horrendous schemes in his three-year career. But if Mooney ever wants to be a top tier receiver, he needs to make plays like the one at the end of the Washington game. He should've made that catch, he should've gotten into the end zone, and the Bears should've won a game they had no business losing.
30. Washington Commanders (2-4) – There is no way in hell Washington deserved to win that game in Chicago last Thursday. This team is a train wreck, and now Carson Wentz – who was neither the solution nor the only problem – is out for 4-6 weeks. I think the Commanders players will rally around the likeable Taylor Heinicke. But there's nothing that Heinicke can do with the comical scheme that Washington is running these days.
31. Carolina Panthers (1-5) – You could tell that whole Robby Anderson situation had been simmering for a while and that Steve Wilks couldn't wait to pull the trigger on getting rid of Anderson, a guy that has always been overrated. No one knows who is going to be the Carolina quarterback this week. But I have to ask: does it really matter? These guys all stink. And if last week was any indication, the Panthers don't plan on throwing the ball very much anyway.
32. Houston Texans (1-3-1) – Dumping weirdo Jack Easterby is a nice start for this woebegone franchise. Now the Texans just need to pour gasoline over everything else, set itself on fire, and sell the team to a new owner in St. Louis and things should be fine from there.
Robert Ferringo has been one of the best football handicappers in the country and for a full decade from 2010-2019 he banked over +$40,000 in football profit. Robert has produced five of six winning seasons (including last year) and 9 of 12 profitable years. Robert expects a MONSTER football season. Robert is looking for another winning football year and wants more profit this fall. SIGN UP HERE TODAY AND TAKE ADVANTAGE OF OUR 3-FOR-1 FOOTBALL SPECIALS!
Get NFL picks on every single game, or if you want our very best bet premium picks by the experts, sign up for your free $60 account with a guarantee.