2020 New England Patriots Predictions and Season Win Total Picks
by Robert Ferringo - 5/15/2020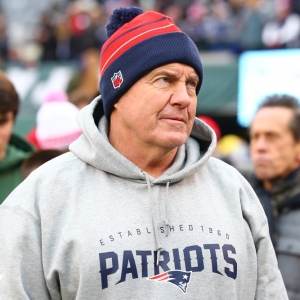 The Patriots Dynasty is dead.
Long live the Patriots Dynasty.
I'm not in a hurry to bet against Bill Belichick. You shouldn't be either. The idea that somehow Tom Brady was solely responsible for orchestrating the greatest dynasty in the history of football is folly. Belichick is one of the greatest coaches in the history of organized sports. And it is insane to think that he isn't chomping at the bit to prove that he can still win football games without Brady, just as the Pats have done in the absence of so many other superstars over the last 20 years.
Let's be clear: the dynasty is over. But that doesn't mean that they are going to fall off the cliff. The Patriots still have Belichick and the No. 1 defense in football. They still have a championship culture and they still play in a division with three other dysfunctional, overmatched franchises. So the situation in Foxboro isn't dire.
But the dynasty is over. The Patriots are no longer championship contenders. And I, for one, am weeping for it.
Not that I am a Patriots fan, per se. I could care less about New England or its obnoxious fan boys. As a matter of fact, I could care less about Super Bowl championships. What I care about is success against the spread. And for the last 20 years the Patriots have been an absolute cash cow for bettors. As good as people thought they were – as reflected by the weekly spreads – the Patriots were better. New England would face massively inflated lines as one of the most public teams in the NFL – and they would beat them handily.
The Patriots have covered the spread in over 60 percent of their games over the last 20 years.
Think about that.
They always showed up when you needed them to. Always. They didn't have letdowns. They didn't look ahead. They didn't have flat spots. They didn't beat themselves. They have been an absolute moneymaking machine for two decades. They have been the best investment this side of Amazon.
New England has also gone 8-1 against their Las Vegas season win total over the last nine years. So even though their bar was set absurdly high each season they always found a way to clear it.
Now it is over.
Damn it.
There may still be a little meat left on the carcass of this dynasty. At least for one season. The sportsbooks – and bettors – may have a tough time reconciling the Patriots' ATS viability this year. And I don't know if there is another team in the NFL that people are as uncertain about. How good will they be? How much will they drop off? And how do we bet them? That uncertainty may create value for this squad.
New England went 9-6 ATS in 2008, the season in which Brady blew out his knee in the opener and Matt Cassel started the rest of the year. The Patriots also went 3-1 ATS in 2016, the season when Brady was suspended for the first four games of the campaign. That's a solid 12-7 (63.1%) ATS success rate.
Unfortunately for New England, the Patriots have the same problem that their division rivals have: the schedule. The Patriots were predicted to have the league's second-easiest schedule last year. It ended up being No. 21 based on their opponents' win-loss record. This season they are predicted to play the most difficult schedule in the NFL, with a litany of West Coast trips, primetime games, short weeks and brutal opponents laying out a minefield for the Brady-less Pats.
Under normal circumstances I wouldn't worry about how the Patriots would respond to the league's toughest slate. But these aren't the same old Patriots.
I wouldn't touch this season win total number. I have a feeling we are going to be able to find some value in certain situations betting on the Patriots this season. Particularly when they are posted as underdogs. But regression to the mean is as unstoppable as the tides. And eventually it will come time to pay the piper for two decades of success at the betting window. I don't want to be out in front of that.
I would pass on the Patriots season win total of 9.5. But with a gun to my head I would bet them 'under'.
Robert Ferringo has been the top football handicapper in the country the past nine years, earning nearly $40,000 in total football profit (average profit: +$4,400). He has also posted 7 of 9 winning seasons (including three straight winning years) and produced an amazing 50 of 76 winning football months over the past 12 years. Robert has eight of 10 winning NFL preseasons and he is at nearly 60 percent winners over his last 1,000 totals picks. Also, Robert's proprietary KING College Football Betting System has posted three of five winning seasons. Robert is looking for a fourth straight winning football year and wants more profit this fall. SIGN UP HERE TODAY AND TAKE ADVANTAGE OF OUR 3-FOR-1 FOOTBALL SPECIALS!
We are offering new clients $60 in free college football picks for Robert's picks or any Advisory Board handicapper of your choosing. Get your free college football picks now!