NFL Confidence Pool Strategy and How to Win
by Devon Rymarchuk - 8/11/2021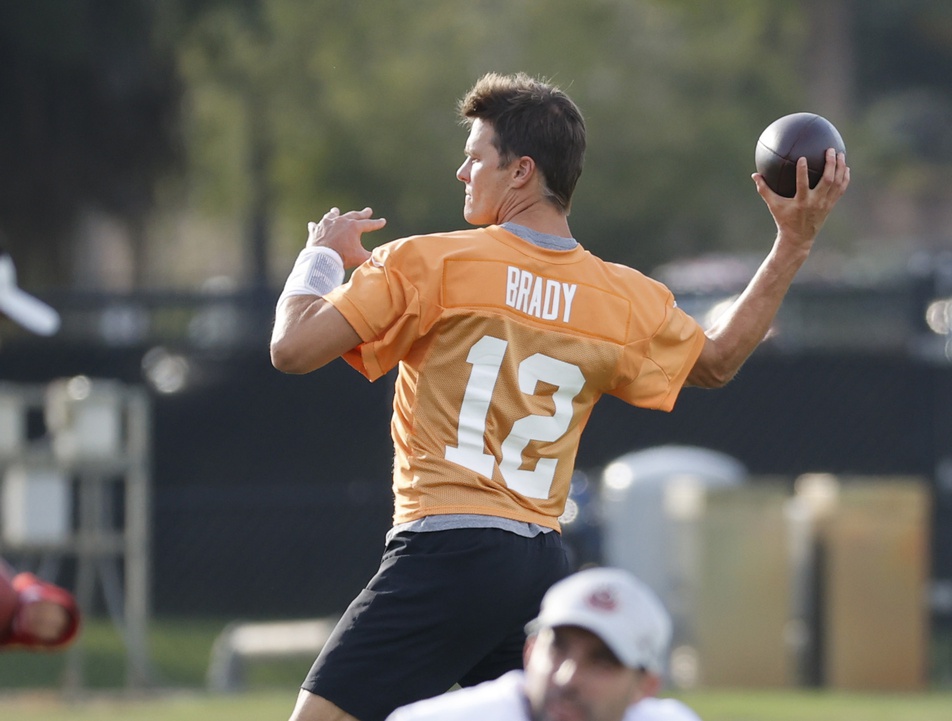 Another NFL season is upon us, and that means many people will be a part of pools, leagues and much more. The objective of this article is to learn how a weekly confidence pool works and to build a strategy for how you can beat friends, colleagues and whatever competition may stand in your way from taking home money or bragging rights for the 2021-22 season.
The format of how a confidence pool works is very simple. Let's say, there are 16 games being played on week 1 of the NFL season. Your task is to pick a heads-up winner in each matchup (the spread does not matter) and rank each matchup from 1-16. Putting 16 beside a matchup means that is your most confident selection, and putting 1 beside a potential winner means it is a game that you have the least confidence in. Points are rewarded based on the confidence you give each matchup, 16 obviously being the highest amount of points you can receive from a win and 1 being the least. Naturally, each game being played will have a favorite and an underdog.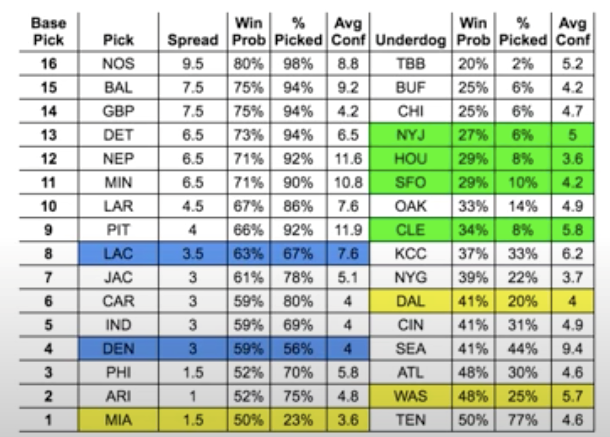 The chart above represents Week 2 of the 2018 season. As you can see, the favourite Is on the left and underdog on the right, followed by each team's win probability percentage and the percentage each team has been picked by the public. (Data like this can be accessed through a variety of gambling websites)
Strategy #1:
The first strategy when trying to plan each week and matchup is to be organized and properly format your picks (have a system that works for you). Organize your base picks, meaning the teams that are supposed to win based on odds or spreads on the left side of your column, the underdogs or money picks on the right side. It would be wise to organize these picks from largest spread or highest picked percent to lowest. In the chart above, New Orleans is in the top left; users picked New Orleans at a rate of 98% to win over Tampa Bay (2%), which, according to the stats, is the most lopsided matchup of the week. Picking the base picks will only get you so far in a confidence pool. Sure, you will be near the top of your league, but this will not separate you from the rest of the pack.
Strategy #2:
There's no hiding the fact that if you have done a confidence pool before, the people who continually win, and take your charity donation to the league, have an uncanny ability to pick upsets or as we like to refer to them 'money picks'. As the season progresses, the amount of money picks you will be forced to choose will be totally dependent on your standing in the league. If you need to make up ground in the final few weeks, then it is wise to put a lot of confidence in picks that are being chosen at a less then 20% clip. When choosing money picks, again we can refer to the chart above. Do your research during the week, examine which matchups the general public have been leaning towards or shying away from. As an example, Pittsburgh is playing Cleveland, Pittsburgh is being picked by users at 92%, with their probability to win at only 66%, so this is a very good ratio to pick an upset or money pick on Cleveland. Picking Cleveland can be a very advantageous strategy in gaining ground or separating yourself in a confidence pool.
Strategy #3
Be situational in the picks you make weekly. If your confidence pool is smaller, you probably don't need to make as many upset picks. This is when your IQ for your league and understanding what others are picking on a weekly basis comes into play. The strategy for a 30-team confidence pool compared to 150 teams will be much different. The more people that are participating, the more likely people will attack money picks with a lot of confidence. It is always wise in any gambling format to think objectively for that specific week. Don't let unsuccessful picks of previous weeks sway your strategy in upcoming weeks. Each week presents a new dynamic and teams can perform dramatically different on any given Sunday. Lastly, when picking money games, think about minor advantages like:
Home Field advantage: last year presented a very difficult challenge with no fans in attendance, not many teams having proper training camps, and massive repercussions on Covid protocols, which made it very difficult for amateur to professional gamblers to be successful. This year look for home field advantage to play a big part in your money picks.
Weather: Look for weather conditions that may not suit certain teams and pick your money game according to that.
Divisional Matchup: As seen throughout history, there is something about a divisional game and it being extremely unpredictable. Could be a time to take a flyer.
Injuries or Covid protocol: Stay up to date with injury reports, especially with Covid still playing a factor amongst the NFL.
Historical Data: Trends of matchups over history is always a good way to stay above your competition.
Good luck in your upcoming Confidence Pool