AFC East: Season Win Totals Predictions
by Dave Busk - 9/11/2009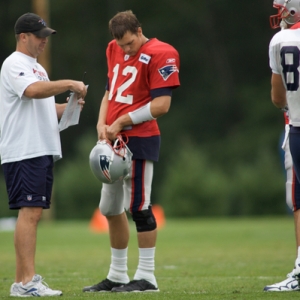 New England Patriots: Over (11.5 -1.40) Under (11.5 +1.10)
New England gets Tom Brady back after he was lost for the season in the first game in 2008. As a result of that injury the Patriots missed the postseason for the first time in five years. I like their chances in 2009 mainly because of a weak division. New England just looks much better then the Jets and Buffalo -- two teams that I think will struggle. Miami could be a test, but at worst case scenario you are looking at a split. Their schedule outside the division looks tough as they face Atlanta, Baltimore, Tennessee, Carolina and Jacksonville at home. They do get two of the weaker teams on the road, going to Denver and Tampa, with tougher games visiting the Colts and the Saints on Monday night. Looking at their schedule it looks like they have only one chance of being a dog -- at Indy -- and the Pats only play one back-to-back on the road. I wouldn't make a big bet but just looking at this schedule they look like a 13-win team.
Miami Dolphins: Over (7) -1.40 Under (7) +1.10
I hope Miami plays good early because their last four games of the season will be tough. In week 13 they get New England at home before going to Jacksonville. Then they are on to Tennessee before heading to play an improved Houston team and then the defending world champion Steelers come to town. Starting off strong early is easier said then done as they travel into Atlanta to face one of the best young quarterbacks in the game in Matt Ryan before facing the Colts at home on Monday night then they are off to the West Coast to face the Chargers. That is Matt Ryan, Peyton Manning and Phillip Rivers in the first three weeks. Miami looks like a tough team to prepare for and after going 1-15 in 2007 and then improving to 11-5 and winning the AFC East last year you would think they could get over the seven here. With this schedule it's a pass for me.
New York Jets: Over (7.5) +1.10 Under (7.5) -1.40
I do think Mark Sanchez will be a good NFL quarterback but early on it will be difficult for him. This isn't the preseason and Sanchez will find that out quick. The Jets travel to an improved Houston in their first game then they face the Patriots and the Titans at home before going to New Orleans and Miami. It's very possible the Jets are 1-4 after their first five. They close the season by facing Atlanta at home then traveling to Indianapolis and then they are back home vs. an improved Cincinnati team. I don't like laying money but under is the only way I could look here.
Buffalo Bills: Over (7.5) +1.70 Under (7.5) -2.25
I don't have too much good to report about the Bills, they signed Terrell Owens, who is just a problem waiting to happen. Plus the fact is that he is quickly declining in talent. The Bills starting running back Marshawn Lynch is suspended for the first three games and they face the sixth toughest schedule in the league. Buffalo didn't win a game in 2008 inside the division. While I don't think that will happen in 2009, head coach Dick Jauron is feeling the heat and that is evident by the fact that he dumped his offensive coordinator so close to the season. I can't play under with that high juice attached but that number clearly shows where this team is at.