NFL Betting: Brett Favre Props
by Matt Severance - 9/4/2009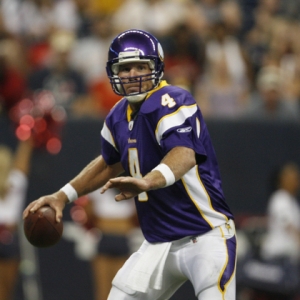 I don't know about you, but I am Brett Favre'd out! So the last thing I really wanted to do was write an article on the most wishy-washy player in NFL (and sports?) history. But Favre clearly drives the needle, so I feel compelled to hit on some Favre-specific prop options available on Bodog.
--Brett Favre's total passing yards in the 2009 regular season:
Over 3,250: Even
Under 3,250: -130
This one seems like a no-brainer on the under until you consider this means Favre would barely need to average more than 203 yards passing per game because you know he's not going to miss any time due to injury. And Favre hasn't thrown for less than 3,250 yards since his first season in Green Bay - and then just barely.
You can understand what the Bodog oddsmakers are thinking: That Adrian Peterson will get the ball so often on running plays that Favre won't need to throw. But he could also dump the ball off to Peterson and Percy Harvin on many a screen pass or the like. And don't forget about downfield threats in Bernard Berrian and tight end Visanthe Shiancoe.
Favre would seem to have no trouble transitioning to the Viking scheme, because it's similar to what he ran in Green Bay. But let's just say for the sake of argument that Favre might need a transition period. Well, consider this: He threw for 935 yards in his first four games with the Jets in 2008. In the first 11 games, before he started really having problems with his shoulder, Favre passed for 2,461 yards, which translates to 3,579 in a full season.
As much as I hate to say this, I would take the over 3,250 in this bet.
--Brett Favre total TD passes in the 2009 regular season:
Over 21 1/2: +105
Under 21½: -135
Again, using Favre's stint with the Jets last year, he had 12 touchdowns through four games and 20 through 11 - the latter number would translate to 29 total TD passes. Of course, Favre finished with just 22 TD passes last year, again in large part due to that injury. I would also take the over here, because the Jets simply didn't have the receiving options that the Vikings will.
By the way, Favre's career low for TD passes in a year is 18, which came in his first year with the Packers and in 2006, when he had arguably his worst year.
--Brett Favre total interceptions thrown in the 2009 regular season:
Over 18½: -105
Under 18½: -125
Of all the QBs that Bodog has interception props for, and there are several, Favre's total is easiest the highest - two more than Tony Romo and Kurt Warner. That's what makes Favre so entertaining, because he will take so many more chances than other quarterbacks.
Favre has had six seasons in his career with more than 18 ½ picks, including 22 last year. But, again, he probably won't be throwing as much this year as in other seasons. Remember, too, that the Vikes have an excellent offensive line to protect him and they play 10 games in domes this year (eight at home, one at Detroit, one at St. Louis). That means just six games where weather can be a factor.
Take the under here.