The Ferringo NFL Report
by Robert Ferringo - 10/13/2009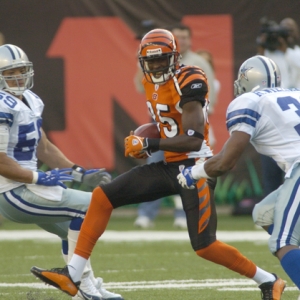 Week 5 is in the books and I just want to echo what was the clear Story of the Week: congrats to Cincinnati defensive coordinator Mike Zimmer on the victory on Sunday and my sincere condolences for the loss of his wife. I had no idea on Thursday when I released my wager on Baltimore (as part of a teaser) that it had occurred. And while I never like losing a bet I will definitely admit that I was rooting for the guy on Sunday and was very happy for him that he got the win.
Because I didn't know what had happened I am OK and it's not applicable, but this brings up a long-held belief that I have about wagering: never, ever bet on or against a team that has just had a death on the team or to someone close to the team like that. It's just bad karma. And even if you hustle out a win that negative karma will cost you tenfold through the course of your wagering.
As for what took place on the field, don't think for one second that Cincinnati's win was some fluke occurrence. I said numerous times in the preseason that Cincinnati was my pick as a "sleeper" NFL team that I thought would be sneaky-good against the spread. Since then I have also stated that the Bengals are going to be a great underdog wager but are still very, very dicey to play as a favorite. (After all, they are still the Bungles and they are 0-2 ATS as a chalk this year.) I look for both of those trends to continue.
Anyway, Cincinnati rung up 400 yards of total offense on Baltimore and outgained the Ravens by around 150 yards. In fact, the Bengals actually left plenty of points on the field and their outright win should have been by a greater margin. They were significantly helped out by two crucial (and really foolish) penalties by future Hall of Fame players Ray Lewis and Ed Reed. But the bottom line is that the Bengals deserved that win, in more ways than one.
After a brief hiatus, here is this week's Ferringo NFL Report:
- One of the main themes of the weekend was, once again, how great the teams at the top of the NFL totem poll are and just how wretched the teams at the bottom are. The Giants-Raiders, Eagles-Bucs, Colts-Titans and Vikings-Rams games would all be great examples. However, that line of thinking is a bit off base. The favorites, overall, went just 6-8 ATS this week and it was nearly even worse. The Rams actually outgained Minnesota, the Bucs outgained the Eagles if you include penalty yards, and the Texans were just one yard away from forcing overtime in Arizona. Don't be lured into "going chalk" the rest of this season. The oddsmakers will adjust. They always do.
- Continuing on the previous point, over the last four weeks favorites of 3.0 or less are just 9-13 against the spread. Interestingly, the spread of 3.0 has been particularly pleasant for underdogs. Underdogs listed at +3.0 are a sweet 8-3 against the spread over the last three weeks with the dog winning all eight games outright. Further, Indianapolis owns two of the covers by the favorites (at Miami and at Tennessee).
- Teams that had started the season either 4-0 or 0-4 against the spread in their first four games of the year were 33-18 ATS in Game 5 if you had bet the opposite of their streak over the past 12 years. So if a team was 4-0 ATS you would bet against them and if they were 0-4 ATS you would be on them. The three teams for which that was applicable on Sunday - San Francisco, Denver and Kansas City - went a combined 2-1 ATS if you had played against the streak.
- Jacksonville is now 8-0-1 ATS in their last nine home games against AFC opponents.
- The Washington-Carolina game saw the side and the total determined by just a half-point. Just another example of how incredible the oddsmakers are. It's also another example of the importance of key numbers. The spread was 3.0, which is the most common side number in NFL betting, and the total was 37.0, which is a very significant total as well. Always know the numbers you are betting before you put the coin down.
- Just another vintage Wade Phillips effort: 13 penalties, four fumbles (two lost), a 200-yard advantage on offense and a clear talent disparity in their favor, yet the Cowboys didn't cover the spread against a team that was 2-27 entering Sunday and they barely escaped with a victory.
You know what the worst part is: compared to some of the other ass clowns that are first-year coaches Phillips actually looks like a savant.
- Stop saying that Josh McDaniels is a genius. The guy did just about everything wrong this offseason and was bailed out by Chicago. Remember: Eric Mangini was ordained a genius in his first year with the New York Jets and how is that prediction looking right about now? McDaniels is not the one that should be commended here. Kyle Orton (I never, ever hate to say, "I told you so" so I will again in this instance - "I told you so!") should be commended and the real hero for this team is general manager Brian Xanders.
- It is obvious that the Giants are just an exceptional team. They deserve to be considered one of the best in the league because they absolutely dominate bad teams. They have outscored Tampa Bay, Kansas City and Oakland - three of the worst teams that I can remember watching - by a combined 65-13 in the first half over the past three weeks.
However, the preseason is over for them. It's time for them to start playing legit teams and I, for one, can't wait to see how they really stack up among the elite.
- Like everyone else, I just can't say enough bad things about JaMarcus Russell and the Raiders. I mean, what is left to say at this point?
- If I'm anyone in the Buffalo Bills organization I would take up residence on Mike Shanahan's front lawn. I'd walk his kids to school. I'd be out there with an umbrella on rainy days to walk his wife to the car. I would be sending him Thanksgiving turkeys, Christmas cards and doing absolutely anything that I could to beg him to take over my floundering franchise.
- Put the same-colored jersey on Carson Palmer and Matt Ryan and then watch them stand in the pocket and throw the ball. I swear you wouldn't be able to tell them apart. These are two of the most accurate quarterbacks in the NFL right now and that is 80 percent of why their offenses are so successful.
- I still want to say that Michael Turner looks a step slow to me.
- Jacksonville's game in Seattle was definitely going to be a "turning point" game one way or another. They had a shot to prove that they were going to be a player for the wide-open No. 2 slot in the AFC South, which has been, statistically, the best division in football over the last seven years. But 41-0 tells me everything I needed to know.
- Seattle's defense has been playing better than you think. Right now they are ranked No. 18 in the NFL in rush defense and No. 26 in rush yards per carry. However, if you take Frank Gore's two 80-yard runs and turn them into a pair of five-yard runs (those plays were both simply the result of terrible execution by Jordan Babineaux) then Seattle is No. 6 in the NFL in rush defense and No. 6 in yards per carry against. This club also has a pair of shutouts on its resume.
And if Seattle can protect Matt Hasselbeck that team has as electrifying of a passing game as any team in the NFL. I mean, they have four guys that can just kill you on any given week and there is no defense out there that can guard all four of them for 60 minutes. But they need someone to get them the ball.
- Arizona's front seven has been playing well all season and they proved it again on Sunday. Their problem is that they cannot cover anyone in the secondary. I just still can't fathom how this organization didn't go out and address their most obvious, most glaring need in the offseason. Especially after the way their season ended last year.
- I still don't think that offensive pass interference is called nearly enough.
- If Matt Schaub is ever going to be The Guy he can't miss that wide-open receiver for a potential game-tying touchdown on third down in their game at Arizona. Just gotta make that play.
- I really thought Todd Haley should have gone for the two-point conversion and the win against Dallas on Sunday after the Chiefs scored on their final drive. That isn't me just saying that now because they lost. In that situation it just has to be obvious to the coach that he is playing a better team and that the longer the game goes on the more likely it is that that the talent differential will cost him. Would your rather take a chance with the Chiefs talent on one play from the two-yard line or would your rather hope you win the coin toss and then hope again that your team can actually do something with the ball? Just a foolish move by another guy that has no business being a coach in the NFL.
- I am just about done betting on or against New England. It's nearly impossible to wager against them. I mean, you want to be holding the ticket against Tom Brady and Bill Belichick? And doesn't it just figure that the two times that I do bet on them this year (at New York and at Denver) are the only times this season in which they blow big leads, commit dreadful turnovers, get called for foolish penalties, don't come through in the clutch, and generally bumble their way to losses. I mean, you have to be kidding me, right? Once again: Jesus hates me.
- It's really tough to find fault with anything that 4-0 coach Jim Caldwell is doing. However, for the second week in a row I found myself questioning why he was leaving his franchise players in late in a blowout game. Two weeks ago Dwight Freeney - who wasn't even supposed to play because of his injured leg - was still in during the fourth quarter of a four-score game against Seattle. Then this past week Peyton Manning, Dallas Clark, and the like were still tossing the ball around with four minutes left in a 22-point game. I just think that's foolish.
- Brian Billick may one day be a decent announcer. But right now the guy is insufferable.
- Two reasons why Miami's Wildcat offense actually works and everyone else's is a bit of a joke. First, the Dolphins have a full package of plays that they run that includes the running back throwing the ball effectively. And two, they have been doing it for two years now while everyone else has been running it for less than one year. If this thing is actually going to stick in the league teams have to be dedicated to it.
- I have no idea how Kansas City can move the ball behind that offensive line. I thought that the line they had back in 2000 was one of the best I had ever seen. As good as that group was this group is equally awful. There is no way that the Chiefs should have dumped Tyler Thigpen. His ability to scramble and make plays was a good fit.
Oh, and the Chiefs have now lost 28 of their last 30 games. Forget Detroit: the Chiefs have been the worst franchise in the NFL over the past 24 months.
- Another vintage Jim Zorn effort: less than 200 yards of offense from the former offensive coordinator, three fumbles (one lost), a blown 15-point lead and another loss to a previously winless team.
- Jason Campbell actually completed 17 of 23 passes, and one of the incompletions was a drop down the sideline by Devin Thomas that cost the 'Skins about 45 yards. But I have to say that Campbell never looked comfortable behind that shoddy offensive line and just about every time he dropped back it looked like something bad was about to happen. I still think he can be a productive NFL QB. But he desperately needs a new team.
- Everything you needed to know about this Bengals team could be summed up in one incomplete pass: Ray Lewis laid a cheap shot (that cost his team 15 critical yards) late in the fourth quarter of that Baltimore-Cincy game. Without his helmet, Chad Johnson popped right back up and went after Lewis, who clearly backed off. Lot of heart on this Bengals team. Still can't trust them as a favorite, but a lot of heart in this dog.
- I watched that Cleveland-Buffalo game with a bunch of Bills fans and fellow New Yorkers. One of them said to me, "I think a big part of sports is obviously to provide entertainment and to be a distraction from other stress in your life. It should make all the fans and the people in these towns happy. But I feel like the Bills are just making people in Buffalo even more depressed. And things are already pretty bad there."
- I am firmly on record as saying that the Detroit Lions would be a much better team (at least a more competitive team and thus a better bet) with Daunte Culpepper at quarterback. Matt Stafford sucks at this point in his career. He may not always suck; it's too early to tell how his career will unfold. But right now, today, he's just not very good. But with Culpepper a Detroit offense with some weapons and score some points and sneak in the back door of some of the ample spreads that they are given. I really hope Culpepper stays under center. (I also just hope that he can hold onto the ball with those freakishly small hands. Three fumbles on Sunday. Was his mother a carny or something?)
- For as much as I have killed ESPN over the years as being a circus I will admit that over the last six months their coverage, across the sports world, has gotten infinitely better. They are giving airtime less to blowhards designed simply to entertain the lowest common denominator with their bombast and really trying to focus on content. Sure they are still substandard for ever giving the mic to guys like Lou Holtz, but the bottom line is that they are headed in the right direction under new leadership and are a long way from the ESPN Hollywood days.
- I have to say, Josh Johnson made some idiotic mistakes on Sunday. He fumbled the snap on a key fourth-and-one early. He threw an interception in the end zone right before halftime and then had two other second-half interceptions, which were each throws off his back foot and resulted in at least a 10-point total swing. However, I will also say that I didn't think the outing was nearly as bad as those situations suggest. The kid was running for his life the whole day behind that sieve of an offensive line. (Did Tampa Bay not realize that Philly likes to blitz?) Decision-making? Well, it was only his second start and he was facing a far more prepared and superior team, on the road. But I liked his athleticism, I liked his toughness, and I thought he threw a really good ball. We will see about this kid.
- Philadelphia earned another blowout win at home and continued their domination when Andy Reid has an extra week of preparation. However, even though they were aggressive the timing and amount of their penalties on Sunday - 10 for 111 yards - was a bit disconcerting. They really need to tighten that up.
- What the hell was Raheem Morris doing? Again, this guy just has absolutely no clue what he's doing and is way, way over his head. I mean, he's a joke. Morris had a chance to kick three field goals, all inside the 30, in the first half of their game with Philadelphia. He went for it twice on fourth down and, naturally, was stopped both times. The third instance came when he called two pass plays in the last 10 seconds of the half from inside the 10-yard line. The second was intercepted.
So, despite holding the ball for 21 minutes in the first half the Bucs were actually losing 21-7. Had they just taken those three field goals it would have been 21-16. Or 21-13 even if they had missed one. Instead, Philly scored early in the third quarter to make it 28-7 and the rout was on. Tampa was only outgained by 50 yards heading into the final quarter and trailed by three touchdowns. Just dumbfounding.
- With Jake Delhomme it wasn't just that he threw another interception (his eighth in four games) it was the other four near interceptions that he had and the two fumbles. He is a wreck.
- St. Louis lost by 28 points. However, they actually outgained Minnesota 400 to 377. And lost by 28! Giving up 10 yards per pass didn't help. But four fumbles, three red zone turnovers (two inside the 10-yard line) killed them. Oh, and let's not forget the fumble return for a touchdown when Kyle Boller simply dropped the ball. In reality, if St. Louis had managed one touchdown and one field goal in two trips inside the 10-yard line, they should have been up 13-10 at halftime. Just bizarre.
- San Fran's record with Michael Crabtree on the payroll: 0-1.
- I know a lot is being made of the "big day" that Miles Austin had on Sunday against Kansas City. And the numbers - 10 catches, 250 receiving yards, and two touchdowns - did look great. But the bottom line is that on his two big plays, a 60-yard touchdown and a 59-yard touchdown, were both the results of multiple, pathetically missed tackles. Man, that Chiefs secondary is just awful. I mean, they can't cover or tackle anyone.
- By my unofficial count, double-digit favorites this year are an incredible 11-1 ATS. The lone loss occurred this past weekend when Pittsburgh failed to cover against Detroit as an 11-point favorite.
Robert Ferringo is a professional handicapper and you can purchase a full season's package of his football selections for just $25 per week! Click here for details.