NFL Free Prop Predictions - Week 12
by Jay Horne - 11/27/2009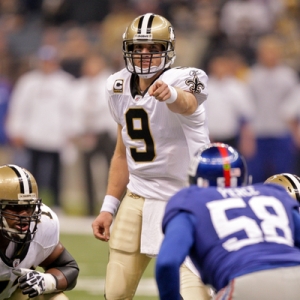 Hope everyone had a great Thanksgiving Day and I know I'm certainly thankful for putting that two week losing skid behind us last week as we bounced back in week 11 to go a profitable 2-1 in our free NFL prop picks. Luckily we hit on some trends with Jay Cutler and predicted Bill Belichick would decide to push for a fourth-down conversion following a week of heavy criticism for the fourth-down call against the Colts. Those winners helped us get back on course as we now attempt to string together some more profitable weekend selections.
Week 12 action is highlighted by a huge Monday Night Football contest that features the New England Patriots trip to the Superdome to attempt and knock off the unbeaten New Orleans Saints. We have targeted some NFL betting lines for that big matchup as well as a few others to keep on your radar for the upcoming weekend. All of these early betting lines can be found at Sportsbook.com

Prop Bet No. 1 - Who will throw more touchdown passes? New England vs. New Orleans

Tom Brady (-110)
Drew Brees (-120)

The Patriots and Saints will collide Monday night in an offensive showdown featuring two of the most lethal scoring machines in the NFL. QB Drew Brees leads the NFL with 22 touchdowns and Patriots QB Tom Brady is in close pursuit with 20 on the year. In fact, this may be the week Brady takes the top spot if all goes according to plan for New England. It is no secret the Saints defense has struggled at times this year and Brady is just the quarterback to exploit those problems even more this weekend. Before holding the Buccaneers to just seven points last week, the Saints defense had allowed more than 20 points in each of the previous five games. The New England passing game is going to present tons of problems for a Saints secondary that is allowing 215 yards per game. Not to mention both of the Saints starting cornerbacks Jabari Greer and Tracy Porter missed Week 11 with injuries and are still banged up. The Patriots are going to rack up some points, but the question is will the Saints be able to do the same? The Saints have the top scoring offense in the league, but Brees has only thrown more than a pair of touchdowns once in the last five games and that was three last week against Tampa Bay. The New England defense is also playing well and if you remember they really frustrated Peyton Manning for about three quarters before falling apart in the final minutes. Outside of that game, the Patriots have allowed just 9.8 points per game dating back to Week 5. For Brees to put up more touchdowns the Saints will have to put together a blowout and that is not going to happen.

Pick - Tom Brady

Prop Bet No. 2 - Houston Texans total points vs. Indianapolis Colts

Over 22.5 (-115)
Under 22.5 (-115)

The Houston Texans have suffered two straight losses from two exact scores of 20-17 and one of those losses was to the Colts. Texans QB Matt Schaub has thrown for 300 yards in both of those contests even though the points have not reflected those efforts. The Colts defense will likely help continue Houston's scoring struggles as it is the top scoring defense in the NFL, allowing 15.7 points per game. In fact, the Colts have not allowed more than 22 points but once this year and that was to Tom Brady and the Patriots. Houston will have to play a near perfect game if they are to put up even more points this time around. Houston has not had any type of running game this season to keep drives moving and their success will rely on the passing game as usual. The loss of tight end Owen Daniels has really affected the passing unit's threat on defenses which has been confirmed by their last two outings. WR Andre Johnson is, of course, a great luxury for Houston, but without another solid threat for Schaub to target the passing game should struggle. Also, the Colts defensive front did not get a ton of pressure on Schaub in the first meeting. Dwight Freeney and Robert Mathis both rank in the Top 5 in sacks in the NFL and if they can just get decent pressure on Schaub he will have a lot more trouble against the Colts defense in this matchup, resulting in a lack of scoring.

Pick - Under 22.5

Prop Bet No. 3- Will either score in the first seven minutes of the game? Philadelphia vs. Washington

Yes - (-135)
No - (+105)

The Washington Redskins enter this weekend's battle with the Eagles off a defensive slugfest which resulted in a 7-6 loss to the Cowboys in Week 11. The Redskins defense has actually been strong all season, allowing just 17.8 points per game. However, the Redskins offense has been the problem in their inability to move the football and that's the reason for their 3-7 record. Philadelphia, on the other hand, has been pretty solid on offense all year and even jumped out to a quick 14-0 lead against the Redskins in the first meeting, which wound up as an Eagles 27-17 victory. The Eagles offense has really relied on QB Donovan McNabb over the past few weeks with the loss of Brian Westbrook at the running back position. However, LeSean McCoy proved that he is worthy of a few touches after racking up 99 yards on 20 carries last week against the Bears. I expect the Eagles to come out and try to establish the running game, especially considering McNabb struggled against the Washington secondary being held to a season low 156 passing yards (in games started and finished) in the first meeting.

The Redskins defense should be up for the challenge and eager to make this matchup much closer from the start. In fact, the defense may get their big anchor in the middle in DT Albert Haynesworth back this week which would be a big boost. On offense, the Redskins only success moving the football has been from the running game. However, running back Clinton Portis is questionable after trying to recover from a concussion and backup Ladell Betts was lost for the season last week after an MCL injury. Those injuries will put the game in the hands of QB Jason Campbell, who has been anything but dominant this season. With those factors all playing together, there is just not much chance for a ton of scoring this Sunday, especially early in the game.

Pick - No