NFL Handicapping: Final Two Preseason Games
by Trevor Whenham - 8/25/2009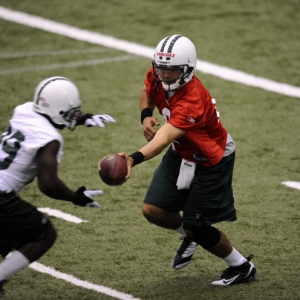 We're about to enter an inner circle of hell - the last two NFL preseason games. I suppose that there are a couple of good reasons why these last two games exist, but by far the biggest is that it allows NFL owners to charge full price for two more games.
From a football perspective, the importance of these games range from reasonably slim to absolutely none. From a NFL handicapping perspective the last two preseason games don't seem particularly attractive to my eyes. Unknowns are the enemy of handicappers, and these games are totally overrun with unknowns. The best advice would probably be to take a pass on these games and get ready for the regular season. If you insist on betting these games, though, then there are a few things you will want to keep in mind - these games are not like others that have come before or those that will follow. Here are six things to keep in mind if you try to handicap these contests:

Look closely at quarterback plans - Some teams will have to use these last games to get their quarterback ready to start the regular season, or even to decide who their quarterback is going to be. That means that that quarterback is going to be played a lot, and likely with the first team offense for at least a good portion of the time. On the other hand, teams that are firmly established in their quarterback plans are far more likely to protect that player and avoid injuries. He may play in the third game to get used to game speed, but it's very unlikely that he will see much meaningful time in the final game. You would never consider betting a regular season game without knowing who the quarterback was going to be, so you want to make sure that you know who is going to be the quarterback before you bet a preseason game. Some coaches make it easy by publicizing their plans before the game, while others make you try to figure it out for yourself.

Look at coach's track record - Some coaches believe that you must put good effort out all the time in order to be ready for the season. Those are the coaches that bring their teams to preseason games ready to play - like this is a game almost like a regular season game. Others feel like the real work of the preseason happens on the practice field, and the biggest goal of the games is to keep the veterans and starters healthy for the real games.

Consider the number of young players on the team - As a general rule, the younger a team is, the more seriously they are going to take these last two games. Young teams lack the experience of veteran squads, and they need any game time they can get so that they are ready for the speed and complexity of the NFL game. A younger squad might be unattractive in the regular season, but they could be more attractive than an established, veteran squad in August.

How healthy is the team? - If a team is banged up and depth-challenged already then they certainly aren't going to risk becoming even more damaged by playing their best players for a long time in the preseason games. The risks are as significant for a healthy, deep team, so you might expect a better effort. When handicapping these games, then, injury reports can be your best friend.

Schedule issues - In the regular season you can be reasonably sure that teams will be putting forward a good effort every game - or at least every game that actually matters. That's obviously not the case in the preseason. Beyond the reasons we have already discussed, the schedule can be an important factor in handicapping. It made sense, for example, that the Cowboys played very well and won handily in their first game in their new stadium. Looking for other reasons like that that could have the teams playing well can be very helpful. On the other hand, the schedule can contribute to a team playing poorly if it has awkward timing or travel.

Have a very good reason before doing anything - Effective handicapping is all about finding situations in which you have an edge and then taking steps to exploit that edge as well as you can. Those edges are never particularly easy to spot in the NFL, but they are especially difficult in the preseason. You have to be absolutely certain that you have an edge - and a much bigger one than you would normally bet - before you make a play in the preseason. If you don't then you are just throwing money away.