Monday Night Football Preview: Ravens at Browns
by Matt Severance - 11/13/2009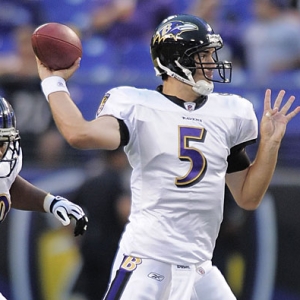 It's too bad that "Monday Night Football" can't use flex scheduling, because this week's game between Baltimore (4-4) and Cleveland (1-7) looks like an absolute dud. The Ravens are 11-point favorites on BetUS against a team they have outscored 99-40 in the past three meetings.
The story surrounding this one is the return of QB Brady Quinn to a starting role for Cleveland. Quinn lost his job in the Browns' Week 3 34-3 loss to Baltimore when he was pulled at halftime with the Browns down 20-0. To that point, he had been 6-for-8 passing for 34 yards and a pick; Quinn had just one TD pass and three interceptions in the season's first 10 quarters. Frankly, Quinn can't be worse than his replacement, Derek Anderson, was. Anderson had just a 42.9 completion percentage with two touchdowns and nine interceptions for a league-worst rating of 36.2. No wonder the Cleveland offense is averaging a whopping 9.8 points this year.
Maybe the fact it's a prime-time game will spur the Browns. They got their best win of the season last year on a Monday night against the Giants, and Quinn had the best game of his career - which also happened to be his starting debut -- on a Thursday night against Denver. The Ravens have not been prime-time players, having lost five straight games on Monday night - that streak dates to 2005.
Baltimore, which has lost four of five, can't afford a loss tonight because it would fall three games behind the winner of the Cincinnati-Pittsburgh game in the AFC North. The Ravens worked out a few kickers this week after Steve Hauschka missed a key 38-yarder in their 17-7 loss to the Bengals last week, but the team is sticking with Hauschka for now. Remember he also missed a potential game-winner in Minnesota.
Let's see what kind of a start the Ravens get off to, as they have struggled in that respect. In the first four games of the season, the Ravens scored 58 points in the first half on seven offensive TDs. In the past four games, they have scored 16 points with no offensive TDs. And falling behind on the road has been a trend, as Baltimore fell behind 17-7 in New England, 14-0 in Minnesota and 17-0 in Cincinnati. Of course, those are probably three playoff teams and these are the Browns. Baltimore's offense should get well against the NFL's worst defense. Joe Flacco threw for a then career-high 342 yards in the first meeting and the Ravens, who scored on their first four possessions, outgained the Browns 479-186.

Cleveland's defense also suffered a big loss this week. Linebacker Eric Barton was placed on season-ending injured reserve with a back injury -- Barton led the team in tackles. Ravens nose tackle Haloti Ngata missed last week's game and most of practice this week but expects to play.
There will be a first on Monday: For the first time in this series, there are no players on the Baltimore roster who were with this franchise when it was still in Cleveland. Kicker Matt Stover had been the last one with that connection.
Probably the only chance Cleveland, which enters off a bye, has in this one is if Josh Cribbs returns a kick (or two) for a touchdown. He has eight career kick return scores, including a 92-yarder against Baltimore last season.