Five NFL Week 1 Dissapointments
by Trevor Whenham - 9/15/2009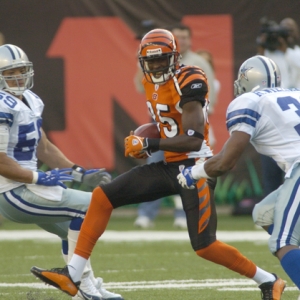 We can spend all offseason analyzing the rosters and transactions a team makes, and how they play in the preseason, but we can't know for sure what a team has to offer until we see them play when the games matter. That means that how a team plays can often be significantly worse than we expect them to be. That was certainly the case this year, with several teams with high hopes posting disappointing performances. Here's a look at four NFL teams that have a long way to go to prove that they are what we thought they were:

Cincinnati Bengals - The Bengals had some renewed hopes this year, but to be honest I am mystified about why that might be. Maybe it was the extra exposure on "Hard Knocks" or something, but a lot of the problems this team had before they still have now. They still have the worst head coach in football. Their quarterback is still fragile and seemingly unable to lead a team. Their defense still can't really be trusted when it counts. They are still stocked with guys with problem attitudes. On top of that, their most reliable receiver is now a Seahawk.
Despite all that the team came into the season widely identified as a team that could reach a new level this season. They'll have to play a lot better than they did in losing at home to Denver if that's what they want to do. They were the victims of a bizarre play that made them lose the game, but ultimately they never should have been in that situation in the first place. The Broncos have new personnel all over the field and on the sideline, and they have the look of a franchise that is reeling. A good team needs to exploit that - especially at home. The Bengals were fairly sound defensively, but their offense was listless and unoriginal - they looked just like they have for years now. I could probably be convinced that this team was ready to make progress given some of the pieces they have, but I'm sure not convinced yet.

Houston Texans - Every year we hear how talented Matt Schaub is and how he is poised to lead this team to the promised land. Then we look at their top receiver and their running back, along with their top few defensive pieces, and we start to believe it. And every year the Texans find a new way to define mediocrity. Losing at home to the Jets was a surefire way to kill momentum before they have it and to make it hard to love this team.
It wasn't just a loss either - it was ugly. They let a rookie quarterback look poised and comfortable. Schaub averaged a pathetic five yards per attempt. The running game was a joke - the backs only ran 12 times, and the average just 2.5 yards per carry. The so-called potent offense didn't score a single point. Things were supposed to be different for Houston this year, but then that's the same thing that has been said the last few years as well. They haven't been then, and it is hard to believe that they are now.

San Diego Chargers - I don't think that a team has ever deserved to win a game less than the Chargers did on Monday night. They came through in the clutch, but up to that point they had been outplayed by the lowly Raiders, of all teams.
The Chargers looked every bit like you expect a Norv Turner-led team to look in September, and that's far from a compliment. They were disinterested, their passing was lousy, they couldn't run the ball, their tackling was sloppy - they just didn't look like they were ready to play. Simply put, a team that is widely viewed as the class of the AFC cannot play like that.
JaMarcus Russell proved yet again that he has no business being an NFL QB, yet the Chargers needed to scored in the closing seconds to finally take the lead. Pathetic. This team needs to be much, much better, and their injury issues on the offensive line won't make that easy.

Chicago Bears - The Bears added Jay Cutler and suddenly they were supposed to be the class of the NFC North. They sure didn't look like it on Sunday. There are two things that we need to remember here - Cutler is no Tom Brady, and Brady is as good as he is in part because he has guys like Moss and Welker to throw to. Cutler doesn't have a winning record on his career, and he's never won a game that mattered. He's also never faced anything remotely resembling the pressure he faces in Chicago.
In Denver he put up big passing numbers, but he was also blessed with a deep, talented receiver corps. The receiver cupboards are bare in Chicago, and that was painfully evident on Sunday. The Bears need to find a way in a hurry to make Cutler more comfortable and to get hm some help or this is going to be a frustrating, disappointing season.