NFL Office Pool Picks - Week 12
by Trevor Whenham - 11/24/2009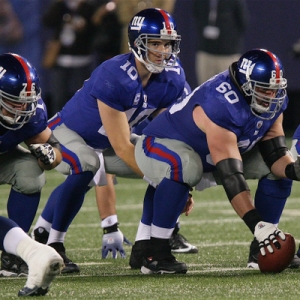 It was a solid but not spectacular week last time around - 11 winners. We didn't have any of the big upsets, but I'm okay with that. You can call me overly conservative if you want, but I don't think that there is a lot of upside in chasing major upsets in office pools. You look like a hero when you are right, but you'll be wrong more often than not, and a slow, steady winning rate is almost always more successful than a risky one over the course of a long season. Boring, but true.

Remember that the week gets started with three Thanksgiving games, so you really need to get your picks in early for your pool:

Green Bay at Detroit - I was impressed by the heart and moxie that Detroit showed to come back against Cleveland, but you can't take too much from it - it was just Cleveland. Matthew Stafford is questionable, and Green Bay is in a groove. Take the Packers.

Oakland at Dallas - The Raiders got a huge, unexpected win over the Bengals last week, but there were unique factors at play - a much overdue QB change, and an emotional ceremony during the game gave the team a boost. They aren't a good road team, they are entering a tough building, and they won't have those same boosts. Take the Cowboys.

N.Y. Giants at Denver - I don't trust the Giants right now, but I have no choice but to pick them here. The Broncos are in a freefall, they have injury issues, their defense is non-existent, and they are openly bickering. Ugly situation. Take the Giants.

Tampa Bay at Atlanta - The Falcons need a win as badly as any tam in the league - this has been one rough month for them. They will get it here. Tampa Bay has looked okay, and Josh Freeman clearly has a future in the league, but they still don't have what it takes to compete against a good opponent on the road. Take the Falcons.

Miami at Buffalo - The Bills lost in their first outing with a new coach, but there was a lot to like - especially the first good game by Terrell Owens for the Bills. They will be tough here, but Miami is a tough, determined team playing some good football right now. The Dolphins need to keep winning to keep slim playoff hopes alive. Take the Dolphins.

Cleveland at Cincinnati - I didn't think it was possible for Cincinnati to lose at Oakland given how both teams were playing. I was wrong. I know it's not possible for Cincinnati to lose to Cleveland at home. I'll be right. Take the Bengals.

Indianapolis at Houston - I picked an upset in the Colts game last week and I was almost right. I'd love to do it again here, but I just can't. Houston is a decent team, but they aren't nearly as good as they should be, and I'm not convinced that they have the toughness required to beat Indianapolis. Take the Colts.

Carolina at N.Y. Jets - If there was a none of the above option I would take it here. Neither team is playing particularly well. I lean towards the visitors, though not enthusiastically, because they are getting much better quarterback play. Take the Panthers.

Washington at Philadelphia - The Redskins have played surprisingly well the last couple of weeks, but they still don't have an offense to speak of. Philadelphia is deadly when they can get rolling, and there is a good chance that they will be able to do so at home this week. Take the Eagles.

Seattle at St. Louis - This is a really, really bad game. Seattle has been truly horrible the last couple of weeks, and seem to have quit. St. Louis has been playing better recently, but Marc Bulger is out. It's a coin flip. I'll take the Rams because they are at home.

Kansas City at San Diego - The Chiefs have won two in a row. Impressive, but it won't last here. San Diego is clearly the better team - by a factor of ten. They are tough at home, they are playing ruthless football right now, and they won't lose this one. Take the Chargers.

Jacksonville at San Francisco - I am torn in this one because I am kind of fond of both of these teams. San Francisco is better than their record, but Jacksonville is playing very well recently, and will be tough for the Niners to handle. I can really see this one going either way. In the end I'll take the Niners because they are at home, and homefield advantage may be all that separates them here.

Arizona at Tennessee - It's tough to pick this one until we know for sure if Kurt Warner is healthy. If he isn't then Tennessee has a great chance because Matt Leinart just isn't good. If he does then it s a tougher call. Both teams are on streaks. I'll lean towards the Titans because of their running game, their confident swagger, and the home field. The Titans also need this one way more than Arizona does.

Chicago at Minnesota - Minnesota is a ruthless football machine right now. They really couldn't be playing any better. Chicago has problems galore on both sides of the ball and speculation is already rampant about who their coach will be next year. This should have been a classic showdown, but I expect it to be one-sided. Take the Vikings.

Pittsburgh at Baltimore - This one is almost a playoff game because a loss would be a major blow to the playoff chances of either team. The Steelers are probably the better team, but they have been mystifyingly bad the last couple of weeks, and now Big Ben is hurting. Take the Ravens.

New England at New Orleans - This is the best game of the season so far, but you never would have guessed that at the start of the season. This is a test of how good the Saints are - this is their best opponent to date, and we know how the Pats stacked up to that other undefeated team two weeks ago. I expect a battle, and I'll take Cinderella. Take the Saints.
---
Most Recent NFL Office Pool Picks