NFL Office Pool Picks - Week 14
by Trevor Whenham - 12/8/2009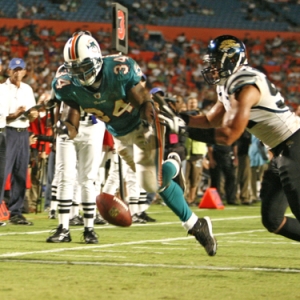 Sometimes it's like you know what is going to happen before it happens - like your making picks after practically knowing what is going to happen. Last week was definitely not one of those weeks. It wasn't a total disaster, but there were more than a couple unexpected results that I didn't see coming. We're going to do better this week - saying it makes it so.

Pittsburgh at Cleveland - Pittsburgh is a badly broken team - they have lost four in a row, they are bickering openly, and their consistently strong defense is suddenly incompetent. There aren't many teams that could make them look good in comparison. Luckily, the Browns are one of those teams. Pittsburgh has lost to some teams that they had no business losing to - most notably Oakland last week - but it's hard to imagine them losing here. Take the Steelers.

New Orleans at Atlanta - New Orleans earned one of the craziest wins of the year last week to remain undefeated. Atlanta played the most pathetic game any team has played all year - they had lots of excuses to quit, and they used every one of them. Atlanta has injury issues, and their season is getting away from them. New Orleans wants to finish out this season is style. Take the Saints.

Detroit at Baltimore - The Ravens had an ugly loss on Monday Night Football that probably knocks them out of playoff contention. They have all sorts of problems, but they are nothing compared to those that Detroit has - at least Baltimore has some talent. It's hard to trust the Ravens very much, but this one is a mismatch on paper. Take the Ravens.

Green Bay at Chicago - It took the Packers a while to get rolling on Monday night, but when they dd they looked pretty darned good. Chicago got just their second win in their last eight last week, but it hardly counts since it was against St. Louis. The Bears have a whole host of problems, and Green Bay is certainly playing well enough to exploit those issues. Take the Packers.

Seattle at Houston - Both of these teams have the same record, but I find it hard to give them the same amount of respect. Seattle is a troubled team that isn't in a position to give a consistent effort. The Texans are frustratingly inconsistent, but unlike Seattle they are better than their record this year. Take the Texans.

Denver at Indianapolis - This is the biggest obstacle remaining for the Colts this year. Denver is playing very well since recovering from their fall from grace. If this game was being played in Denver then I would be very tempted to go for the upset. In Indy, though, the Colts just have too much of an advantage. Denver could win, but I won't bet on it. Take the Colts.

Miami at Jacksonville - I like both of these teams. They are both coming off nice wins last week, and they are both tough and feisty. They both need a win here in a big way to keep their chances alive and well. Since Jacksonville is slightly more rounded and are at home I have to lean towards them. Take the Jaguars.

Buffalo at Kansas City - Buffalo has just one win in their last five, and have troubles on both sides of the ball. I think that they can certainly do enough to win here, though. Kansas City has had two horrific offensive performances in a row, and there are no signs of improvement on that front until they get a whole lot of new personnel. Take the Bills.

Cincinnati at Minnesota - Thanks to Minnesota's unexpected loss last week this is a huge game all of a sudden. It has serious implications for home field advantage - if Cincinnati wins the teams will be tied and the Bengals would have the tiebreaker. Minnesota looked lousy on Sunday, but they are better than that and I expect them to bounce back at home. Take the Vikings.

Carolina at New England - The Patriots have proven to be a ridiculously bad road team this year, so luckily they are at home this week. Carolina beat Tampa Bay last week, but they have struggled against better competition recently, and they weren't as strong against the Bucs as they should be. Take the Patriots.

NY Jets at Tampa Bay - Thinking about this game just makes my head hurt. The Jets are probably the better team, but they are inconsistent and now we have no way of really knowing how healthy Mark Sanchez is going to be, or even if he will be able to play. Tampa Bay is healthier, but they are also the lesser team. I feel like I have to take New York, but I am not in love with that. Take the Jets.

St. Louis at Tennessee - The Titans came crashing back to earth last week - no matter how good they are playing right now they just aren't good enough to match the Colts right now. They aren't dead yet, though, and there is no reason to think that they can't bounce back strong here when they are at home against a weak team. Take the Titans.

Washington at Oakland - I have trouble with both of these teams. They both have the ability to rise up and play well, but only when I have written them off. Someone has to win this one, though. My guess is that the Redskins will be totally demoralized by their loss to the Saints, while the Raiders will be riding high after the way they finished against Pittsburgh. Take the Raiders.

San Diego at Dallas - Dallas should be a real contender, but after the way they failed to show up against the Giants last week I can't trust them. The Chargers are playing as well as any team in the country right now, and just have to many ways to beat the Cowboys. Dallas should be able to win this one based on their talent, but they won't because of how they are executing - or failing to do so consistently. Take the Chargers.

Philadelphia at NY Giants - The Giants beat the Cowboys, but up to that point they had been struggling. The Eagles, on the other hand, are playing extremely well right now. They have confidence, they are offensively explosive, and their defense is more than sound. This is a huge divisional contest, and I like the road team. Take the Eagles.

Arizona at San Francisco - A couple of weeks ago I thought that this one was going to be a battle for the division. Since then, the Cardinals dismantled the potent Vikings, while San Francisco has been decent but not quite good enough. It's all but over in the NFC West, so this is a question of motivation, and Arizona has much more to play for. Take the Cardinals.
---
Most Recent NFL Office Pool Picks