NFL Office Pool Picks - Week 6
by Trevor Whenham - 10/14/2009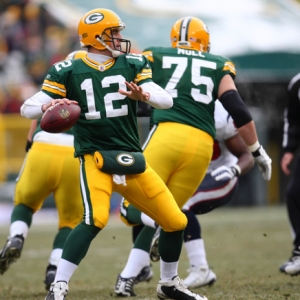 It was a solid week last week as we tried to pick the straight-up winners of all 14 games. Let's see if we can do even better this week:

Houston at Cincinnati - I still am not entirely convinced that the Bengals are a team built for the long haul. They've been too disappointing for too long to have suddenly figured things out. That being said, this is a good spot for them. Houston is inconsistent, doesn't excel on the road, and is coming off a tough loss. Take the Bengals.

Detroit at Green Bay - There are a lot of things I don't like about the Packers. They are coming off of a bye week, though, and they are at home, so they should be well prepared for this one. The Lions are playing reasonably well, but they don't yet have the polish or the stamina to win consistently. Take the Packers.

Baltimore at Minnesota - The Vikings are one of the big stories of the year led by Brett Favre. They haven't played the toughest schedule in the league by any means, though, so this game represents their biggest test yet. I'm not totally sure they are up for it. Baltimore needs to bounce back, so they will be well motivated here. Take the Ravens.

New York Giants at New Orleans - There will be one less unbeaten team after this one. I think that will be the Giants. New Orleans has had a bye week to prepare for this one, they have more depth on offense than we are used to, and they are surprisingly solid on defense. This will be a tight matchup, but I think that home field will be ultimate decider. Take the Saints.

Cleveland at Pittsburgh - Injuries and inconsistency have the Steelers looking very little like the defending Super Bowl champs that they are. That won't be an issue here, though. The Browns are the biggest joke of a franchise outside of Oakland, and they have more problems than an army of mathematicians could count. This game won't be close. Take the Steelers.

Carolina at Tampa Bay - These are two flawed teams. It's a matter of determining which one is less flawed. For a wide range of reasons - QB experience, offensive depth, defensive talent, coaching, and so on - I think that that is the Panthers. Neither team is anything close to a playoff team, but Carolina is the team that should be better. Take the Panthers.

Kansas City at Washington - The Chiefs came close to a win last week against Dallas, but they couldn't close. I can see the team progressing and maturing. The Redskins, on the other hand, are just a mess. In a battle of two flawed teams I have to pick the one with more hope. That is Kansas City. It also doesn't hurt that they have the better QB. Take the Chiefs.

St. Louis at Jacksonville - The Rams have yet to play an even remotely good game, but they haven't played as badly as the Jaguars did last week against Seattle. The difference between the teams is that we know the Jags can play better, but we can be reasonably confident that the Rams can't at this point. Take the Jaguars.

Arizona at Seattle - This is a crucial divisional contest. Arizona comes off a character building win, while Seattle is fresh from a dominating one. Matt Hasselbeck will be back under center again in this one, and will bring the incredible confidence to the team that his presence brings. That, along with the home field advantage and Arizona's total inability to stop the pass, should be enough for Seattle. Take the Seahawks.

Philadelphia at Oakland - This one isn't a challenge. The Eagles have a solid defense and a strong, potentially explosive offense. The Raiders don't have either, and they are in complete disarray right now. This one really shouldn't be close. Take the Eagles.

Tennessee at New England - The Patriots are coming off of a tough loss to Denver, and they'll be very frustrated as a result. A visit by the Titans are a good way to ease those frustrations. Tennessee is not playing anything close to good football right now, and are going to be outmatched. Take the Patriots.

Buffalo at N.Y. Jets - The Jets have lost a couple of tough games, but there has been things to like in both losses, and they are clearly learning from it. The Bills are an absolute mess - they lost to a QB who completed two of 17 passes last week. Their coaching is lousy, their morale is non-existent, and there is little hope. Take the Jets.

Chicago at Atlanta - These two teams are reasonably well matched. The difference is that the Falcons are coming off by far their best performance of the year. That confidence along with the home town crowd should be enough for them to give Jay Cutler his second loss in Chicago. Take the Falcons.

Denver at San Diego - I think that the Broncos are for real. They play competent offense that minimizes mistakes, and they are strong defensively. They are coming off a very emotional win against New England, though, and could be poised for a letdown. San Diego badly needs this win, and they will be very ready. Take the Chargers.