NFL Office Pool Picks - Week 9
by Trevor Whenham - 11/3/2009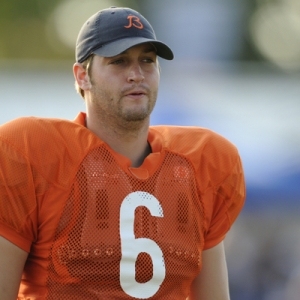 We're still holding out for the big score - a week so good that people will be talking about it for years to come. Maybe this is the week that we come close to sweeping the NFL games straight up:

Washington at Atlanta - The Falcons are on a bit of a slide, and Matt Ryan isn't looking particularly good right now. That's a concern. Or at least it would be if they were playing a real team. Washington is coming off a bye week, but I'm not convinced that they could fix what is ailing them if they had a month off. Atlanta needs a boost of confidence, so this home game comes at just the right time. Take the Falcons.

Arizona at Chicago - I really don't trust either team here right now. The Cards were looking so good before a disastrous game last weekend. The Bears won last week, but weren't looking very good before that, and even in winning Jay Cutler didn't look fantastic. Someone has to win, though, and my guess is that it will be Arizona - their defense can confuse Cutler. Take the Cardinals.

Baltimore at Cincinnati - I have been burned by picking against the Bengals before, but I'm not choosing to learn from that. The Ravens were totally brilliant in their win over Denver, and I tend to believe that that's a better reflection of their capabilities than the three earlier close losses were. I think they're among the very best teams in the league. Take the Ravens.

Houston at Indianapolis - The Texans are off to the best start in the history of their franchise, but they still aren't the most consistent team out there. The Colts are obviously more consistent - they haven't lost - and they are tough at home. The Texans should put up a good fight, but they don't have enough here. Take the Colts.

Kansas City at Jacksonville - I keep thinking that Jacksonville is going to play well, and they keep frustrating me. No more, I tell you. I'm still going to pick them, but I don't think they'll frustrate here - the Chiefs just aren't good enough at this point to win another road game. Take the Jaguars.

Green Bay at Tampa Bay - When the Packers played their showdown game against Favre and the Vikings we learned that they have a whole lot of problems. They can't protect their quarterback, their secondary is questionable, and so on. Thankfully, none of that should matter as they play the last winless team in the league and a new quarterback who likely isn't ready for prime time. Take the Packers.

Miami at New England - I'm impressed by the Dolphins the last few weeks, but I don't think that they are a playoff team. The Patriots obviously are, and they are playing good football right now. They are coming off a bye week, and that means that they will be very prepared and rested for this game. They don't need that rest to win. Take the Patriots.

Carolina at New Orleans - The Panthers were surprisingly good at Arizona last week. I don't think that they are capable of sustaining it, though, and they are facing a real step up in class with the Saints. New Orleans doesn't always make it easy, but they always find a way to win this year, and they certainly should be able to find a way here. Take the Saints.

Detroit at Seattle - Wow, do I ever hate this game. Nether team is any good, and you never really know what you are going to get from either one. The Seahawks are lousy in so many ways, but Detroit just lost at home to the Rams, so I sure can't pick them. By default, then, take the Seahawks.

San Diego at New York Giants - I don't like a lot about the Chargers right now - they are among the biggest underachievers in the league. I still have to go with them here, though. The Giants are reeling after three losses in a row, and Eli Manning is playing some really lousy football. If the Chargers are even remotely ready to play then they can exploit the Giants' problems. Take the Chargers.

Tennessee at San Francisco - I was pretty impressed by the way the Titans played last week to earn their first win. This is a much tougher spot than Jacksonville, though. San Francisco is far too good to be a 3-4 team, and they have to be frustrated by that. This is a good place for them to work out some of that frustration. Take the Niners.

Dallas at Philadelphia - Here are two more teams that I really don't like to trust. They are both coming off nice wins, though, and seem to have a little bit of momentum. I'm nervous every time I back Donovan McNabb, so I guess it will be a nervous Sunday. The home field is an edge, and the Eagles defense might finally be the one to contain Miles Austin. Take the Eagles.

Pittsburgh at Denver - After a big start the Broncos came crashing back to earth against the Ravens last week. I have a lot of respect for this team, and I expect them to not only be a playoff team but a tough one. That being said, I think they'll take a second loss here. The Steelers are more experienced, and they have finally found their stride after a rough start. Take the Steelers.

---
Most Recent NFL Office Pool Picks