Remember Me? Old NFL Faces Get New Start
by Nicholas Tolomeo - 11/5/2009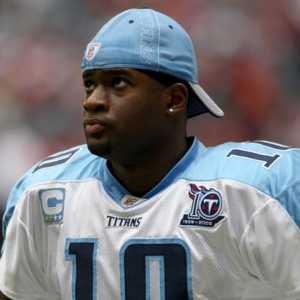 Alex Smith, Ryan Moats and Vince Young. The group includes a former No. 1 overall pick in the 2005 NFL Draft, the third overall pick in the 2006 draft and a third round pick in 2005. All three NFL players were all but forgotten about just a few weeks ago. Each has endured a rollercoaster ride during the early part of their career. And now last week all three impacted their respective games greatly.
First it was Smith replacing Shaun Hill under center for the 49ers two weeks ago. Against the Texans the 49ers were trailing 21-0 at halftime but Smith led a furious San Francisco rally, tossing three touchdown scores, and bailing out San Francisco backers with a push as the three-point underdog 49ers lost 24-21.
This past week he avoided the big mistakes and kept things close against the Colts as two-touchdown underdogs. The 49ers actually led 14-9 at halftime before bowing to the Indianapolis, 18-14, but 49er backers never had to worry as the point spread was hardly in doubt.
In Buffalo, the Texans coaching staff had a quick leash on Steve Slaton after his latest fumble. In came Ryan Moats and he helped lead Houston back from a 7-0 deficit to a 31-10 thrashing of the home-standing Bills. Moats rambled for three scores and 126 yards and became an overnight fantasy football sensation.
The higher ups in Tennessee wanted to see their former franchise quarterback Vince Young under center after the season seemed as if it was all but lost after an 0-6 start. Young helped lead the Titans to their first win of the season and an easy cover with a 30-13 win.
Smith and Young have already been deemed busts. Moats has been cut twice already in his career, by the Eagles and Cardinals, and has spent time on two practice squads. Yet the three of them played arguably some of the biggest roles on Sunday.
Moving forward these players will be given the opportunity to continue to help their teams. Starting with the running back, Moats will have the least statistical impact as the Texans are not about to give up on their investment in Steve Slaton because of a couple fumbles. The addition of Moats does give Houston a much more formidable rushing attack than it did two weeks ago. Fantasy owners do not want to hear it, but a running back by committee is what is best for Houston moving forward. With Slaton, Moats and the change-of-pace back Chris Brown, Houston has perhaps the most versatile and capable running back trio in the NFL.
That trio could be in for a big day this Sunday at Indianapolis as they try to match what the 49ers did this past week, and keep things close with the undefeated Colts. The Colts defense ranks ninth in the NFL but its rushing defense has yielded an average of 112 yards per game, 17th in the league. The Colts also rank dead last in the league in offensive rushing. If Houston can turn this into a possession, smash-mouth game, a cover as 9.5-point underdogs looks too easy.
The next game is a little trickier. I want to say I like both Smith and Young to recapture some of the glory that made them highly-regarded collegiate prospects. However, unfortunately, their paths cross on Sunday at 4:15 Eastern Time in San Francisco.
The 49ers (3-4 SU, 5-1-1 ATS) are favored by four points over the Titans (1-6 SU, 2-5 ATS). Young will have the greater impact on this game. He completed 83 percent of his passes last week (15-of-18) against Jacksonville for 125 yards and a touchdown and ran for another 30 yards. He made no mistakes in the game. Smith, on the other hand, only completed 59 percent of his passes and was sacked four times and threw an interception.
However, that was against a far superior opponent in the Colts. And even with the better play of Vince Young in this game, the 49ers were winning games and covering spreads before a quarterback switch. There were 21 other players on the field that have been a part of a mostly successful season so far. If not for a desperation Brett Favre heave in the waning seconds, the 49ers could be in a completely different position right now. Smith has proven to be more than capable in replacing Hill and he has the vote of confidence from his coordinators and Mike Singletary. Over the course of the season Smith and Young will give a boost to their respective teams in the win column and in sending their backers to the pay window. But for this week the advantage goes to Smith and San Francisco.