NFL Injury Situations for Week 1
by Trevor Whenham - 9/1/2009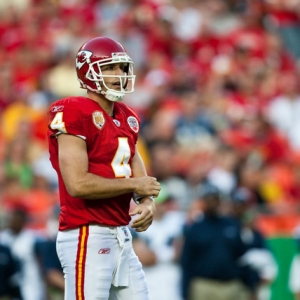 As we head into the NFL regular season, it's a good time to remind ourselves of the importance of injuries to our NFL handicapping. A key injury can turn a good bet into a bad one if it changes the complexion of the team, or it can make a good bet a great one if the public overcompensates for the injury and moves the betting lines in your favor. Here's a look at ten key injury situations that we will likely have to consider in the first week of the NFL season:

Denver QBs - This could be a real mess. Presumed starter Kyle Orton has a cut on a finger on his throwing hand. That seemingly simple injury can grow into a real problem, and it will at the very least limit his practice time - something he clearly needs a lot of - before the first game. Their veteran backup option is Chris Simms, but shockingly that oft-injured QB is also injured. He has a high ankle sprain that could keep him out for as much as the first few weeks of the regular season. That leaves a couple of ugly options - Tom Brandstater and the newly signed Ingle Martin. Needless to say, this is a situation to keep an eye on.

Matt Cassel - Cassel left his last game very early on with a strained MCL. He hadn't exactly looked like the second coming of Joe Montana in his time at the helm in Kansas City, so he can scarcely spare the time. The team is indicating that he could be back for the season opener, but that reeks of optimism. Even if he is back then he'll still face an uphill battle because head coach Todd Haley just fired offensive coordinator Chan Gailey and took over the play calling himself. That means that Cassel would have to step into an unfamiliar offense. The potential saving grace here is that the two backups - Tyler Thigpen and Brodie Croyle - have looked at least as good as Cassel in the preseason.

Tom Brady - Bill Belichick insists that Tom Brady's shoulder is not going to be a problem despite the monster hit he took from Albert Haynesworth. Unfortunately for us, the next time Belichick is honest and forthright about an injury situation will be the first. We won't know for sure what Brady's status is until we next see him on the field. That's particularly scary because his backup situation isn't good - especially now that Kevin O'Connell has been cut. O'Connell was no superstar, but he was the only QB option beyond Brady with any experience with the system.

Terrell Owens - This is one that is going to get far more attention than it deserves. Owens has missed much of the preseason with a toe injury. I am no doctor, but a quick glance at the player and the situation allows me to confidently diagnose it as not-wanting-to-practice-in-August-itis. I suspect he'll be just fine when the season rolls around. More significantly, I'm not sure that his presence will make any difference given how truly pathetic Buffalo's offense has been in the preseason.

Jabar Gaffney - Brandon Marshall is being an idiot, and now Gaffney has a broken thumb that will cost him to miss several games. That leaves Denver's likely receiving options at Eddie Royal followed by, well, not much. As if their QB problems weren't enough, now they are lacking targets for whoever starts that first game. Denver probably wasn't that attractive to begin with, but this sure won't help.

Bob Sanders - After essentially a lost season last year, Sanders look like he could start the season on the Physically Unable to Perform list thanks to ongoing knee issues. On a practical level this shouldn't impact the Colts much - they got used to being without him last year. Where it could have an impact, though, is with the public. John Madden and others have talked relentlessly about how good Sanders is and how crucial he is to the Colts on defense. The public could see his injury and overreact to it - especially since there are reasons with the coaching staff and the offense to already be a bit nervous about Indy.

Greg Jennings - Needless to say, Jennings is a great receiver and a very big part of the Packers' offense. He suffered a concussion in preseason action, and will be held out of the rest of the preseason. He's reportedly going to be fine for the start of the regular season, but anyone who watches sports knows that concussions have a nasty way of lingering and causing problems for longer than you think they should. Aaron Rodgers developed very strong chemistry with Jennings last year, so his status is worth noting.

Knowshon Moreno - Like the Broncos haven't been picked on enough in this list. They spent their 12th overall pick on Moreno, and have yet to see him on the field in any meaningful way thanks to a sprained knee. He and LaMont Jordan were looked at to be the core of the running attack, but Jordan has missed much of the preseason as well. Are you getting the idea yet that the Broncos might not exactly fly out of the gate offensively?

Beanie Wells - The Cardinals drafted Wells as they looked to upgrade their disappointing running game from last year. They don't yet know if that gamble has paid off - Wells has yet to see any game action thanks to injuries. Wells may see some playing time in the final preseason game, but it's hard to know if that will be enough to get the notoriously fragile runner up to game speed. If not that leaves the responsibility on Tim Hightower, a guy who has developed far more of a reputation that I think he deserves.

Carlos Rogers - The Washington cornerback has already missed one preseason game and it looks like he will miss another one. This isn't a huge blow because the Redskins have enviable depth at the corner. Still, Rogers is at least their second best cover man, and he is definitely a player who plays better when he is confident, so lost time and lingering injury concerns could be a problem on that front. Washington has shown in the preseason that they have more than enough problems, so the last thing they need s to have to worry about the secondary - one of their few positions of confidence.