NFL Handicapping: Time to Jump Ship on Vikings?
by Trevor Whenham - 12/23/2009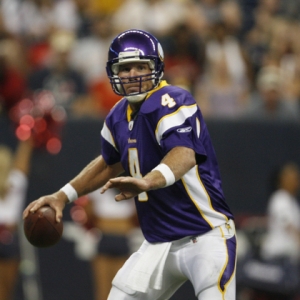 The honeymoon appears to be over in Minnesota. After Week 12 of the season Minnesota was at 10-1, there was talk of them possibly catching the Saints and earning the top seed throughout the playoffs, and Brett Favre was a legitimate MVP candidate. Now they have lost two of their last three, the offense is struggling, and their bickering has hit the front pages. Things aren't completely dire - they are still in the driver's seat to secure a first round bye and at least one home playoff game. If they don't get their act together quickly, though, then one playoff game is all that they will get. Here's a look at the issues facing the Vikings, and their chances of turning it around.

Brett Favre - Needless to say, the world's biggest ego is at the center of the discussion of this team. When we heard that Favre was joining the Vikings this year we knew it wasn't going to be a simple, straightforward situation. That has turned out to be true. The plus sides are unquestionable. Favre jumped out of the gate, and had the offense clicking at an unexpected level. He brought a confidence and swagger to the team and had them operating at a level that it's hard to believe that one of the other quarterbacks with the team would have achieved. He also got a win or two with late heroics that Jackson or Rosenfels likely wouldn't have. Favre knows the offense that Minnesota runs as well as anyone, and he calls audibles brilliantly. For much of this year he has combined those skills with an unexpected willingness to take the cautious, intelligent play instead of the high risk one, and that has paid off.

The audibles that Favre calls so well are seemingly a big part of the problem right now. Coach Brad Childress has control issues like every coach in the world, and one of the ways he manifests that is by limiting the number of audibles he likes his QB to call. Reports this week have indicated that Childress bristles when Favre calls an audible regardless of how well it turns out. Favre has played in the league for 19 years, and obviously has little interest in people telling him what to do. Favre is also reportedly upset that Childress doesn't make him a big part of game planning during the week leading up to the game. You might point out that Childress is the one who campaigned to bring Favre in in the first place so he really should have know what he was getting into. You'd be right, of course, but the fact remains that this is a situation that needs to be remedied in a hurry if this team really wants to do anything in the postseason. One of them needs to put their ego aside for the sake of the team, and it's pretty obvious that that isn't going to be Favre.

Beyond the personality issues, there is the question of Favre's health. After a solid start for the Jets last year Favre faded badly down the stretch as his body fell apart, so you can't help but wonder if the same thing is happening to some extent as he has struggled in two of the last three games. We'll never know for sure, but it's hard to believe that a 40-year-old QB who hasn't had a game off in decades is still in peak shape.

Offensive line - The offensive line is struggling, and that has effects that ripple through the team. The biggest single issue lately has been left tackle Bryant McKinnie. He was turned into a turnstile by Julius Peppers, and the consistently good tackle has suddenly struggled against good teams this year. It's no coincidence that McKinnie has played his three worst games in the games the team has lost. He was so bad against the Panthers that he was benched. A struggle at left tackle impacts the rest of the line, makes it more difficult to establish the run, and forces Favre to work out of his comfort zone as he is always getting rushed - and that's bad news for a pure pocket passer. McKinnie has the skill to perform at a much higher level, but something is wrong, and that's a concern for this team. Things like this usually aren't a quick fix, and it's an ominous issue for this team

The schedule - A quick look at the team's schedule brings out an obvious problem - this is not a road team. They have played away from the cozy confines of their ugly dome seven times so far this year, and they have lost three of those games. To make it even worse, three of those wins have come at Cleveland, Detroit, and St. Louis, so they hardly count. The only quality road win this team has had is at Green Bay. If the Vikings were to win a playoff game it seems likely now that they would be headed to New Orleans for the NFC Championship. Their inability to travel makes that a scary prospect.