2010 Arizona Cardinals Strength of Schedule, Futures Odds and Predictions
by Alan Matthews - 7/16/2010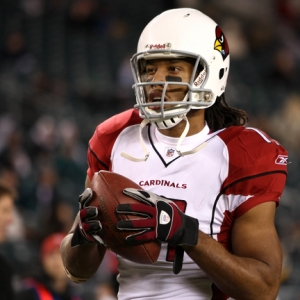 The Arizona Cardinals, and in particular Kurt Warner, have been a nice story the past two seasons. Of course, in 2008 Warner led the Cards to their first Super Bowl and just one Santonio Holmes catch from one of the great Super Bowl upsets.
Last year, Warner was again tremendous, throwing for 3,753 yards and 26 touchdowns as the Cards won the NFC West for the second year in a row. His effort in the wild-card round against the Green Bay Packers was one for the ages. Warner threw for 379 yards and five touchdowns – with just four incompletions and no picks – in the 51-45 shootout win over the Packers. It looked like Warner could play for a few more seasons at least.
Then came the divisional round game against the Saints, and Warner was absolutely destroyed on a hit in that one – a hit so hard it likely was the final straw for him to choose to retire soon after the loss. So the 2010 Cardinals will be without their best offensive player from last year. And they will also be without their best defensive player as well. Linebacker Karlos Dansby, who scored the winning touchdown on a fumble return in the playoff game against Green Bay, is now a Miami Dolphin. And stud safety Antrel Rolle was let go in a salary cap move.
So it sure appears at first glance that Arizona will be taking a step back this year. I haven't even mentioned the fact that No. 2 WR Anquan Boldin is now a Raven, but it seems like he might be replaceable with Steve Breaston. Arizona brought in former Browns QB Derek Anderson to compete with Matt Leinart, but the QB job is Leinart's to lose. If he can't do something this year, the former Heisman Trophy winner probably has to officially be classified as a bust. Certainly the team won't average 605 pass attempts as it did under Warner, so look for more of Tim Hightower and Beanie Wells on the ground.
BetUS lists Arizona's NFL season wins total at 7.5 and its odds to win another division title at +250. What can we expect? Let's take a look at the 2010 Arizona Cardinals schedule (all times Eastern):
Week 1: Sunday, Sep. 12, at St. Louis, 4:15 PM
Week 2: Sunday, Sep. 19, at Atlanta, 1:00 PM
Week 3: Sunday, Sep. 26, Oakland, 4:15 PM
Week 4: Sunday, Oct. 3, at San Diego, 4:15 PM
Week 5: Sunday, Oct. 10, New Orleans, 4:05 PM
Week 6: BYE
Week 7: Sunday, Oct. 24, at Seattle, 4:05 PM
Week 8: Sunday, Oct. 31, Tampa Bay, 4:15 PM
Week 9: Sunday, Nov. 7, at Minnesota, 1:00 PM
Week 10: Sunday, Nov. 14, Seattle, 4:15 PM
Week 11: Sunday, Nov. 21, at Kansas City, 1:00 PM
Week 12: Monday, Nov. 29, San Francisco, 8:30 PM
Week 13: Sunday, Dec. 5, St. Louis, 4:15 PM
Week 14: Sunday, Dec. 12, Denver, 4:15 PM
Week 15: Sunday, Dec. 19, at Carolina, 1:00 PM
Week 16: Saturday, Dec. 25, Dallas, 7:30 PM
Week 17: Sunday, Jan. 2, at San Francisco, 4:15 PM
The good news is that Arizona's strength of schedule ranks dead last in terms of 2009 opponents' winning percentage (114-142, .445). But don't read too much into that considering four of the five easiest NFL schedules belong to NFC West teams – the division is that bad. Only four Arizona opponents made the playoffs last year.
At least Leinart gets a piece of cake opener against the Rams, who haven't won a home game since Week 7 of the 2008 season. That could be an all-Heisman matchup against St. Louis rookie QB Sam Bradford. The Cardinals will play three of their first four games on the road, but five of their last eight will be at home. The last time they opened the season with three of their first four games on the road was their 2008 Super Bowl season. Last year, the Cardinals had the franchise's most wins on the road– six – since 1963.
Expect Arizona to be 2-3 heading into the bye week. Not one opponent has a bye the week before playing the Cardinals this year, which is odd. There is really no reason that Arizona can't win every home game after the bye except for probably Dallas and maybe the 49ers, who swept the Cards last year. The Cardinals' home game on Christmas night is the first time they've played on Christmas since 1995. That Monday nighter with the Niners is the fourth year in a row the two teams have met on MNF.
Arizona should be a dog in every road game after the bye except maybe at Kansas City. But that's likely to be a cold-weather game, which should be a big Chiefs advantage. This smells like a 7-9 team to me, so take the under on BetUS and expect San Francisco to win the NFC West this year (check back soon for a San Francisco 49ers schedule story).
Doc's Sports went 7-1 for member's picks in the 2009 NFL Preseason and we are very excited about the 2010 slate of exhibition games. Our picks for the entire NFL Preseason are just $49. Also, our Early Bird Special for the NFL full season is just $695 and that will get you all the picks from the first kick in preseason to the final buzzer of the Super Bowl (normal price will be $950). Click Here for more information about football picks and Click Here for prices and packages.