2010 Baltimore Ravens Strength of Schedule, Futures Odds and Predictions
by Alan Matthews - 7/24/2010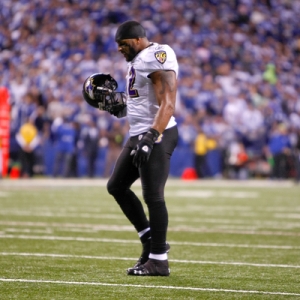 The Baltimore Ravens went into the regular-season finale in 2008 needing a win to reach the playoffs and last season was no different as an 8-7 Ravens team went to Oakland knowing a loss would keep them at home. But being as it was the Raiders, Baltimore had little trouble in a 21-13 victory that got it a Wild-Card round matchup with New England.
And the Ravens then laid a 33-14 beat down on a Pats team that had been unbeaten at home in the regular season. Baltimore also snapped the Patriots' home playoff win streak at 11 games, handing New England its first home playoff loss since 1978. The Ravens did this despite Joe Flacco going 4-for-10 for 34 yards and a pick.
While Flacco was lousy in that game and then the following week in a loss to the Colts, he was very good during the season with 3,613 yards passing on 63.1 percent completions with 21 touchdowns and 12 picks. Pretty much all his numbers were up from his rookie year despite the lack of a true No. 1 receiver. The real star of Baltimore's offense last year and one of the NFL's breakout players was running back Ray Rice. The former Rutgers star joined Jamal Lewis as the only Ravens player in team history to have more than 2,000 yards from scrimmage. Rice rushed for 1,339 yards and caught 78 passes for 702 yards. But other than Flacco, Rice and to some degree Derrick Mason (73 catches, 1,028 yards, seven TDs) the Baltimore offense lacked playmakers.
Baltimore thinks it solved that problem with the offseason trade for Arizona WR Anquan Boldin and the signing of Donte Stallworth, who sat last season out due to suspension. Boldin should give the team the No. 1 threat it has lacked for years, but this still will be a running team.
The Ravens remain among the league's best defensive teams, ranking third overall last year and fifth against the rush. They have one of the best players in the league on the defensive line (Haloti Ngata), at linebacker (the ageless Ray Lewis), and in the secondary (Ed Reed). The only concern for this unit is whether Reed will miss the first six weeks, as he has hinted he may go on the PUP list as he recovers from offseason hip surgery. Certainly that would hurt this unit.
WagerWeb lists Baltimore's 2010 wins total at 9.5 and the Ravens as the AFC North favorites at -160. Let's see how the 2010 Baltimore Ravens schedule breaks down:
Week 1: Monday, Sep. 13, at NY Jets, 7:00 PM
Week 2: Sunday, Sep. 19, at Cincinnati, 1:00 PM
Week 3: Sunday, Sep. 26, Cleveland, 1:00 PM
Week 4: Sunday, Oct. 3, at Pittsburgh, 1:00 PM
Week 5: Sunday, Oct. 10, Denver, 1:00 PM
Week 6: Sunday, Oct. 17, at New England, 1:00 PM
Week 7: Sunday, Oct. 24, Buffalo, 1:00 PM
Week 8: BYE
Week 9: Sunday, Nov. 7, Miami, 1:00 PM
Week 10: Thursday, Nov. 11, at Atlanta, 8:20 PM
Week 11: Sunday, Nov. 21, at Carolina, 1:00 PM
Week 12: Sunday, Nov. 28, Tampa Bay, 1:00 PM
Week 13: Sunday, Dec. 5, Pittsburgh, 8:20 PM
Week 14: Monday, Dec. 13, at Houston, 8:30 PM
Week 15: Sunday, Dec. 19, New Orleans, 1:00 PM
Week 16: Sunday, Dec. 26, at Cleveland, 1:00 PM
Week 17: Sunday, Jan. 2, Cincinnati, 1:00 PM
This schedule is ranked as the 12th toughest in the NFL, with an opponents' 2009 winning percentage of .508 (130-126). The Ravens don't have to worry much about travel, with 15 of their 16 regular-season games in the Eastern Time Zone for only the second time in team history. And there are no West Coast trips, which is always a benefit.
If Baltimore can get to the bye week above .500 that would be a major accomplishment and set this team up nicely for an easier schedule post-bye. Four of the Ravens' first six games are on the road, including the first Monday night game (against the Jets) at the new Giants Stadium. That's the first time the Ravens will face former defensive coordinator Rex Ryan, New York's head coach. That game should be a bruising, low-scoring affair. The Jets have opened as three-point favorites. Then Baltimore gets a chance for revenge against a Bengals team that swept the Ravens last year, allowing Baltimore a total of just 21 points. Of course a former Ravens defensive coordinator also coaches Cincy: Marvin Lewis. It's the first time in franchise history that Baltimore opens with two road games – a split would be a great result.
The Ravens should handle Cleveland and then catch a huge break that they play Pittsburgh in Week 4 and not Week 5 because most expect that Steelers QB Ben Roethlisberger will be allowed back after four games. Thus a road win there could give Baltimore the early upper hand for the division. The Ravens will be solid favorites in home games against Denver and the Bills but a likely dog at a New England team that will be out for vengeance – if Pats WR Wes Welker goes on the PUP list, Baltimore would avoid him as it did in last year's playoff game.
Baltimore should beat Miami with a week off prior before facing three straight NFC South teams. That quick turnaround against the Falcons likely favors Atlanta because at least it's at home on the short week. And that tremendous Carolina ground game will challenge the Ravens. That game at Houston looks like a loss as Baltimore traditionally has not been a good team on Monday nights (5-8). The matchup against the Saints marks the fifth year in a row the Ravens face the reigning Super Bowl champions. That it's in the elements is a huge advantage for Baltimore. And really there's no reason the Ravens shouldn't win their final two games rather easily.
This looks like an 11-5 team to me and the AFC North champion. I hate to project much further, but the Ravens seem like excellent value to win the AFC at +600 as well as +1100 to win the Super Bowl. If everything breaks right and there are no major injuries (especially to Flacco, Boldin and if Reed gets 100 percent), there is no reason this team can't win it all.