2010 Dallas Cowboys Strength of Schedule, Futures Odds and Predictions
by Alan Matthews - 7/6/2010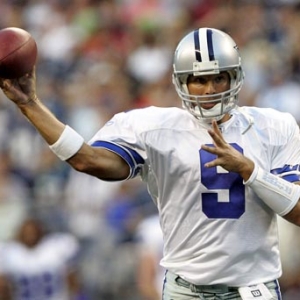 You think Dallas Cowboys owner Jerry Jones is, well, "jonesing" to see his club play in this winter's Super Bowl on the Cowboys' home field? Jones would like nothing more than to turn those two weeks before the big game into all things Dallas. No team in NFL history has hosted a Super Bowl it played in.
And it's certainly possible the Cowboys do get there, as they are +130 favorites on Bodog to win the NFC East, tied with the Minnesota Vikings at 6/1 as the second-favorites to win the NFC (behind the Saints) and 12/1 to win Super Bowl XLV.
Arguably no team has as good a collection of running backs as Dallas does with injury-prone Marion Barber, burner Felix Jones – who reportedly will get more touches this year and be the starter – and solid Tashard Choice. There had been talk one of those three might be traded this offseason but that never panned out. QB Tony Romo is only 30 and he finally got that playoff monkey off his back with the win over the Eagles on wild-card weekend last year (although he wasn't good against the Vikings the next week). The offensive line should be better with declining 35-year-old left tackle Flozell Adams gone and replaced by Doug Free. Jason Witten remains one of the league's top tight ends. So really the only question mark might be at receiver (and kicker). Is Miles Austin for real after a breakout 2009? Will Roy Williams ever live up to what the Cowboys gave up for him? Perhaps the steal of this last draft was Dallas landing Dez Bryant at No. 24 when he was considered a lock Top 10 pick. If Williams doesn't start performing, Bryant could start sooner than later.
The defense also should be very good, as the Cowboys have arguably the best duo of outside linebackers in the league in DeMarcus Ware and Anthony Spencer. Cornerbacks Terence Newman and Mike Jenkins are very good and the D-Line is solid at worst. This unit finished ninth in total defense last year and should be in that area again.
Can Dallas improve upon last year's 11-5 finish, NFC East title and one playoff win? Let's take a look.
Here is the 2010 Dallas Cowboys schedule (All times Eastern)
Week 1: Sunday, Sep. 12, at Washington, 8:20 PM
Week 2: Sunday, Sep. 19, Chicago, 1:00 PM
Week 3: Sunday, Sep. 26, at Houston, 1:00 PM
Week 4: BYE
Week 5: Sunday, Oct. 10, Tennessee, 4:15 PM
Week 6: Sunday, Oct. 17, at Minnesota, 4:15 PM
Week 7: Monday, Oct. 25, NY Giants, 8:30 PM
Week 8: Sunday, Oct. 31, Jacksonville, 1:00 PM
Week 9: Sunday, Nov. 7, at Green Bay, 8:20 PM
Week 10: Sunday, Nov. 14, at NY Giants, 4:15 PM
Week 11: Sunday, Nov. 21, Detroit, 1:00 PM
Week 12: Thursday, Nov. 25, New Orleans, 4:15 PM
Week 13: Sunday, Dec. 5, at Indianapolis, 4:15 PM
Week 14: Sunday, Dec. 12, Philadelphia, 8:20 PM
Week 15: Sunday, Dec. 19, Washington, 1:00 PM
Week 16: Saturday, Dec. 25, at Arizona, 7:30 PM
Week 17: Sunday, Jan. 2, at Philadelphia, 1:00 PM
Dallas has the toughest schedule in the NFC if you go by its cumulative opponents' record from 2009 of 139-117, which ranks third overall in the NFL. Apart from the games between NFC East rivals, each team in the Cowboys' division will also play the entire NFC North and AFC South.
That opener against the Redskins will be, rather amazingly, the third game in a row that new Washington QB Donovan McNabb will play against the Cowboys. Many believe the Eagles traded him because Dallas made him look so bad in the regular-season finale and playoff win last year. Dallas is already a 3.5-point favorite for this one (it has won its past two at Washington), and I see no reason why the Cowboys won't sweep the Redskins again this year.
I'd say a 4-0 start is very possible and Dallas will need to start strong as after Week 5 it plays only four teams who did not make the playoffs last season, and two of those are bitter divisional rivals. Dallas faces seven playoff teams overall, including both Super Bowl participants.
Good luck winning in Minnesota, as the Vikings thumped the Cowboys in the divisional round, 34-3. And it figures to be rather chilly that November night in Green Bay, which is a huge advantage for the Pack (third year in a row the teams meet there). That's very rough having to play the Saints and Colts in back-to-back weeks, but at least Dallas has the extra time off before Indy. Cowboys will be happy with a split in those two games.
The Cowboys used to be lousy in December -- 5-9 under Romo before winning their final two in that month last year. Thus I believe Dallas/Romo have solved that problem and the Cowboys should be carrying a three-game winning streak into Philly as the teams close against each other for the third year in a row (each winning one). That could again be for the NFC East title.
The Cowboys' 'over/under' win total on BetUS is 10. I see 11 wins again and a division title as well as a trip to their own Super Bowl. Will they win it? That's a story for another day.