2010 Green Bay Packers Strength of Schedule, Futures Odds and Predictions
by Alan Matthews - 7/21/2010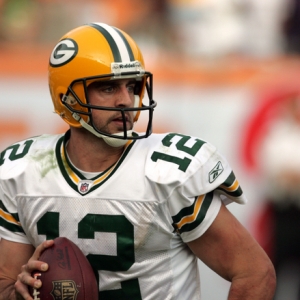 The 2009 season has to be considered pretty successful for the Green Bay Packers, as they won five more games than in 2008 – Aaron Rodgers' first year as the starting QB – and earned a playoff spot before their defense was gutted by Kurt Warner in the Wild-Card round against the Arizona Cardinals.
That game did show what Green Bay really has going for it for 2010 and what could be a big concern. On the bright side, Rodgers was nearly as brilliant as Warner in that game and Rodgers emerged as a Top 5 quarterback during the regular season, ranking fourth in the NFL in yards (4,434), rating (103.2), touchdown passes (seven) and with the fewest interceptions (seven) of any quarterback with at least 200 attempts. Pretty much all of Rodgers' weapons from last year are back although 35-year-old No. 2 WR Donald Driver might be slowing down as he tailed off in a big way at the end of last season.
Certainly you can't blame Warner going crazy just on the Green Bay secondary, especially with Al Harris hurt. Charles Woodson and Harris, one of the best tandems in the NFL for years, are both getting up there in age with Woodson turning 34 this season and Harris during 36. I'm probably picking too much on Woodson considering he was named the NFL Defensive Player of the Year in 2009 and had nine picks and three TDs. Plus he reportedly re-dedicated himself this offseason. Harris, however, is coming off major knee surgery that ended his 2009 season early.
That Green Bay defense will be down two key players this season as Aaron Kampman, a two-time Pro Bowler, is now in Jacksonville (he also suffered a season-ending injury in November last season) and Johnny Jolly was suspended without pay for 2010 after violating the league's substance abuse policy. Although if there's one area the Pack can withstand a few hits, it's probably on the defensive line.
BetUS lists Green Bay's wins total at 9.5 for NFL season win totals. What's the best bet there? Let's check the 2010 Green Bay Packers schedule (all times Eastern):
Week 1: Sunday, Sep. 12, at Philadelphia, 4:15 PM
Week 2: Sunday, Sep. 19, Buffalo, 1:00 PM
Week 3: Monday, Sep. 27, at Chicago, 8:30 PM
Week 4: Sunday, Oct. 3, Detroit, 1:00 PM
Week 5: Sunday, Oct. 10, at Washington, 1:00 PM
Week 6: Sunday, Oct. 17, Miami, 1:00 PM
Week 7: Sunday, Oct. 24, Minnesota, 8:20 PM
Week 8: Sunday, Oct. 31, at NY Jets, 1:00 PM
Week 9: Sunday, Nov. 7, Dallas, 8:20 PM
Week 10: BYE
Week 11: Sunday, Nov. 21, at Minnesota, 1:00 PM
Week 12: Sunday, Nov. 28, at Atlanta, 1:00 PM
Week 13: Sunday, Dec. 5, San Francisco, 1:00 PM
Week 14: Sunday, Dec. 12, at Detroit, 1:00 PM
Week 15: Sunday, Dec. 19, at New England, 8:20 PM
Week 16: Sunday, Dec. 26, NY Giants, 4:15 PM
Week 17: Sunday, Jan. 2, Chicago, 1:00 PM
This schedule ranks as the 22nd hardest in the NFL with an opponents' 2009 cumulative winning percentage of .488 (125-131).
Looking at the first six games, there's really no reason Green Bay should be any worse than 4-2. The Pack get the benefit of being the first opponent of new Eagles starter Kevin Kolb (that game is currently a 'pick'em'), and nobody knows who the quarterback of the Bills will be. The Packers swept the Bears last season by nearly identical scores (21-14 and 21-15), and that matchup will be in prime time for the fifth straight season with the first meeting between the two being No. 180 in the all-time series. This is the 18th consecutive season the Packers have appeared on "Monday Night Football," the NFC's longest streak.
The Pack better be no worse than 4-2 because they could easily fall into a three-game skid (albeit unlikely) entering the bye week with games against Super Bowl contenders in the Vikings, Jets and Cowboys. Of course, that Minnesota game will be Brett Favre's second-ever game as a visitor at Lambeau. He led the Vikings to a 30-23 win over Green Bay in a Monday night game at Minnesota last season and then a 38-28 win at Lambeau.
Green Bay has the benefit of an extra week to prepare for the rematch with Minnesota (the Vikes aren't off the same week) in a game that could well determine the NFC North. Week 10 is the latest a team can have a bye, by the way, and it's the latest the Pack have ever had theirs. Four road games in five weeks is pretty rare, but Green Bay is 18-11 overall on the road under Mike McCarthy from Nov. 15 and beyond. Then the Packers finish with back-to-back home games for only the second time since 1923. Since 1998, the Packers have finished the season against the Bears three times, all of them victories in Chicago.
This looks like a 10-6-type schedule for Green Bay, which may or may not be enough to win the NFC North (I predicted 10-6 for Minnesota as well), but it should be enough for a return trip to the playoffs. Green Bay is currently a slight favorite (+125) over the Vikings to win the North and +650 to win the NFC (tied with Minnesota behind New Orleans and Dallas).
Doc's Sports went 7-1 for member's picks in the 2009 NFL Preseason and we are very excited about the 2010 slate of exhibition games. Our picks for the entire NFL Preseason are just $49. Also, our Early Bird Special for the NFL full season is just $695 and that will get you all the picks from the first kick in preseason to the final buzzer of the Super Bowl (normal price will be $950). Click Here for more information about football picks and Click Here for prices and packages.