Monday Night Football NFL Picks: Chicago Bears at Minnesota Vikings
by Nicholas Tolomeo - 12/20/2010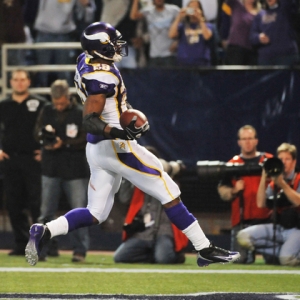 The Metrodome roof gave way last Sunday and those developments give way for an interesting Monday Night Football game. The NFC North showdown between the Minnesota Vikings (5-8) and Chicago Bears (9-4) Monday at 8:30 p.m. EST will now be played at TCF Bank Stadium.
The arena called into action for this week's game is used for University of Minnesota football games, and more importantly, it is outdoors.
After near-blizzard conditions last week at home in Soldier Field the Chicago Bears figured they would get a respite from the elements this week with a date in the dome at Minnesota. The roof of the Metrodome had other ideas.
That makes two weeks in a row now that Minnesota has had to move its home game against an opponent who is very much alive in the playoff race. Last week it lost to the NFC East-leading New York Giants and now they take on the NFC North -leading Chicago Bears.
The Bears lead their division despite a 36-7 thrashing at the hands of the New England Patriots last Sunday. That loss snapped a five-game winning streaks the Bears had strung together since their bye week after Week 7.
That winning streak included a 27-13 win over the Vikings in Week 9. In that game Jay Cutler was picked off twice, but Chicago was bailed out by Brett Favre, who was picked off three times and lost a fumble.
There will likely be no Favre this week. His consecutive games played streak ended when he sat out Monday's game and he will almost certainly miss this game as well. In his place Joe Webb steps in. Webb has attempted only five passes this season. His mission is to face a tough Bears defense, in the freezing cold and try to jumpstart an offense that ranks 30th in the league in points scored (17.7). The Bears offense is nothing to write home about either. It ranks 30th in total yards per game and 24th in points scored per game (19.5).
Injury Report
Chicago tight end Desmond Clark is questionable (neck) as is defensive tackle Marcus Harrison (illness). Minnesota's injury situation is a little bleaker. Favre (shoulder) and Tarvaris Jackson (knee) are ruled out at quarterback position, Percy Harvin (migraine) and Adrian Peterson (knee) are probable and likely won't be pushing the issue with a rock solid frozen field awaiting them.
Chicago Bears at Minnesota Vikings Betting Odds and Line Moves
The line remained off the board until the stadium situation and Minnesota quarterback situation became clear. The opening line was Chicago -9 but it quickly dropped to -8. The total of 34 has fallen to 33.5, the second lowest of the season.
Chicago Bears at Minnesota Vikings Trends
Bears are 4-1 ATS in their last five Monday night games
Bears are 0-4 ATS in their last four games double-digit loss at home
Vikings are 4-1 ATS in their last five games following a double-digit loss at home
Vikings are 0-6 ATs vs. a team with a winning record
Monday Night Football NFL Picks: Chicago Bears at Minnesota Vikings
Expect points to be at a premium Monday night with bad offenses, good defenses and horrific weather conditions. The game will likely come down to who lets the weather get to them and who makes mistakes. Without Favre the Vikings are much less mistake prone, especially considering the ball with be in the hands of Peterson and Toby Gerhart most of the game. The Bears embarrassing loss to the Patriots on Sunday showed serious flaws with Chicago. The game may not be in the Metrodome, but it is still in Minnesota, the play is Minnesota plus the points.