NFC Championship Game Preview: Vikings at Saints
by Robert Ferringo - 1/20/2010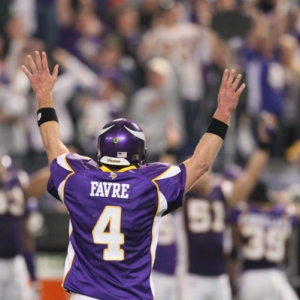 Jasper Brinkley, come on down.
Brinkley, the rookie middle linebacker for Minnesota, is in the eye of the storm in one of the biggest games in the history of either the New Orleans Saints or the Minnesota Vikings. He was thrust into this position due to an injury to Vikings starting MLB and defensive leader E.J. Henderson last month. So now it's on Brinkley to shore up the heart of a defense facing one of the best offenses in the NFL.
Minnesota heads to the Bayou to take on New Orleans at 6:40 p.m. on Sunday in the Superdome. The host Saints are listed as 4.5-point favorites and the total is pretty lofty at 52.0.
Brinkley has held up pretty well over the last few weeks in the middle of Minnesota's defense. With stud veterans all around him his job has been made a lot easier. But now he's facing Drew Brees and a Saints O that is going to be looking to exploit him. One of the main ways that they will try to attack him is with Jeremy Shockey, as it's been Brinkley's responsibility to try to cover the opposing TE.
In watching Brinkley over the last few weeks one thing is clear: he's not very good in coverage. Dallas ran into a brick wall last week. But the one effective method that they had for moving the ball was throwing to the tight ends. The Boys targeted Jason Witten and Martellus Bennett 17 times and completed 13 passes for 125 yards. There is no way that Brinkley is going to be able to stand up to Shockey if it's a one-on-one situation and if New Orleans is able to set that up they should be able to drive some daggers through the middle of that Vikings defense.
Also, Brinkley hasn't exactly been a playmaker. He has mustered just 15 tackles in his last three games with no sacks, no fumbles caused or recovered, and no interceptions. Add onto that his coverage woes and I see a big bull's eye right in the middle of the field. And that is an area that New Orleans loves to attack with quick-hitting passes.
Now, I like Brinkley. He's athletic and he's physical. I was a huge fan of his coming out of South Carolina and I think he'll be a player in this league when all is said and done. But how this guy, in his sixth NFL start, holds up in the biggest game of his life is going to be just one of the interesting and intriguing individual subplots in this game.
This week all the talk is about Brees, Favre, Bush, Peterson, Allen and all of the rest of the stud, Pro Bowl players that dot each of these rosters. But below are seven other players besides Brinkley that may not be household names but will play critical roles in determining which team will advance to the Super Bowl:
Robvery Meachemson, WR, New Orleans
OK, so I'm cheating here. Devery Henderson and Meachem are the big play guys for the Saints. They don't catch an overwhelming amount of balls – just 96 between the two – but when they do, it hurts. The pair average about 16 yards per catch and have chipped in a combined 11 touchdowns (nine from Meachem). These two want to get down the field and throw daggers at opponents trying to come back or trying to build on a lead. The Big Play is what separates the Saints from other teams and Minnesota's secondary has to contain this pair if they have a shot at advancing.
Madieu Williams, FS, Minnesota
Speaking of the Saints secondary, Williams is the leader of the back seven. He also has to carry a lot more water because he's playing next to a weak link at strong safety. Starter Tyrell Johnson has had tackling problems and the Vikings have been rotating out Johnson and rookie Jamarca Sanford. That is a problem and that is where the Saints will attack. But it is on Williams to make sure those big plays don't happen. Also, the safeties have combined for just one INT all year. They need to find a way to make plays.
Carl Nicks, LT, New Orleans
Nicks has been filling in for Jammal Brown, who went down just prior to the start of the season. Well, guess what, Mr. Nicks, you get to try to shut down Jared Allen this weekend. Good luck. But then again, it's not as if Nicks hasn't faced top competition this year. He shut out Julius Peppers and John Abraham in the four combined meetings this year and the Saints, as a unit, only gave up one sack in two games against blitz-crazed teams out of New York (the Jets and Giants).
Ray Edwards, DE, Minnesota
Edwards was an animal last week against Dallas. That is, until he left with a sprained knee. He's been getting treatments for it all week and is considered questionable for this weekend's matchup. He'll play. But how effective is he going to be? Edwards is the prime beneficiary of all of the attention heaped on to Allen. He is also a proven run stopper. Kevin Williams didn't practice on Wednesday either, which means that half of the line could be banged up heading into this weekend. Minnesota has to control the line of scrimmage if they want this one to come through. And Edwards is a huge part of that, as he showed last week against Dallas.
Pierre Thomas, RB, New Orleans
Reggie Bush and Adrian Peterson are the two headliners in this weeks' matchup. But anyone that has paid attention to the Saints this year knows that Thomas is the workhorse in the New Orleans backfield. He runs hard and runs straight. And he (along with Bush) better run as hard and as straight as they have all year against that maniacal Vikings front four. At some point this Sunday the Saints are going to have to convert a third- or fourth-and-short. And the odds are that they will turn to Thomas to get it.
John Sullivan, C, Minnesota
Last week he went toe-to-toe with arguably the best nose tackle in the game, Pro Bowler Jay Ratliff, and dominated that matchup. Ratliff managed one sack after the game was already decided and was not a factor at any point through the first three quarters. The second-year center will have another tall task this week against a powerful New Orleans front four. He won't have the benefit of having the home crowd behind him so Sullivan will have to hold up and make all the calls in one of the toughest environments in the league.
Bobby McCray, DE, New Orleans
The Saints lost Charles Grant two weeks ago to a triceps injury and now McCray is getting the start on the left end. He obviously isn't the player that Grant is. But he and Sedrick Ellis are going to have to stand tall against that overwhelming Minnesota front line. McCray is like a lot of the backups on the Saints: veterans with a proven track record. He started 29 games over the last three years and has notched 18.5 sacks. If he can make a play this weekend – or at least just hold up his edge – that will be a big boost to the Saints defense.