NFL Betting: Possible Results of Two Big WR Aquisitions
by Trevor Whenham - 7/26/2010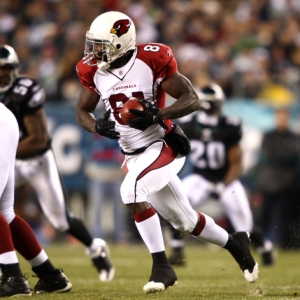 We're used to seeing wide receivers move around every NFL offseason. It's not often, though, that we see two of the caliber that we have seen in this offseason find new homes. Anquan Boldin and Brandon Marshall are both difference makers - elite pass catchers in rare company. They both have some real attitude issues as well, but what receiver doesn't these days? Both of these guys are getting a lot of buzz, and a lot is expected from them and from their new teams as a result of their arrivals. Bettors need to be on top of what their impact could actually be, then. Here's a look at what each brings to the table, and the issues to consider in dealing with them:
Anquan Boldin, Baltimore Ravens - The Cardinals have suggested recently that they were fine with seeing Boldin leave because he had lost a step. You'd expect nothing less from them, of course, and Boldin is coming off of his fifth 1,000 yard season in seven years and is only 29, which is still young enough for a receiver. Accepting that Boldin has a lot left in the tank isn't hard to do. What's much harder, though, is figuring out just what role he is going to play in Baltimore, and how much of an impact he is going to have.
The strongest sense seems to be that the Baltimore offense is going to be opened up because Joe Flacco will have the first true No. 1 receiver that the team has had in years. That could certainly be true, and there is no denying that Boldin is the best talent the teams has had in the position for far too log, but there are issues. First, this team just doesn't like to pass that much. They passed on 52 percent of plays last year. Arizona threw it 62 percent of the time.
It makes sense that they will throw more given that they invested in Boldin and Donte Stallworth. They have had good success running, though, and they have very good running talent, so they aren't going to move away from it entirely. Given that there aren't going to be a whole lot more passes this year, it's not clear just how many are going to go Boldin's way.
Ray Rice is perhaps the best pass catching running back in the league. Last year he caught 78 passes and had great chemistry with Flacco. There is no reason for that number of passes to decrease significantly. Flacco also had very good chemistry with Derrick Mason, and connected with him 73 times for more than 1,000 yards. Mason is old and slow, but he's been that way for a while now and he keeps putting up the numbers.
All of that means that though Boldin comes in as a No. 1 receiver, there isn't going to be as many passes coming his way as we see heading towards other No. 1 receivers on pass-happy teams. In fact, despite all of his protests last year there's a pretty good chance that he'll see less passes this year as a No. 1 in Baltimore than he did last year as a No. 2 in Arizona. He's being paid better this year, though, so he should be happy.
So, what does this all mean? The Ravens are the fifth choice in the futures pool to win the AFC. It's not hard to accept that. What seems a bit harder to digest is that they are not only favored to win the AFC North at Bodog, but that they are below even money at -110 to do so. I like the Ravens better than any other team in the division, but this price makes it hard to argue that the public isn't overcompensating for Boldin's addition. It's a good move for the team, but I'm not convinced that it's a major difference maker.
Brandon Marshall, Miami Dolphins - This one is far more clear-cut in my eyes. Marshall is a ridiculously talented receiver in the prime of his career. In my eyes he's the most talented guy in the league - he caught 21 passes for 200 yards against the Colts last year. His attitude issues are well known and much discussed, but he's been a good citizen since arriving in Miami, he's in a very good place to have a good year, and most bad character guys are content at least for a year in a new setting.
It's easier for a guy to be content when he is at the center of a very good offense, and that's what Marshall could be here. Chad Henne is an immensely talented quarterback who improved dramatically last year, and I expect another leap forward this year. There are some solid, useful receivers on the roster, but Marshall is head and shoulders above them. Henne is fairly accurate, and he can throw a nice deep ball, so he and Marshall could be a potent match if they can find early chemistry. Marshall is coming back from minor hip surgery, but he and Henne have already been working on that chemistry as much as they can. Marshall looked very good in Denver last year despite all of the drama, and that was with Kyle Orton under center. Henne is a far better player than Orton.
Miami is at 16/1 to win the AFC, and the +325 third choice to win the AFC East. With Marshall on board and Henne a year older I see a lot of value in both prices.
Allen Eastman is back with his 99 System for NFL predictions in 2010 and before he even came across this system he was considered one of the best NFL handicappers making picks against NFL point spreads in the nation – now he is even better with this wining NFL betting system. Last season the 99 System was 27-13 ATS and this system not only helped his clients make a ton of money, but also helped Eastman to third place in the prestigious Las Vegas Hilton NFL Contest.