NFL Free Prop Predictions - Divisional Playoffs Edition
by Jay Horne - 1/15/2010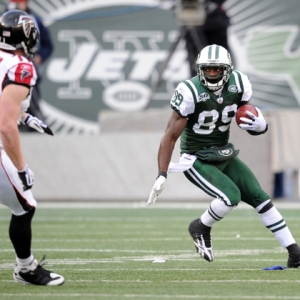 The NFL Playoffs kicked off in a big way with a number of storylines last week. The Dallas Cowboys ended a 13-year drought when they took down the Eagles for the second straight week in a row. The Ravens dominated the Patriots and it seems the New England dynasty may have finally come crumbling down. Also, quarterbacks Kurt Warner and Aaron Rodgers put on one of the best passing performances in postseason history as the Cardinals edged the Packers, 51-45, in overtime.
Our focus quickly turns to the upcoming weekend where there are many more exciting games and storylines that will take center stage. Among those storylines include QB Brett Farve, who will try to lead the Vikings to earn a shot to play for the NFC Championship, something the Vikings have not won since 1977. However, Dallas stands in the way and Farve is 0-3 against the Cowboys in his postseason career. Of course, there will be many other featured games on our radar, and we have some interesting prop bets action for all of this weekend's big games. Our props picks were not overwhelmingly impressive last week, going 1-1-1, but we look to get back into the profit margin again this week. Take a look at some of these interesting NFL betting lines that can be found at Bodog Sportsbook.

Get up to $1000 in sign-up bonus!
at Mybookie
CLICK HERE

Prop Bet No. 1 – Peyton Manning total sacks vs. Baltimore Ravens

Over 1 (-130)
1 or less (Even)

The Baltimore Ravens attacked Tom Brady last week in perfect scenarios. The Ravens brought multiple blitz packages early and sacked the Patriots quarterback three different times. Most of those sacks came early in the ball game as the Ravens secondary held their own for the rest of the game, recording three interceptions. Therefore, the pressure up front tapered off during the latter part of the game. However, Manning will likely not throw near as many interceptions this week and it will be imperative the Ravens keep the Colts quarterback moving around. Manning is at his best when he sits in the pocket and the Ravens realize this. That is why Baltimore will bring plenty of pressure early and again likely with some linebacker blitzes with Ray Lewis up the middle. However, Manning is too good to back off of those blitzes like they did in the second half against the Patriots. Baltimore will bring pressure for four straight quarters and keep Manning frustrated. The Ravens defense understands that their best chance of beating the Colts is keeping Manning on the move. The Ravens did not bring much pressure up the middle in their first meeting of the year and that resulted in a 17-15 loss. However, the defense will be much more aggressive this week with the blitz packages and they will be awarded with results.

Pick – Over 1

Prop Bet No. 2 – Tony Romo total passing yards vs. Minnesota Vikings

Over 272 ½ (-130)
Under 272 ½ (Even)

One big reason the Cowboys have momentum at this point in the year is the play of QB Tony Romo. Romo has been great, throwing just two interceptions and 13 touchdowns over the course of the last seven games. Until last week's 244-yard performance, Romo was averaging more than 300 yards passing in his last six games. I know many people think this game could turn out to be a quarterback duel, but I think it will be quite the opposite. The Vikings are going to try to set the tone with Adrian Peterson on the ground and the Cowboys will do the same with Felix Jones and Marion Barber. Considering how well the Dallas defensive front is playing, the Vikings pass offense will likely not move the ball down field in explosive fashion. Instead, this game may actually turn into more of a defensive battle than most are expecting. As a result, holding onto the football will be the goal for both offenses. This means Romo's passing attempts will go down. Also, the Vikings defense is not exactly a group that gives up a ton of yards. They have only allowed two teams to pass for 270-plus yards in the last 10 games. Still, make this decision on the fact it will likely be a much bigger defensive battle featuring the running games for both teams.

Pick – Under 272 ½

Prop Bet No. 3 Jerricho Cotchery total receptions vs. San Diego Chargers

Over 4 ½ (-115)
Under 4 ½ (-115)

Last week I stated that QB Mark Sanchez may not be needed much and the Jets would rely on the legs of Thomas Jones to win the game. Well, Sanchez made a bigger impact than expected, completing 12-of-15 passing for 182 yards and a touchdown. Enter the San Diego Chargers, possibly the hottest team in the NFL led by one of the best quarterbacks in Phillip Rivers. San Diego is definitely going to throw the ball all over the field and even if they are facing a tough Jets defense they will have success. It will be interesting to see if the Chargers are able to jump out early. The reason I say that is because Sanchez has had his highest passing attempts this season in games the Jets trailed early. Expecting that happens again, Sanchez passing attempts could double this week. Therefore, leading WR Jerricho Cotchery will be the primary target in the passing game. Cotchery is "Mr. Reliable" and consistently gets his numbers. With Sanchez expected to drop back a lot more than normal, the over here is a confident bet.

Pick – Over 4 ½