NFL Futures Odds: AFC West NFL Picks
by Nicholas Tolomeo - 11/23/2010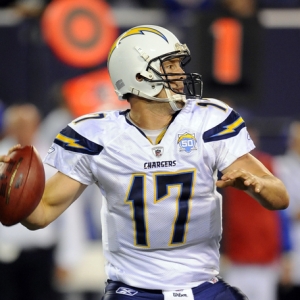 The Kansas City Chiefs (6-4) are in first place in the AFC West. By rule of tiebreaker the Oakland Raiders (5-5) are second in the division. The Chiefs and Raiders both own wins over the Chargers. Yet it's third-place San Diego (5-5) that is the favorite to win the division, according to NFL futures odds, and it's easy to see why.
Bodog has San Diego listed at -150 to win the division while the Chiefs are listed at +175, the Raiders are pegged at +500 and the longshot Denver Broncos pay out +12500. At 3-7 and mired in a funk Denver is not a legitimate contender.
To the surprise of many, San Diego started the season 2-5. The Chargers were able to salvage their season with a three-game winning streak punctuated by a 35-14 thrashing of the Broncos on Monday Night Football last night. Throughout it all San Diego remained a favorite in every one of its games. And even when they were sitting at 3-5 the Chargers remained an odds-on favorite to win the division.
Currently both the Raiders and Chiefs own a tiebreaker over the Chargers. But San Diego hosts both teams this season with Oakland and Kansas City coming to town on back-to-back weeks staring with Oakland on Dec. 5.
Oakland has a challenging slate this season with road contests at San Diego, Jacksonville and Kansas City, and home dates against Miami and Indianapolis. The Raiders will likely not even finish .500. Kansas City has a more manageable schedule with road games at Seattle, San Diego and St. Louis and home games against Denver, Tennessee and Oakland, but the Chiefs have been one of the worst road teams in the league this season and it is hard to imagine them keeping pace with San Diego, who has a better team and an easier schedule.
San Diego is an underdog for the first time all season this week when it visits Indianapolis as 3-point underdogs. But after that San Diego will be heavy favorites in its remaining games, three home games against Oakland, Kansas City and San Francisco and road games at Cincinnati and Denver.
This division race will likely not even come down a tiebreaker. San Diego should be able to win outright, but if it sweeps Oakland and Kansas City at home then the next tiebreaker would come down to conference record and San Diego (4-3) has a better record against AFC competition than Kansas City (4-4) and Oakland (3-3).
San Diego has won the AFC West the last four seasons. The Chargers did it with 14 wins and 13 wins before, but they have also done it with eight wins. Eight wins could be enough again this year but with the way the San Diego offense is clicking, 10 wins looks like a solid possibility.
Phillip Rivers remains on record pace with 3,177 passing yards through 10 games. He could easily break Dan Marino's record for passing yards in a single season. Rivers has tossed 23 touchdowns compared to nine interceptions. Everybody knows about the San Diego passing attack, but they are also rushing the ball for 111.7 yards per game.
San Diego has the No. 1 offense in the league (418.2 yards per game) and, surprisingly, the No. 1 defense in the league (183.8 yards per game). With the rare combination of statistical dominance, the Chargers are not only AFC West contenders but at 5-5 they remain Super Bowl contenders.
Kansas City controls its own destiny, but so does San Diego since both teams meet this season. Before the season San Diego was listed as high as -500 to win this division. Now at -115 a better bargain does not exist in NFL futures betting. San Diego at –150 is my NFL pick for the AFC West champion.