NFL Handicapping: Least Improved Teams
by Trevor Whenham - 7/31/2010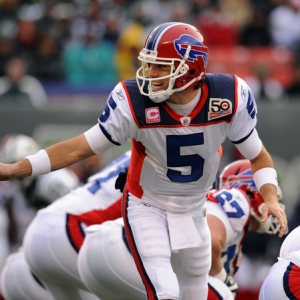 This is the time in the NFL when everyone is optimistic about everything. People around the league believe that this is the year that their team is going all the way, and that all of its players will emerge as superstars. In a lot of cases it makes sense to be at least a little optimistic as teams have worked hard to improve and become more competitive. Some teams, though, just didn't do enough to warrant any optimism. Here's a look at the two teams - one in each conference - that haven't done nearly enough to improve in the offseason:
Buffalo Bills - It's hard to get too excited about a quarterback controversy when the team loses no matter who wins out. Trent Edwards hasn't proven himself to be more than serviceable, Ryan Fitzpatrick has done less, and Brian Brohm had a great college career but has bounced around as a pro without making an impact. None of the options are inspiring or likely to make a big impact this year, and that really is the same for the whole team. This is just not a good team, and they haven't gotten much better in the offseason.
They added a new coaching staff headlined by Chan Gailey. The problem is that Gailey is lousy. I'd make him just the 31st best coach in the league - anyone with a pulse is better than Marvin Lewis in my eyes. Gailey's biggest weakness is a lack of self-awareness - he doesn't know how lousy he is, so he's made the ultimately doomed decision to call his own plays. Terrell Owens and Josh Reed both have issues, but they were two of the three top receivers on the team last year, and both are gone without significant replacements in their place. The offensive line is a mess - especially at the tackles.
The defensive line is somewhat better, but only if players can adjust to new positions - a shift two 3-4 means that at least four starters will be in new roles. The secondary is fine, but not any better than it was, and potentially worse if Jairus Byrd can't overperform as a sophomore like he did as a rookie safety.
There are really only two bright spots on this team. First, DE Aaron Schobel is reportedly considering doing a Brett Favre imitation and un-retiring. He's a great player who would be a nice addition. Second, the running game is deep and talented. The addition of C.J. Spiller to an already good group of backs makes them by far the best unit on the team - though the Bills choosing to take another running back in the first half is eerily reminiscent of Matt Millen's decision to draft a wide receiver every single year. Hopefully this move works better than those did. This may not be the worst team in the league, but it's one of them.
Seattle Seahawks - The Seahawks were really lousy last year. They were pretty lousy the year before. The slow and painful decline has been obvious to any outside observer, but it took laughably long for the team to do anything about it. Now that they have done something the moves are a whole lot more flash and noise than actual progress. In other words, this team is getting a lot more credit for progress than they actually have made.
The big splash they made was in signing Pete Carroll. He is all personality, and he gets credit for being good friends with Will Ferrell, but he's hardly an overwhelming choice in my eyes.
It's become increasingly clear that he bailed out of USC while he could still leave on his own terms. He wasn't running the program that it seemed like he was. Extremely good college coaches have repeatedly struggled in making the jump to the pros. In Carroll's case we don't have to speculate because we have twice seen how he has done before - not very well.
His Jets were terrible in his one season at the helm, and the Patriots got worse in each of his three years there. Since then he's probably become a better coach, but his ego has grown at 10 times the rate of his skill. Add in that he has been given control over the personnel, and that he is relying on a largely unproven staff - especially on top - and I have some real concerns.
Offensive coordinator Jeremy Bates is only 33 and is in his first try at the role at any level. Defensive coordinator Casey Bradley came to the Seahawks highly touted by Monte Kiffin, but his first year as DC last year was spotty at best. All in all, the Seahawks have made a bunch of changes with their staff, but I still need to be convinced that they have made real improvements.
Carroll's first big personnel move showed just how rocky the transition could be. He traded far too much for QB Charlie Whitehurst from the Chargers, and then threw a mountain of cash at him as well. Early indications have been far from positive, and the team still doesn't enter this season with any stability at quarterback - the aging and fragile Matt Hasselbeck is still backed up by a guy that no one trusts.
The receiving game certainly hasn't improved either. T.J. Houshmandzadeh was a big name addition last year, but by his play he showed he is much more suited to being a strong second receiver than a big No. 1. Unfortunately, he'll have to be relied on even more this year because Nate Burleson is playing for the Lions now. Deon Butler is going to be relied on more than he was last year, but he hasn't shown many reasons to make us think he's ready to star. The biggest thing Deion Branch can be relied upon to do is get injured, so he doesn't inspire either.
The only addition of note here was Golden Tate, and he's a rookie of questionable upside. The running game hasn't improved, either. They traded for LenDale White to try to shore up a running game was was only 26th best in the league last year, and he only lasted a month. The cast of characters is basically the same as last year, and that's not exciting. The offensive line could be improved, but only if draft choice Russell Okung grasps the responsibilities of left tackle quickly.
My point is probably clear here, so I'll be brief about the defense. The team has been lousy against the pass for two years, and they haven't really done anything of note to improve their cornerbacks. Unless Marcus Trufant improves dramatically it could be a long year. Earl Thomas was a very nice draft addition at safety, but he'll be playing beside Lawyer Milloy - a guy so old that he played for Carroll in New England. The defensive line isn't inspiring either. Three solid players have left, and Chris Clemons, a journeyman who wasn't in demand, is the biggest addition. There really isn't a pass rush of note, and that's not going to help the pass defending.
People are expecting big things from Carroll. I've even seen more than one person predict that the Seahawks will win the West. I hope that those people are braced for disappointment, because this team hasn't gotten much better than they were, and they weren't very good.